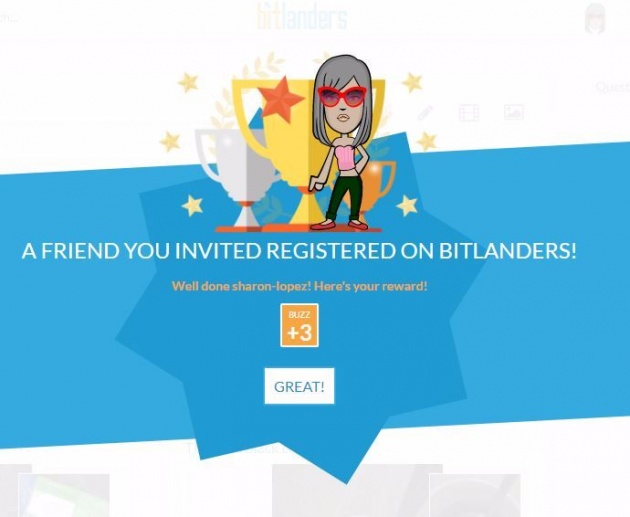 Image Credits: sharon lopez via Bitlanders
One of the strategies, in order to increase the income of the business, is to offer a Referral Reward. This can be in the form of discounts, freebies and additional incentives in the forms of cash or prizes.
Referral is the act of telling someone about the positive features of a person or a business, or the person who is being referred.
A business will not prosper without clients. From the small store in our community to the biggest malls in our place, all of these businesses need clients in order to grow and to earn a profit. There are different business or enterprise that we can engage with the purpose fo gaining profit or revenue.
Offering referral incentives can be both beneficial to the business owner and the existing member. The business owner, having new clients and for the existing members, an additional income or anything that give them benefits.
Bitlanders has its own referral program wherein a member is being given an additional BUZZ bonus points when new member signs up using his/her referral link. This is part of the Daily Quest of the site.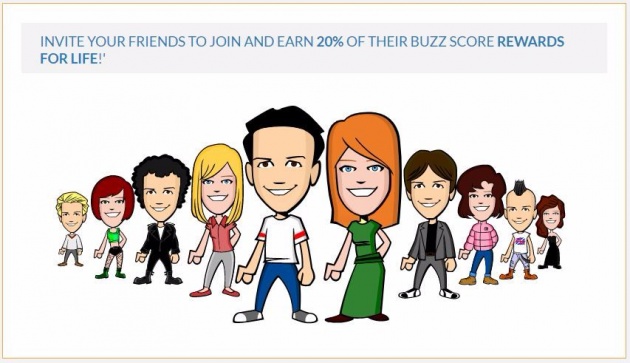 Image Credits: Bitlanders.com
Additionally, a member who successfully invite a friend to join Bitlanders and eventually became active, he/she will earn 20% of the what the referred member has earned. This percentage is a great deal. Imagine if the referred member was able to earn at least 5 dollars per day, twenty percent (20%) of this amount is 1 dollar. So if a member has a great number of referrals who are active, this would be an additional income over and above the member's regular income from his/her own activities.
Bitlanders referral reward system is one of the generous offers that I have encountered online. Some sites do not offer referral incentives while other offers 10%.
How to Get Referrals?
Being an online worker for several years, I learned some simple strategies in order to get referrals. When inviting through other social media, we should see to it that we don't appear to be pushy or spammy when sharing our sites. Otherwise, other people might block us or report us for sharing spammy link.
Spam - Irrelevant or unsolicited messages sent over the Internet, typically to a large number of users, for the purposes of advertising, phishing, spreading malware, etc. (Source: En.OxfordDictionary.com)
Here are some of the proven ways in order to get referrals:
1. Sharing our referral links on facebook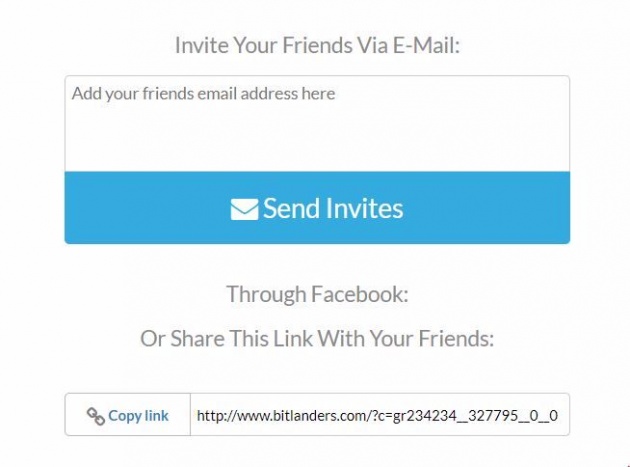 Image Credits: sharon lopez via Bitlanders
Personally, I would prefer using facebook than my other sites in order to get more referrals. With more than 10 millions of members from around the world facebook have, we could always find someone who is looking for opportunities to earn additional income. We only have to be careful when posting links.
Please refer below for my own strategies on getting referrals from Facebook.
2. Forums
Forums are online sites that open for community interaction. Some but not all forums are designed for online earning. Members of these forums would usually share their experience as well as other online earning opportunities to the community. Depending on the main purpose of the forum, we can find a way to open our site and can possibly get a referral. Just see to it that we comply with their rules as we might get banned for sharing referral links.
3. Twitter
Just like any other social media network, Twitter can also be a good avenue to get referrals.
4. Google Plus
We can also share to different communities our business but just like any other sites, we have to comply with their rules.
5. Pinterest
Pinterest is a social media which we can share our photos with a link to our sites.
6. Our Own Blog
This is probably the safest venue for us to share our links because this is our own unless we also have other advertising sites on our sites which require certain rules to follow.
>My Strategies for Getting Referrals on Facebook<
Timely Updates and Positive Reviews
From time to time, I would be receiving notifications on my mobile which is connected to my Coins.ph account informing me that I receive a referral commission. That is even if I am not regularly active on my facebook account. Or even if I seldom post updates regarding the site.
For my Bitlanders account, I currently have 41 referrals and most of them came from Facebook. Here is how I am doing it:
Posting positive reviews on my timeline on a regular basis with photos and captions that could encourage my friends to click the link. Payment proofs will certainly capture once attention especially if it is a big amount.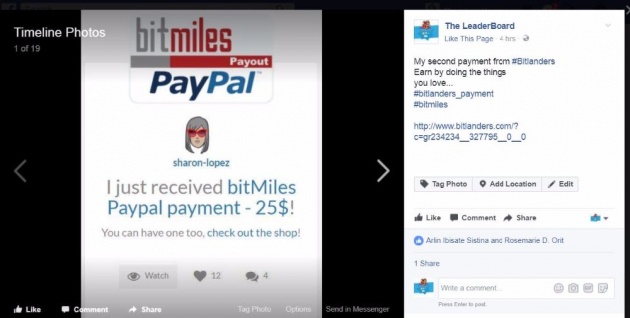 Image from my Facebook Post
Similarly, I only post positive quotes and never did I force anyone to join under me. If they message me regarding the opportunity, I would assist them during my free time.
I also discourage creating posts that would make the viewer feel like they are doing a big mistake because they are not joining the site. Or that they have no way of being successful because they don't join the site. That's a BIG NO NO!
There's more...Don't forget relevant hashtags. I discovered people found me because of these hashtags.
Attaching Links to Cover, Profile and Featured Photos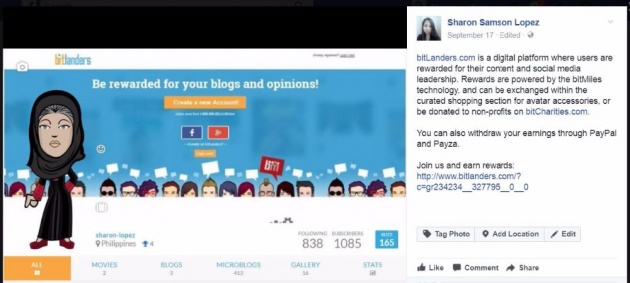 Post from my Facebook Timeline
We can also make use of our profile, cover and featured photos on our profile page to encourage friends and even those who accidentally landed on our profile page to join our sites. Every time we change our cover image, our friends are being notified by default. If we had a short caption on our photo, and a link to our site, there is a great chance that we can encourage more referrals.
Our featured photos are permanent on our profile page unless we change them. So, if anybody reached our profile page, they can easily get access to those photos and the possibility of clicking the link is there.
Create a Facebook Page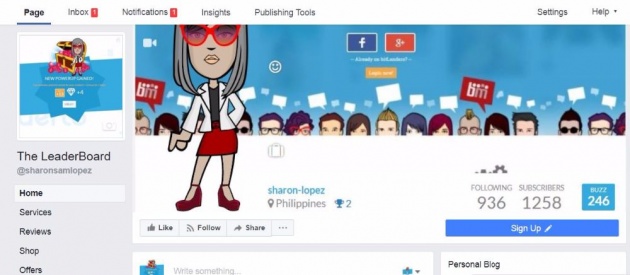 Image was taken from my Facebook Page
Creating a page for our site is one of the best ways to gain referrals. We should include if possible a video of how to sign up and the step by step procedures so that the person who landed on our facebook page will have a complete guide for the sign-up process.
The benefits they can get for joining the site should be clearly stated in the posts or photos that we have.
Lastly, we should always make a time for some queries. I get 30% of my referrals when I personally guide them through chat or by sending additional materials.
I also offer my help whenever they encountered some issues during and even after signing up.
Video Credits: Bitsonline via YouTube
That's all, for now, my friends. I hope these tips can help you gain more referrals and increase more earnings with any site that you have.
Thank you for reading!
Written for Bitlanders:
by: Sharon Lopez
Do you have the skill in writing? Come and join us in Bitlanders
Thank you for reading.
Please visit my blog for more articles.
Sharon Lopez is a graduate of Bachelor of Science in Commerce Major in Banking and Finance and currently working in the government handling programs on Business Friendly and Competitive LGUs.
You may visit me on Facebook.
-oOo-
Disclaimer: The views and opinions expressed in this blog post are that of the author and does not in any way represent the agency or department she currently belongs.