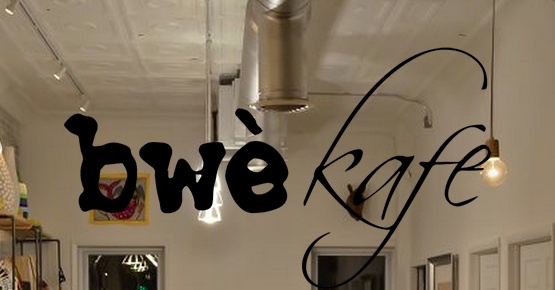 I know we've got Italians on this website so I expect this article to start some fireworks. I can't wait for them. It's one of my favorite parts of social media. I expect everybody is going to tell me I'm wrong and that their cup of coffee is the best thing they've ever had. Hey, if you can send me the beans or we can meet up and compare I am happy to do so. Coffee Wars. Excellent.
Anyway, Bwe Cafe is located in my town of Hoboken right off of 10th and Washington. It's an extremely relaxed atmosphere with a pretty cool backstory. Basically, anything that is outside the realm of Starbucks or Panera Bread will have a cool backstory, but give this one a shot . . .
Welcome to bwè kafe, Hoboken's coffee shop and living room! Dedicated to serving top quality and earth conscious coffee through exciting brewing methods – as well as specialty teas, drinks and healthy foods - bwè kafe is an open and warm setting for stories to be told, creativity to flow and cultures to meet. Started by a group of Hoboken residents (and supported by their friends near and far) in 2013, the story of bwè kafe began in 2010. When the earthquake in Haiti hit, Hoboken resident Maryanne Fike, and a few friends, knew that they had to do something. Using their social media network they were able to gather a team of doctors and like-minded individuals who also saw the value in aiding in the aftermath of this tragic natural disaster. The fact that no civilian planes were allowed in the country didn't hold them back. Instead, they flew to the Dominican Republic and rented a bus to take them over the border, and in less than 10 days after the earthquake, they were in Port au Prince, providing emergency medical care, and temporary housing to anyone they could.
Through this experience, Maryanne co-founded Love for Haiti / the Ark Project, a 501c3 organization whose purpose is to assist the children and youth of Haiti to have a promising future. Maryanne has been back to Haiti more than 15 times since her initial visit, and through Love for Haiti, has sponsored youth by funding their higher education aspirations and assisting with teacher training and an art program at several elementary and high schools in Port au Prince. In an effort to sustain these efforts she recognized the opportunity to open a cafe, offering Haitian coffee, and have a portion of the proceeds go towards these projects!

Maryanne shared this idea with her daughter, Dale Ryan, and her son, Evan Ryan, her son-in-law, Tatsuaki Mori, and family friends; Kafele Boothe, Akiko Masuda, Judy Rector (co-founder of Love for Haiti) – who all immediately signed on. Together this team set-out to provide Hoboken with the best coffee whilst helping to provide Haitian youth with the opportunity of higher education!

Through Love for Haiti's frequented trips to the island, it was apparent that, in addition to a limited access to education, the people of Haiti were also facing a deficiency of safe drinking water. With this in mind, bwè kafe decided to have a portion of their proceeds also go to Coffee for Water, founded by Jahan Tavangar of Philadelphia. This social enterprise company provides water filtration services in Haiti, supplying the people there with access to safe drinking water.
Keeping true to their commitment to Haiti and their commitment to providing Hoboken with quality coffee, bwè kafe teamed up with La Colombe. La Colombe is a top quality, world renowned, roaster based out of Philadelphia who sources its coffee from all ends of the Earth – including Haiti – using direct trade practices. For this reason, La Colombe is the exclusive roaster for all coffee sold at bwè kafe. By funding college education through Love for Haiti, supporting Coffee for Water, and serving delicious La Colombe roasted coffee, each cup sold at bwè kafe goes to helping Haitian youth get the education they deserve, supplying the Haitian population with clean drinking water, and benefiting Haitian farmers! This project is one that was born out of love, developed out of love, and will continue with love as its driving force. Love for Haiti, Love for Hoboken, and Love for Coffee is what gave birth to bwè kafe and are what will keep bwè kafe going for the days, months, and years ahead!
Did you get through the whole thing? If you didn't, did you at least get to the part about their commitment to Haiti and their partnership with Coffee for Water suppling Haiti with safe drinking water?
So that means every time we get coffee there we're helping out people in Haiti. Also, it's delicious. I've only been there twice. Normally if I run in that direction I make a point to stop there and grab a cup of coffee. They've got more exotic selections that I'm too much of a wuss to try at the moment, but one day I'll man up.
So that's my favorite cup of coffee - a hot BWE blend from Bwe Cafe. Now is the moment of truth.
What's yours?