To Boniface Mwangi, 'activism' has become a dirty word in Kenya.
"It's a label that is used very loosely for somebody who is outspoken," he tells me. "People who are afraid to speak their mind call you a dissenter, they call you an activist, they call you unpatriotic. But I think opposition -- that's our patriotic duty."
We're sitting in what feels like an urban treehouse for young Kenyan activists, surrounded by sketched portraits of current and fallen 'patriots' -- from Malcolm X to Nelson Mandela. A couple of years ago, Boniface launched this space, PAWA 254, to be a hub for activists and politically-charged artists. His site now boasts PAWA as the only art and activism hub in Nairobi.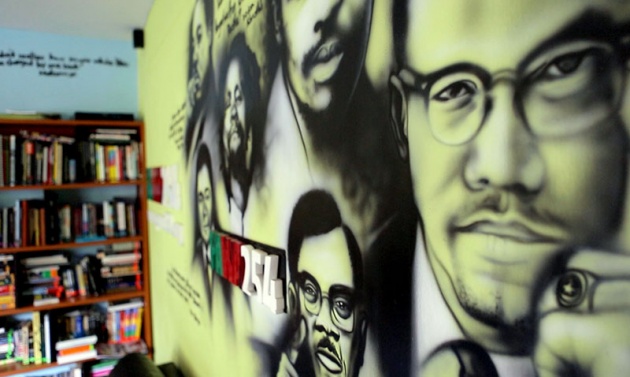 Malcolm X, Martin Luther King, Jr., and other activists share PAWA 254's walls.
Boniface's heroes keep him and the half dozen or so other young Kenyans camping out at PAWA 254 company as they paint, sketch, draft blog updates and plot new demonstrations. As a free space for working, thinking and hanging out, I'm a little surprised there aren't more young Kenyans lounging in the bean bag chairs of PAWA. How does someone get 'in' here?
"Well, PAWA doesn't attract the faint-hearted," Boniface tells me with a slight smile. "You have to be radical to work at PAWA because, you know, you may get arrested, we may get raided, you'll be harassed, you'll be labeled an activist... so you have to be conditioned for that."
The laid-back atmosphere of PAWA may not convey it, but being a human rights worker in Kenya today is neither easy nor safe. In the last few years, significant evidence has emerged from investigations led by the United Nations, Human Rights Watch and other organizations that violence and threats against activists and civil society members here are on the rise.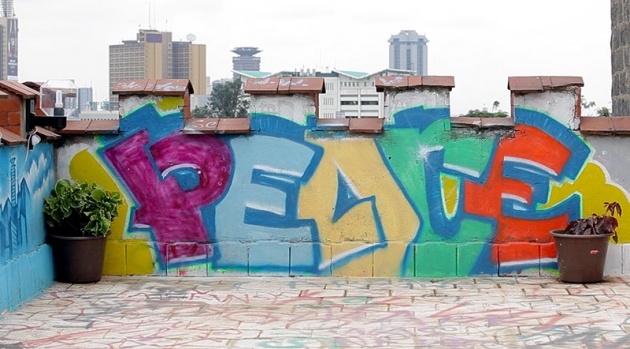 The rooftop at PAWA 254 in Nairobi, Kenya.


In 2009, two activists investigating extrajudicial killings that occurred after Kenya's 2007 presidential election were shot dead outside their workplace. In 2010, reports emerged that several activists were detained and tortured by 'security operatives' and in 2012, a human rights worker investigating voter registration corruption was severely beaten.
This year, while Kenya's President and Deputy President face charges for crimes against humanity at the International Criminal Court, attacks continue on activists back at home. In September, two human rights lawyers in Western Kenya were gunned down, and the former chairman of Kenya's National Commission on Human Rights received a threat that her house would be burnt to the ground.
While Boniface seems to shrug off the dangers of speaking out, he's well aware of what he and his compatriots face when they take to the streets. But to him, the louder their voices are, and the more voices that join them, the safer everyone will be.
"If you have everyone involved, well... who's going to kill everyone?"
Join the Twitter conversation on what's happening in activism in Kenya by using the hashtag #inACTIVISM.
This is the first in the #inACTIVISM series — videos that explore the current conditions for human rights work around the globe through brief talks with activists working on the front lines. Follow Mo on Twitter for future #inACTIVISM episodes : @moscarpelli