Judo has been my school of life for the last 30 years, and it gave me the best friends in the whole world. This past weekend, I spent Saturday at the New York Athletic Club with long time friends John Walla, Alessandro Hamada, Tom Courtney, and many other members of the NYAC Judo Club to prepare the 6th floor Gym for Sunday's event, the 2014 New York Open Judo Championship!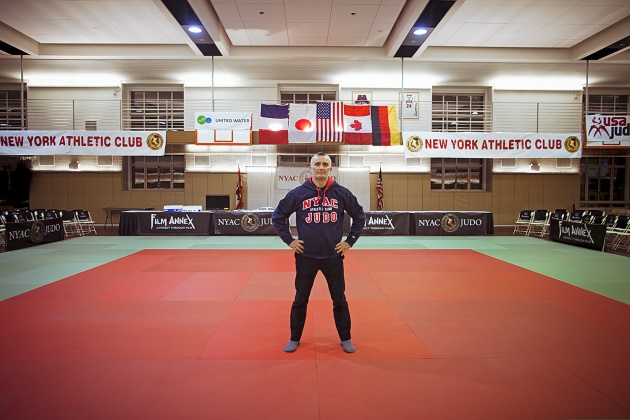 On Sunday, 6 male teams from France, Germany, USA, Canada, and Japan faced each other, as well as 2 female teams representing the USA and Japan. France won the male division followed by Japan and Germany, while in the female match, Japan beat the USA. Film Annex was one of the sponsors, along with the NYAC, Arthur Canario and United Water. Money prizes were awarded in Bitcoin for the first time in an international sports competition.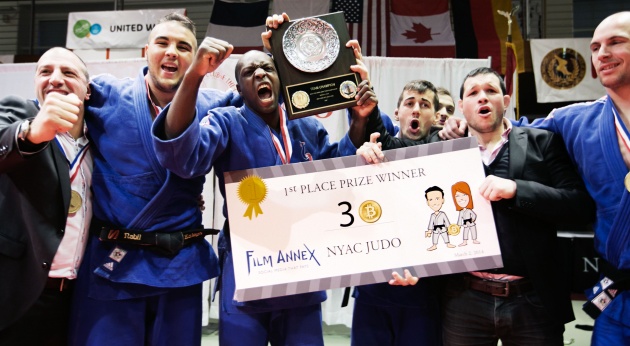 Team France, Winner of the 2014 New York Open Judo Team Championship. (Picture by Alena Soboleva.)
The arena was filled to its maximum with music accompanying the fights from the semifinals all the way to the finals. It was a fantastic day and event. Many of my friends, clients and colleagues attended the event. I am sincerely proud of what we were able to achieve this year.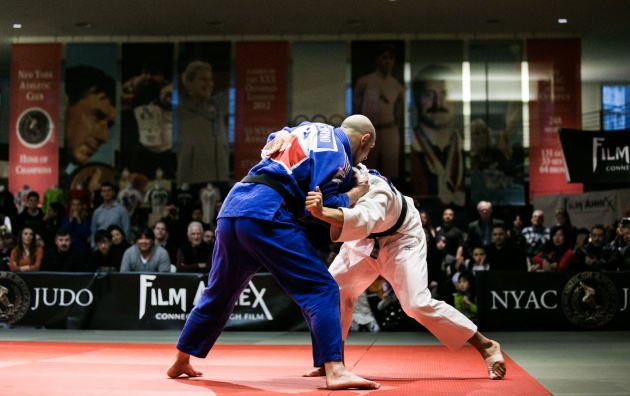 Final Match of France Vs. Japan. A few second later, Massimino of France threw his Japanese opponent for Ippon with Ouchi Gari, to win the event for his team. (Picture by Alena Soboleva.)
Semyon Maltsev, Aleksey Levchenko and Alena Soboleva directed the filming and photography of the event. We are now working to produce the first videos and publish some dramatic pictures. Mike Sweeney and Feresheth Forough coordinated the interviews, focusing on Bitcoin investors and female Athletes and connecting the dots to Women's Annex Foundation's mission of "Digital Literacy with Digital Currency".
The prizes were paid in Bitcoin, and the next day, Bitcoin's value in the international markets increased of over 25% in value. Just a coincidence? Did France's win on Japan contribute to this drastic market change?? Bitcoin is a digital currency possibly created by the mysterious Satoshi Nakamoto, a Japanese man... I have a feeling that Satoshi was in the audience on Sunday and I heard rumors that Mr. Nakamoto is an expert Judoka... Combining the discipline and strength of Judo with the mathematical strategy of Bitcoin is changing the world. This is why today, we started awarding additional individual Bitcoin prizes to the female Athletes from both teams.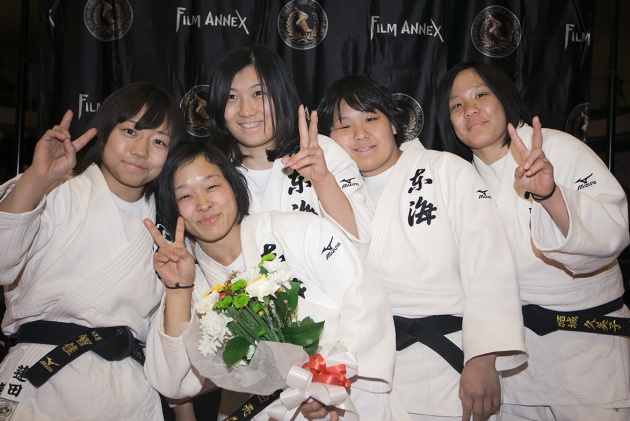 The Japanese women's team from Tokai University. (Picture by Alena Soboleva.)
The #Judo #Bitcoin #Rewards are live on BitLanders Judo Rewards Page, building a community of 500,000 users and 180 million friends and fans to support the Olympic Sport of Judo! Check it out and spread the News!