Most of us were still wondering about Bitmiles technology until now. Bitlanders keeps on posting blogs about it since they launched it but it seems like most of us were not really reading about it and still asking what is it and how it works. So I tried to read those blogs again. Out of my curiosity, I started to search more about it specially when Bitlanders finally introduced the Bitmiles' site which is connected in our Bitlanders' account.

What is BitMiles?
BitMiles is an innovation that amplifies/boosts the return of brand on the investment by compensating their users or ambassadors, increasing their enthusiasm / interest in the campaign and let their brand user's reward go to the cause task. It's a platform to unite brands or partnerships, clients/users and causes.
The advantage of a brand from BitMiles is, It increases the users' engagement to a brand through it's task rewards. Click here for the Updates and Bitlanders' progress with Bitmiles by Francesco Rulli, founder of Bitlanders.
BitMiles' Concept
BitMiles' concept is, when an active user completed a task, it gives a brand the ability to utilize Bitcoin (Digital Asset) as a prize / reward mechanism to it's users and brand's cause.
To make it easier to understand, Bitlanders uses BitMiles which is a method where a brand, rewards its users just by completing various tasks, and will be rewarded in bitcoins-based points that were divided between the user and the charities sponsored by Bitlanders.
That's why BitMiles is just good for sites like Bitlanders with:
- 500,000 users
- 200,000 tasks completed daily
- from 2-16 min time per buzz session
- from 20% - 80% userbase daily engagement
- 180 million friends/fans
- 100,000 daily buzz rewards
- 10,000 daily donations
- 150,000 daily interactions, according to them since it was implemented.
"Thanks to bitMiles, time on the site grew from 2 to 16 minutes per session," says bitLanders CEO Francesco Rulli."
How do I get rewarded with here in Bitlanders?
Earn rewards by performing Bitlanders Tasks
I don't have any idea about BitMiles before but before it was introduced here, all we've been doing that time is doing tasks like claiming satoshis at the homepage as what Bitlanders told us to do from his previous blogs that's all. But later on, they added more tasks for us to get more rewards like sharing our ranks and buzz scores and buzzing payment and donations given by other members.
For almost half a year, BitMiles was launched and we've been already using it in Bitlanders' platform. Then, In partnership through Bitmiles, here comes the newly added tasks last September, hunting Bitmiles banners for more rewards plus treasure hunting by watching videos which made the Bitlanders' userbase daily engagement jumped from 20% - 80% compared before. All those tasks triggers a donation to your top three selected charities which you can choose from your preferences. Most of the tasks are found in your homepage that gives you reward powered by
.
Collect Satoshis in Homepage
I know most of the members are now familiar with this task. It's one of the noticeable tasks that can be found in your homepage every time you visit that page. Just by clicking boxed posts with Bitcoin sign above it you'll see a blue button before the content. Claim it to complete the task.
Share your Ranks and Buzz scores
Another task is sharing your ranks and buzz scores. It will appear in your homepage once you got your treasure box. Share these and get a reward. Additional task is Buzzing the donations and payments you see in your homepage will give you rewards too.
Hunt for BitMiles' Banners
This task gives you +30 satoshis up to 3 times a day per banner summing up to +900 satoshis when you are able to find them all. Hunt for these banners daily. I'll just show you the banners with out the links to make hunting more interesting here. Since they introduced it here, I was able to find and save their links that's why I can still claim satoshis from these banners even if they are not shown in Bitlanders most of the time. I don't want to ruin this hunting rewards task because if I'll post those links again making for everybody more easier to hunt them, then it's not hunting anymore. Try to search these banners by searching their links in your search box if you haven't cleaned your cache/history yet. Just type the banner's name. I noticed before whenever I give tips/ making tasks easier for members or whenever most of us got the strategy already, Bitlanders change it again. So get rewarded from your efforts guys =)
Video Treasure Hunt
Another hunting task is watching videos. Clicking a video and buzzing it is not enough. You have to wait for it to play. But to recognize a treasure in a video, a video ad should play first. Let it finish until the posted video will play at least for a second before you get your +100 satoshi reward. Keep on watching videos. This kind of reward is also hard to find sometimes.
Daily Quests
I'm sure you don't want to miss these daily task. It gives you +8 bonus buzz points if you complete them. But most of us gets +5 only if we can't bring a friend here.Share a video, Watch 5 videos, read at least 5 blogs a day and bring a friend to get a reward.
Shopping
By shopping in Bitlanders, you can give rewards to a certain cause. You gained an item and you gave reward too as a donation. That's it.
Exploring BitMiles Technology
While having a research, I just knew that BitMiles used Adblockers to solve Adverstising Industry issues. And later on, they introduced how to engage with your audience with BitMiles. This is good for those who have websites out there to attract more visitors/users.
Now let's explore BitMiles' site. This image below is only a guide. You might be looking for this
Of course the first step is Log in.
Log in to BitMiles using same email and password you used with your Bitlanders' account or Log in through Facebook using same Facebook you used in your Bitlanders' acount.
After logging in, you'll be redirected to your dashboard. It is where you can see your balance and your latest tasks(Bitmiles banners) recorded.
Balance in your BitMiles is same in your Bitlander's earnings as well. Yes, Bitlanders' earnings is shared with Bitmiles. I admit that I got confused with this before and freakin' out why does our earnings in BitMiles change a lot everyday. Then I just noticed it when I cashed out, my balance in Bitlanders is same with my balance in BitMiles. Now I get it.
You can connect your websites through BitMiles in this page to increase the rate of your user's interest in your site too just by giving them rewards. I tried to create App through this and here's what I experienced. (This is only for trial purposes)
First, Input your App's name and link then Add Image. Click create.
You will be redirected to next page. Add New Reward. You need to fill out the form on how you want your users be rewarded. Image below is just a sample (For trial Purpose only).
You will see SUCCESS in green color above when you successfully added a reward in your app.
Then you will be asked to Install BitMiles In your App.
And you can now add funds in your account for your Apps' reward.
About App Rewards
There are two options under your "Cash Out" menu; Funding your account and Redeeming earnings from your BitMiles account both through PayPal.
Cash Out - If you want your funds to be sent in your Paypal then withdraw your earnings through Bitmiles. But if you prefer to redeem your earnings through Bitcoins, then withdraw through Bitlanders.
Fund your Account - Once you have an App in your Bitmiles, you can now add funds through Paypal as your App reward for Visitors/users.
Funding Your Bitmiles account through Paypal
Redeem Your Earnings Through Paypal
This is where you can redeem coupon. Actually we haven't tried this option yet.
This is where you can track the record of your recent transactions. Even transactions in Bitlanders and Bitmiles are shared not only in earnings.
This is where you can see all your created Apps here in BitMiles. You can edit and update them here. The image below is just a sample (For trial Purpose only).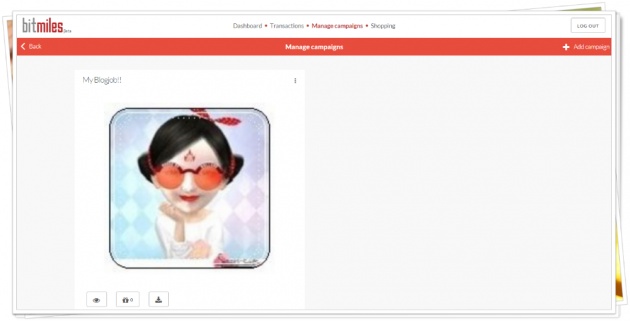 That's all and I hope this helped you understand how BitMiles Technolgy works. Happy Earning to all of you.