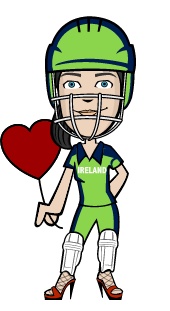 I have purchased another set of cricket uniform again today and this time, I am with the Ireland Cricket team. Although I have already familiar with this game because when I was working in Dubai, I have seen a lot of teenagers and adults play this in the plazas of Dubai.

Even the company which I had worked for before had also participated in this game. They even made a tournament within the company and we watched the said game. The players or the employees are mostly Pakistanis and Indians actually and if you are not aware of it yet, these two nationalities have their own country issues too which really makes this rivalry more thrilling.

But we were on the same company, working together so that game was more of a team building stuff. But that is not really related to why I selected Ireland. I guess I just like to see that it is colored green and I am have not worn any green colored costume yet here in Bitlanders.

How do you find my costume today?