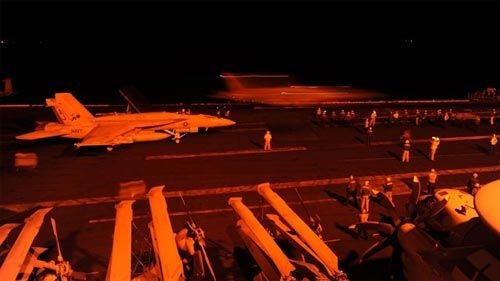 IS and pitted the US-led coalition
According to the United States Central Command, as of this time Washington has launched more than 220 air strikes on targets in Syria and Iraq of IS.
IS the American military despite strike
Macro under his horrific life IS
weapons, assault, IS, United States
New phase in Syria bombed by the United States carried out with the help of five Arab countries. To suppress extremist group Islamic State (IS), the United States and other countries have mobilized enough weapons attacks from stealth fighters, bombers, Tomahawk missiles to unmanned aircraft most modern .
However, despite the successive waves of American bombers, IS continues to advance. IS is now thought to have an advantage with the ability to send troops and weapons between Syria and Iraq. Accordingly, the fighters entering Iraq from Syria help forces control most of the northern region of Iraq in June, and this group seized weapons were sent to Syria, to help soldiers fighting in this.
BBC reports that American officials believe that the existing IS to 31,000 soldiers in both Iraq and Syria. Iraq expert Hisham al-Hashimi said, about 30% of the military forces fighting for an ideal, while the rest joined forces for fear or duress.
weapons, assault, IS, United States
A large warrior IS is not Iraq or Syria. Soufan Group recently estimated that more than 12,000 foreign workers from at least 80 countries, including 2,500 people from the western countries have gone to Syria, to join the army for 3 years.
The experts, IS recruit a large number of foreigners who joined the network, through those sympathetic to Islam, instead of them joining extremist organizations this.
IS warriors can access and use a large amount of small arms and heavy weapons, including trucks mounted with machine guns, rocket launchers, anti-aircraft guns and missile systems on land.
IS also seized tanks and armored vehicles from Syrian and Iraqi troops. The group is believed to supply weapons very flexible, which ensures the supply of ammunition and small arms for the militants. Quite strong firepower helped the group gain the position of the Kurds in northern Iraq.
According to incomplete estimates, IS has 20 tanks, hundreds of truck mounted machine guns, a couple of Black Hawk helicopters, 15 patrol boats on the river.
To cope with IS, the United States has mobilized a terrible weapons with the help of five Arab countries. In this air campaign, in addition to the fighters, unmanned aircraft, the first American to deploy stealth fighter F-22.
In addition, the United States also use cruise missiles, including Tomahawk cruise missiles, launched from ships at sea.
In destructive bombing campaign of IS capability, amphibious warship USS Makin Island has dispatched six Harrier fighter aircraft to bomb targets of radical Islamic groups.
Join the campaign also USS George HW Bush has a capacity of 70 fighters, the USS Arleigh Burke and USS Philippine Sea launched Tomahawk missiles. Stealth bombers, F-22 sorties from a secret base. Unmanned Predator aircraft equipped with Hellfire missiles.
5 American country assistance including Saudi Arabia, the country owns 235,500 troops, 11 warships, 1055 tanks, 300 warplanes, 100 ships patrol; Bahrain, which has 13,000 troops, 180 tanks, 11 warships, 22 patrol boats;
The United Arab unity with powerful force consisting of 65,000 troops, 34 combat aircraft, 545 tanks, 34 patrol boats; Qatar with 11,000 troops, 118 tanks, 14 fighters and four patrol boats with Exocet missiles and SAM; Jordan with 110 700 troops, 1321 tanks, 24 combat aircraft and 27 patrol boats.