Image Credit: by @artbytes via Bitlanders
Happy Independence day!
Well, by the time you read this, the celebration which is held every 12th of June had already passed and gone. Anyways, I'm not going to write about the celebration itself. I am going to write about the Tiara and other festive outfits as announced by Mickey the Slanted Salerno in his posts:
Philippines Independence Day Celebration Festive Outfits and other items
For the Philippines Independence Day Celebration here are the outfits and other items and their corresponding bonus buzz points.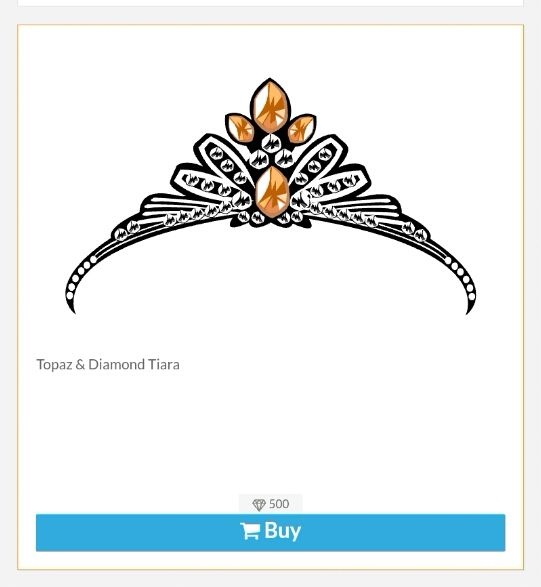 The Topaz and Diamond Tiara
Image Credit: Screenshot by @artbytes via bitlanders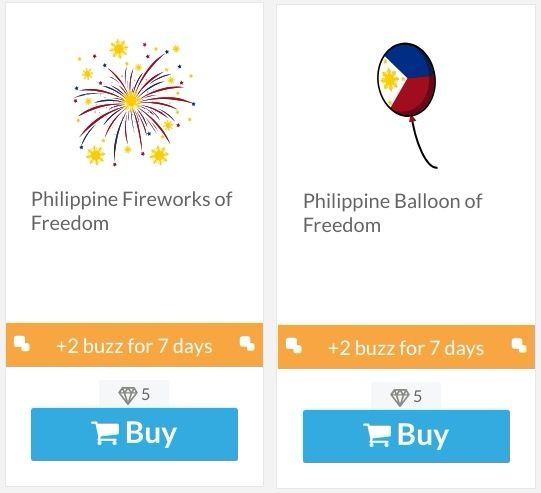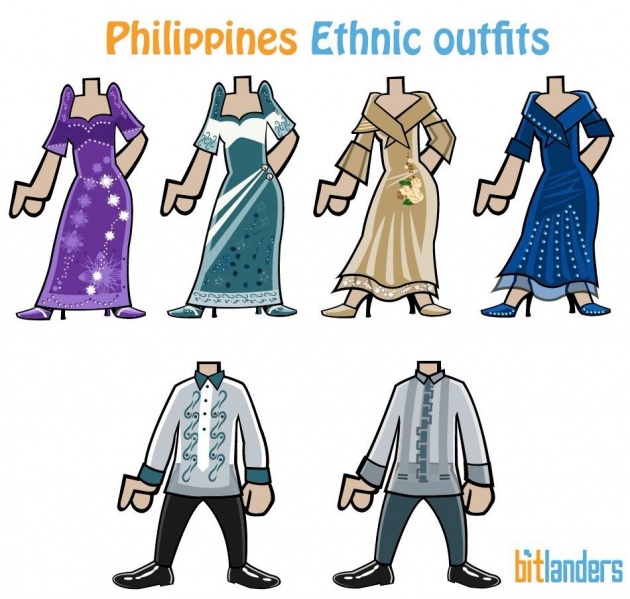 Philippine Independence Day Fireworks and Balloon, and the Philippines Ethnic Outfits.
Image Credit: Micky The Slanted Salerno via Bitlanders
They Cost Gems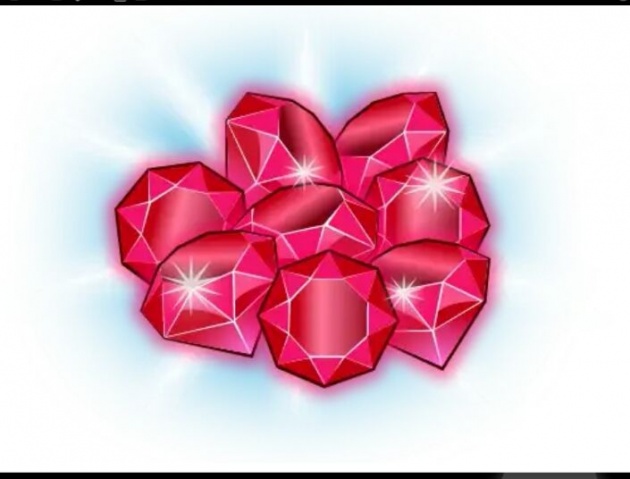 The outfits and other items cost gems.
Image Credit: screenshot by @artbytes via bitLanders
As you can see, each item costs gems. The clothes cost 2 gems each with +1 buzz bonus for 4 days. The fireworks and balloons cost 5 gems with +2 buzz bonus for 7 days. The Topaz and Diamond Tiara costs a whopping 500 gems but it comes with plus 30 buzz score for 180 days - that's about six months!
On the average 10 Gems costs about one Dollar. It gets cheaper if you buy them in bigger bulk. Since my funds were a bit limited, I bought a couple of 'Small Box of Gems' which costs $21.588. Therefore, I spent $43.176 to buy the 500 Gems. All the amount, of course, came from my earning here in bitlanders.
What is the Buzz Score for?
For those who are not familiar yet or those who are new here in Bitlanders, the Buzz Score is the scoring system here in Bitlanders in which the revenues of the members are based.
The revenues are based on a scoring system that we created called the Buzz Score, which takes into consideration the quality of your content, your sharing, and influence. The Buzz Score quantifies your social and gaming skills!
The Buzz Score
Video Credit: @bitLanders via Bitlanders.
Simply put, the more buzz you earn the more bitmiles or dollars you gain! Here in Bitlanders, there are several ways to earn your Buzz scores. One of them is buying the items from the Bitfashionista section under the 'Shop' page. Some items do not come with Buzz bonus though.

Home much is one buzz score worth?
I made some analysis based on my own buzz score and how much bitmiles I get. By the way, 1 Giga-bitmiles -* or 1 Million bitmiles is equivalent to one dollar. Also, I used the numbers from some of the users on the leaderboard as well.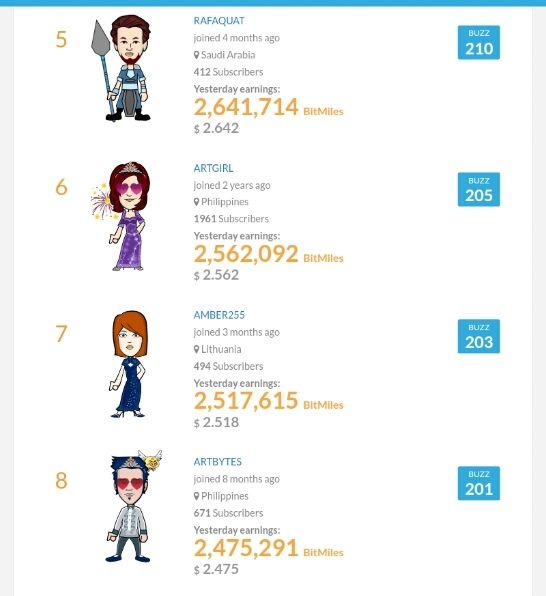 The Leaderboard
Image Credit: screenshot by @artbytes via bitLanders
Bitmiles Per Buzz
Let's use my own numbers to compute for the Bitmiles per Buzz.
In the image, I have 2,475,291 bitmiles and 201 buzzes.
The formula I used is:
bitmiles / buzz = bitmiles per buzz
so:
2,475,291 / 201 =

12,314.88 bitmiles per buzz
Note that this is NOT the actual formula used by Bitlanders. Plus there are other ways to earn bitmiles without earning buzz score like the mining and the Flappy Pig game. And I presume that Bitlanders is using a bit more complicated formula. However, we can use this formula to have an approximated value of how much bitmiles per buzz.
To make my point clear, let's use the numbers from @jean-beltran's earnings: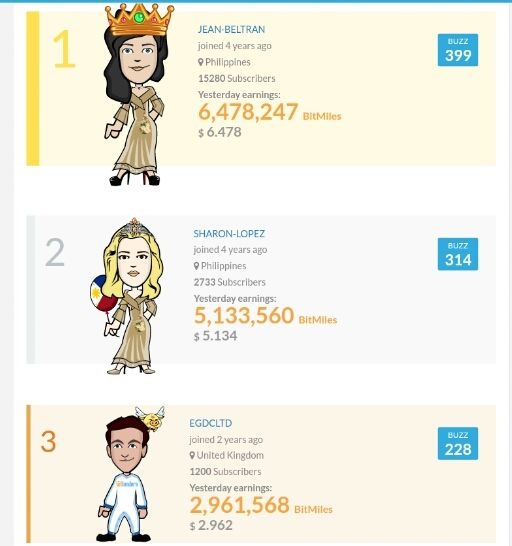 The Leaderboard with the top 3 users.
Image Credit: screenshot by @artbytes via bitLanders

6,478,247/399=

16,236.208 bitmiles per buzz
Cost over Benefit
Now we know how much we could approximately earn for each buzz we gain, and the cost of the gems. Let's use those numbers to determine if it is really worth to spend all those 500 gems which costs $43.176.
In business, there is a process called Cost Over Benefit or to be more precise, Cost-benefit Analysis.
Cost-benefit analysis (CBA), sometimes called benefit costs analysis (BCA), is a systematic approach to estimate the strengths and weaknesses of alternatives (for example in transactions, activities, functional business requirements or projects investments); it is used to determine options that provide the best approach to achieve benefits while preserving savings.[1] The CBA is also defined as a systematic process for calculating and comparing benefits and costs of a decision,
One purpose of CBA is to determine if the benefit outweighs the costs. In this case, we will determine if we would gain a few more dollars by spending for the cost of the Tiara.
Cost= $43.176
Approximate Benefits
Buzz Bonus: 30 Buzz for 180 days (30 x 180 = 5,400 buzz)
bitmiles per buzz score =12,314.88
12,314.88 x 5,400 = 66,500,352

or

$66.50 in 180 days

.
This means we could gain additional :
$66.50 - $43.176 = $23.324 after 180 days.
That's more than 50% gain in six months!
Is the Topaz and Diamond Tiara worth buying?
I suppose the figure above shows that buying the Topaz and Diamond Tiara is indeed worth buying. However, here in Bitlander,s, the main source of buzz score is still publishing quality blogs and rated videos and galleries.
Buying the Tiara
I bought the Topaz and Diamond Tiara.
Video Credit: by @artbytes via bitLanders
Ever since Mickey, the Slanted Salerno announced his posts: 'The list of celebrations on bitLanders in 2018', the one-day availability of the Tiara on the 12th of June, which the Independence Day of the Philippines, it became one of my goals.
So I submitted blogs as often as I could despite all the distractions that I encounter from time to time. I saved my earnings and reserved them for emergencies only. I did not spend the $25.00 that I redeemed on the 29th of May. I let it stay in my Paypal account in case of emergency.
On the 9th of June, I ordered one Small Box of Gems. And on the following day, another box, this time, I had to get part of the payment from my PayPal.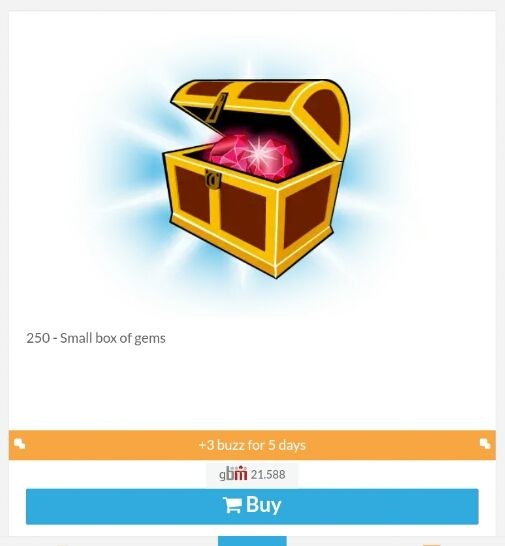 Small Box of Gems
Image Credit: screenshot by @artbytes via bitLanders
After Buying the Tiara
I intentionally delayed the submission of this post so I can analyze further the effects of buying the Tiara on my buzz scores.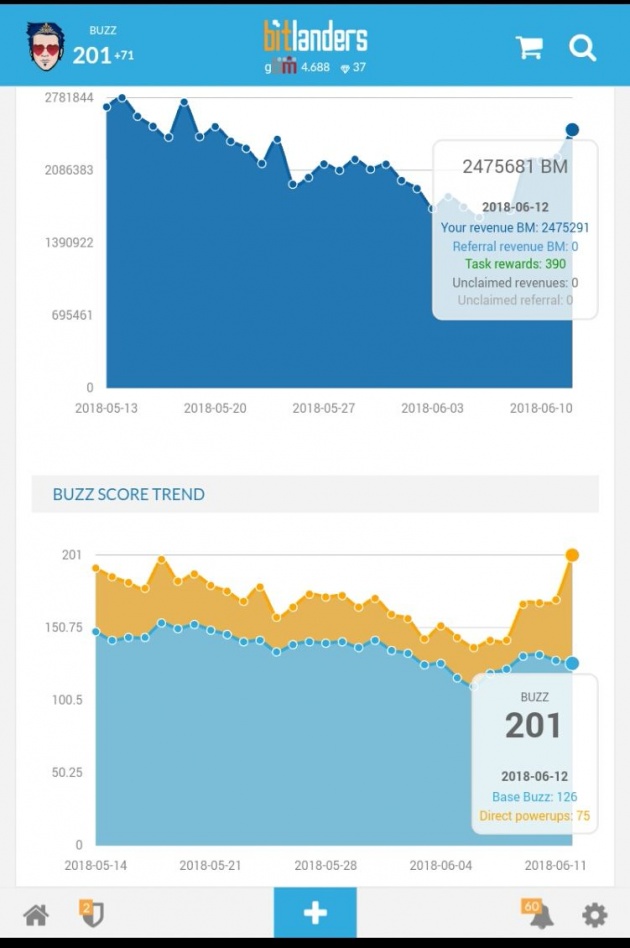 Buzz and Revenue Graph.
Image Credit: screenshot by @artbytes via bitLanders
The graph showed that my daily revenue gained additional $0.25 after buying the Tiara. Based on my computations, the additional revenue should be about $0.36 per day. I was short for about $0.11. I assume then that probably if I did not buy the Tiara, my revenue would have dropped at least $0.11 instead of gaining $0.25.
The additional 30 buzz every day is like having at least three four-star blogs every week for six months. Thus, if you add at least three more blog posts per week is like publishing at least 6 four-star blogs every week.
That being said, here's my avatar with the Tiara and with Philippine Independence Day Festive outfits.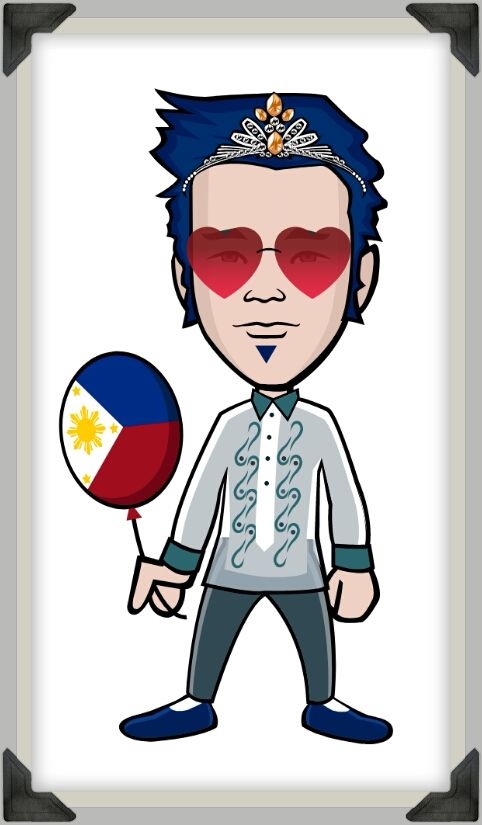 My avatar with the Tiara.
Image Credit: screenshot and edited by @artbytes via bitLanders

Well… it seems the Tiara doesn't really fit my avatar.
Thanks For Reading

~oO0Oo~

John Reynold Loberiza (a.k.a @artbytes) is a freelance graphic artist, web developer, and blogger. He is also a licensed Financial Adviser under Insular Life.
The content of this blog post is the author's original work. Proper credit is always given to the respective sources of information and images. Please feel free to check out my other blog posts: http://www.bitlanders.com/Artbytes/blog_post
If you have any reactions or inquiries regarding the subject of this post, please write it in the comment or send the author a private message.
For more information or questions you can also:
Visit my personal blog: https://jrlcentral.xyz
Follow me on Twitter: http://twitter.com/jrlcentral
or email me at jrlcreativeideas@gmail.com

~°~°~°o0O0o°~°~°~

Join Bitlanders
If you are not a member of Bitlanders yet and you are a content creator- a writer, blogger, photographer, an artist or a hobbyist, you can earn from your creations (blog posts, photos, artworks, or videos) by uploading them in Bitlanders.
You can join Bitlanders by clicking this link-> http://bit.ly/Join_bitlanders