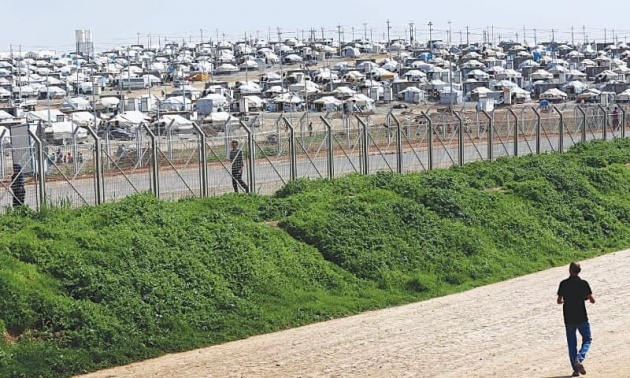 Dohuk (Iraq): A general view of Bajid Kandala camp for internally displaced persons, 50 kilometres west of this Iraqi Kurdish city.—AFP
BAGHDAD: Kurdish authorities in Iraq said on Saturday they have evidence that the self-styled Islamic State group used chlorine gas as a chemical weapon against peshmerga fighters, the latest alleged atrocity carried out by the extremist organisation now under attack in Tikrit.
The allegation by the Kurdistan Region Security Council, stemming from a Jan 23 suicide truck bomb attack in northern Iraq, did not immediately draw a reaction from the IS group, which holds a third of Iraq and neighbouring Syria in its self-declared caliphate. However, Iraqi officials and Kurds fighting in Syria have made similar allegations about the militants using the low-grade chemical weapons against them.
In a statement, the council said the alleged chemical attack took place on a road between Iraq's second-largest city, Mosul, and the Syrian border, as peshmerga forces fought to seize a vital supply line used by the Sunni militants.
It said its fighters later found "around 20 gas canisters" that had been loaded onto the truck involved in the attack. Video provided by the council showed a truck racing down a road, white smoke pouring out of it as it came under heavy fire from peshmerga fighters. It later showed a white, billowing cloud after the truck exploded and the remanants of it scattered across a road. An official with the Kurdish council said that dozens of peshmerga fighters were treated for "dizziness, nausea, vomiting and general weakness" after the attack.
The Kurds say samples of clothing and soil from the site were analysed by an unnamed lab in an unnamed coalition partner nation, which found chlorine traces.
"The fact IS relies on such tactics demonstrates it has lost the initiative and is resorting to desperate measures," the Kurdish government said in the statement, using an alternate acronym for the group. There was no independent confirmation of the Kurds' claim.
A spokesman for the Organisation for the Prohibition of Chemical Weapons, which has monitored Syria dismantling its chemical weapons stockpile, did not immediately respond to a request for comment.