It's all about the GLOBAL CHAT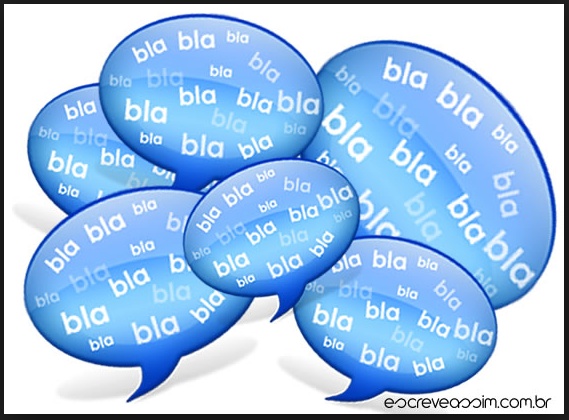 Image courtesy of Crazy Aunt Purl
Good day! Here I am again, informing you about the new rules here in BitLanders. In my six months of using this site, I, myself, see the different changes between the rules, the ways to earn and the bitlanders users itself.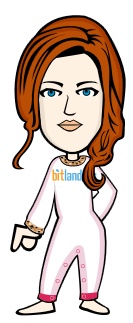 Way back to my newbie days and months, I am just trying to cope with the rules alone. Interaction is just my second priority so I just focused on posting and buzzing other users' contents. The day came when I established my self confidence, I overcome my fear of being wrong in grammar while chatting, I used to know others without hesitation in sending them my message, even in the global chat.
Global chat is the best aspect of this site, we can start conversation with others, whether you already know them or not yet, you can have the chance to gain friends here and learn from others.
Buzz for buzz and subscribe for subscribe deals, the harmonious relationship sucks down.
During my first to third months of staying here and being an active users, I have already know and established good friendships with others. During that time, everyone is enjoying each others' topics and their talks, you can see laughter through their chats and teasing for having fun. We used to help each others to earn and at the same time, enjoying each other friendship. Pakistanis, Filipinos, Indonesians, Americans and many more, we used to established good talks until this craze came, the buzz for buzz and subscribe for subscribe deals.
Gone were the days when those users stayed up late just to chat in global chat because they really want our friendships, now, majorities of the users go to the global chats just because of that deals. Sad to say, but almost all of those I used to talk to in the global chat are no longer active and left this site for good.
BitLanders have taken an action on this problem a few months ago when sir Micky published this blog --> Suspend for Buzz and Sub comments and on the chat . I really thought that global chat will go back to its function just like before, to serve as a way for a good communication, BUT I was wrong. Yes, that blog from sir Micky made an impact, but just last for I think one week after that, buzz and subscribe deals are set on again. So sad.
Global chat is one of the best features of this site, this is the best way to know other users, but majorities of the users take this as an advantage, advantage to get a lot of buzzes not knowing that because of that, others users got irritated and annoyed so sometimes they just don't visit the global chat and because of that lack of interactions, they didn't find it enjoyable to use that's why other users left this site.
Buzz for buzz and subscribe for subscribe deals are like a decease that kill the harmonious relationship of the users and because majorities became more on earnings, spamming now is taking place.
Spammers invaded the GLOBAL CHAT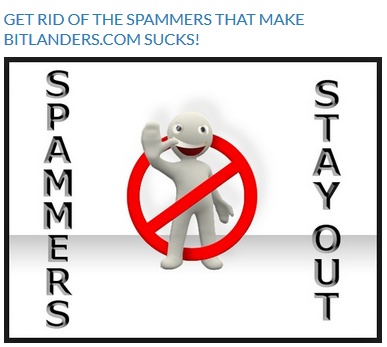 GET RID OF THE SPAMMERS THAT MAKE BITLANDERS.COM SUCKS!
People are going into earnings, majorities forgot the true essence why we have that global chat, and because of that, they can't help but to SOMETIMES do spamming. I can say that spamming is the easiest way to post a lot of stuffs, copy paste contents, repeating the words, posting stickers alone, and etc. But, by spamming, spammers never noticed that they are being unfair, not just to the site, to the other users and also to the spammers it selves. Yes, spammers it selves. isn't it is nice to earn with a good conscience? spammers think by doing such spammed contents will make them earn fast? well, they got it wrong, because this site along with its team will not going to allow spammers to continue doing wrong. That's why they created a new rules to bluff and to give a warning those spammers that they can't stay long by doing those, visit and read this blog from sir Micky -- > Rules to Follow on bitLanders To Avoid Suspension or Ban.
The good things about the global chaT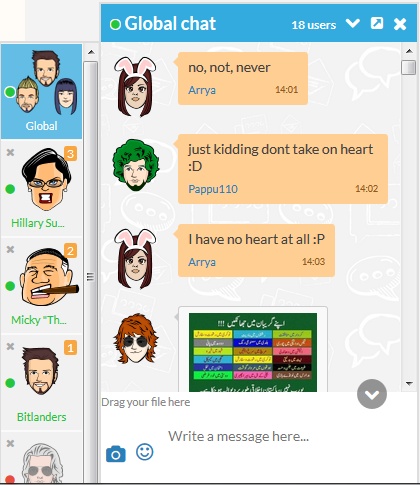 So much for those unfair users who are doing spamming and not following the rules, let's go to the bright side, the essence of global chat.
Global chat is an aspect in this site that allows bitlanders users to have conversations, establish good relationship with other users and to give us the opportunity to be updated and to talk to our administrations team that goes online sometimes, they are Sir Micky, Sir LrY, Sir Krs, Sir Francesco and Sir bitlanders. You can chat to them if you have some queries.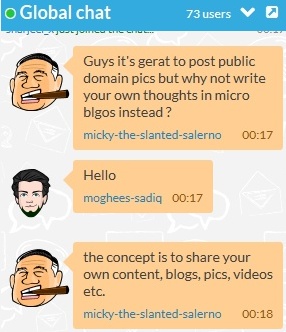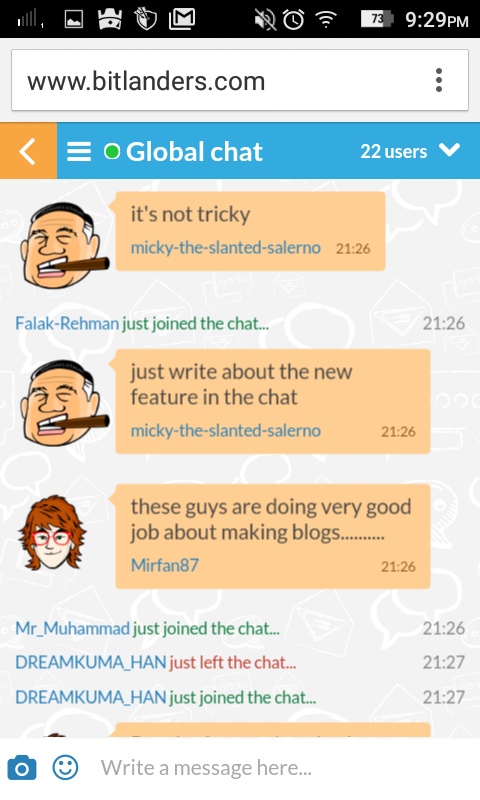 Now, when you log in to your account using desktop , laptop or tablet, your name will automatically appear in the global chat so that everyone will know that you are online, there is no option to turn off your global chat so this is a best way to attract you to go and interact with the users.
Aside from gaining new friends, since you are interacting with others, you will have the chance to gain more buzzes for your contents. I am not pertaining to buzz deals because for me, as long as you talk with them, some will visit your page and when they find your contents interesting, you do not have to have deal with them, they will give buzz to your contents without you asking. That is what I always do, I don't want to have deals with others, I want them to find my page more interesting because for me, buzzing without reading is useless.
Earn More using GLOBAL CHAT
Video courtesy of big brother jikZ
Now, Global chat can be a way to earn more, the essence of using this chat box is no longer for interactions and to gain buzzes alone because you can earn bitmiles by staying to this section to answer some survey questions.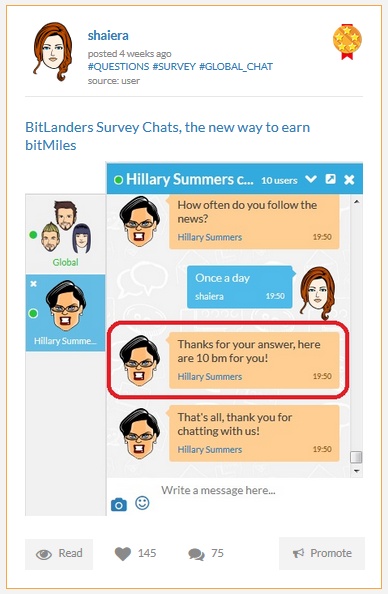 Before, we can earn only 10 bm (bitmiles loyalty points) for each answer we give but now they increased it, they give 30 bitmiles loyalty points for each answer. See the picture below.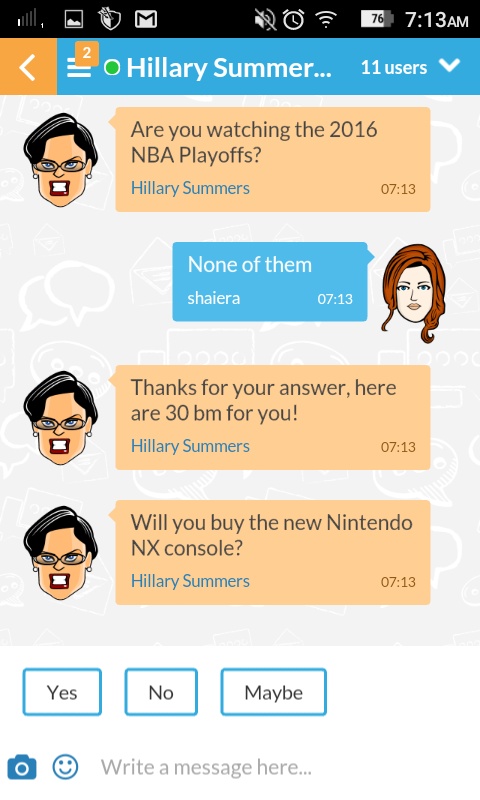 Another improvements to this aspect is that aside from directly earning bitmiles and be active to the global chat we can also learn from the survey questions they have conducted. We became updated to the news and we learn some thing for a specific topic like the questions about the trees.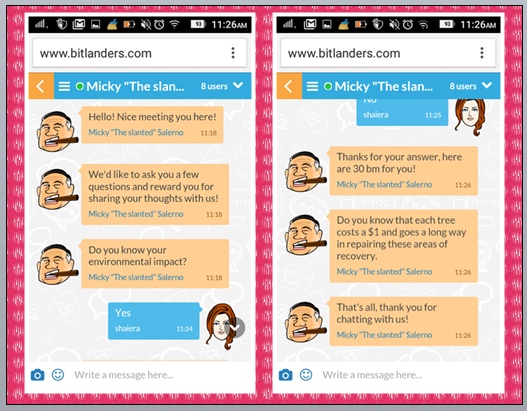 The trivia they give every time I participated to that survey chats are the reasons why I always join the Global chat. I really learn from them and since my account will be viewed in the users list at the global chat while participating the bitlanders survey chats, I have the opportunity to attract other users to visit my profile and buzz my contents.
How this survey chats works
video courtesy of my friend shaarc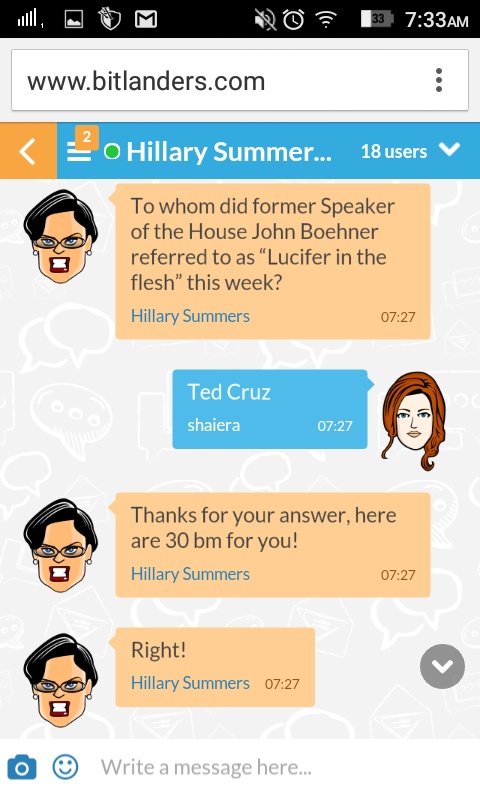 All you have to do in order for you to participate to this bitlanders survey chats is to visit the global chat. The chat bot of miss Hillary_summer , Micky"TheSlanted"Salerno and bitlanders will automatically appear in your chat box and just answer their questions. Don't worry if you give a wrong answer, Now, they correct out thoughts, they give the right answer. Even yo answer it right or wrong, you do not have to be worried because they will not deduct bitmiles loyalty points in your earnings, whether your answer is wrong or right, yo will surely get 30 bitmiles to every answer you give. Please read to the trivia that they give because it will help you to learn more about our environment.
As what I have mentioned in my first bitlanders survey chats blog, we have the opportunity to create our own survey questions and send it to the bitlanders email address which is info@bitlanders.com to see the questions we will about to submit in the Survey Chat, but make sure to follow their given instructions such as, every question should be limited to 150 characters and every answer must be limited to 15 characters.
The global chat is the best aspect of this site, we can earn through the survey chats and gaining buzzes from other bitlanders users, learn from other countries by chatting with others and gain friends as well. As I always say, to stay long on this site, we must enjoy our stay here. We can only enjoy, if we learn how to deal with other users and to have a good conscience while earnings, we will attain thios if we follow the rules. Keep on interacting with others because not all sites have a good aspect like this in their platform, we are blessed that bitlanders allowed us to enjoy in this site by socializing with others in the global chat and to earn at the same time.
Note: Aside to the videos of my friends jikZ and Shaarc, the content of this blog is my original work, please don't plagiarize.
Thanks for reading!
--> Shaiera