Competition News
Results of the Judo Grand Slam Tokyo, Japan
Kayla Harrison, 78kg , Gold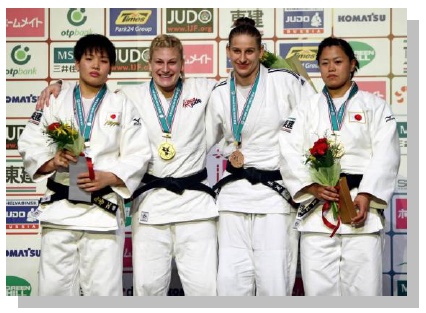 Reigning Olympic Champion, Kayla Harrison (NYAC / USA Judo National Team FORCE), became the protagonist of this weekend's news after claiming first place in the women's under 78 kg today at the Grand Slam Tokyo in Japan.
"Since June I have had a long road recovering and coming back from surgery. It's hard its ups and downs but I am happy to say that this year ended on a good note". Said Harrison.
With this win, Harrison ends the year's judo world tour making history, as she becomes the first American judoka to take first place at this prestigious tournament. Harrison, who is known for making the best of her losses, showed at this grand slam what a strong mind and discipline can accomplish.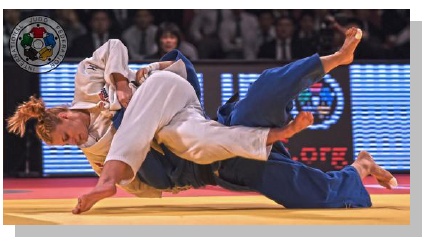 "To be the first American to win the Kano Cup is a huge honor and especially on the 50th anniversary of judo being in the Olympics. Fighting in Japan is incomparable and I love the spirit in the air. This is a good start on the road to Rio 2016". Concluded Kayla Harrison.
For the top place on the podium, Kayla fought four rounds. Here is the breakdown:
1- Preliminary Round: Kayla Harrison (USA) DEF. Klara Apotekar (Slovenia) by Ippon in 1:12 mins.
2- Preliminary Round: Kayla Harrison (USA) DEF. Akara Ogata (Japan) by Ippon in 4:00 mins.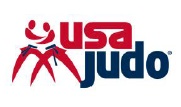 3- Semifinal: Kayla Harrison (USA) DEF. Shori Hamada (Japan) by Ippon in 2:28 mins.
4- FINAL: Kayla Harrison (USA) DEF. Ruika Sato (Japan) by Waza-ari in 4:00 mins.
Results of the 16th Annual Northeastern Judo Championships
Andrew Jacobs, -100 kg, 1st
Mishka Chelidze, 73 kg, 3rd
Results of the National President's Cup Judo Championships
OBIEDZINSKI, Patryk, 73kg, 3rd
Upcoming Tournaments and Special Events
28th Annual Liberty Bell Developmental Tournament
Date: January 28, 2015
Location: Feasterville, Pennsylvania
Contact: Lou Moyerman
215-313-2098
Tech Judo Open
Date: February 15, 2015
Location: North Bergen, New Jersey
Contact: Clyde Worthen
201-328-405
Jimmy Pedro's Judo Challenge
Date: March 8, 2015
Location: Wakefield, Massachusetts
Contact: Jimmy Pedro OR Riley McIlwain
info@pedrojudo.com
New Jersey Judo State Championshi
Date: March 15, 2015
Location: North Bergen, New Jersey
Contact: Ramon Hernandez
ramon@northjerseyjudo.com
201-206-2705
Lynn Goldberg, Editor.