Source: Google Images
Introduction:
Jeeto pakistan is ARY Digital live game show which was first launched on 18 may 2014. It is kind of a show in which prizes are being distributed to live audience through out the program and they also win prizes in different segments of the show like game and question answer session etc...
People who join the show through live calls can also win prizes of lucky viewers. This reality show of Pakistan shoot in Karachi and hosted by one of Pakistan's famous sensation Fahad Mustafa.(also known as Sunny Tonio). Fahad mustafa is a pakistani actor, model and also a producer.

Source: fahad mustafa official facebook fan page
Fahad mustafa has also worked in the film "Na Maloom Afraad", which is one of the semi hit film of Pakistan. Fahad mustafa is already a famous celebrity but film "Na Maloom Afraad" also added additional fame to his career due to his Amazing Acting in the movie.
here is the trailer of Pakistani semi hit Movie "Na Maloom Afraad" in which host "fahad mustafa" worked.
He also worked in many Pakistani Famous Drama series one of his famous work is playing a lead role in drama serial "Veena".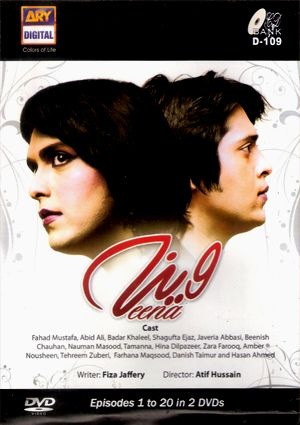 '
Image Source: Google images
Images source official Facebook fan page of jeeto Pakistan.
The good rule about the game show is that there is no limitation on the participants' participation. People from every age or back ground can participate in this game show and can earn gifts/rewards. Show also receiving good sponsorship from many famous brands due to its fame.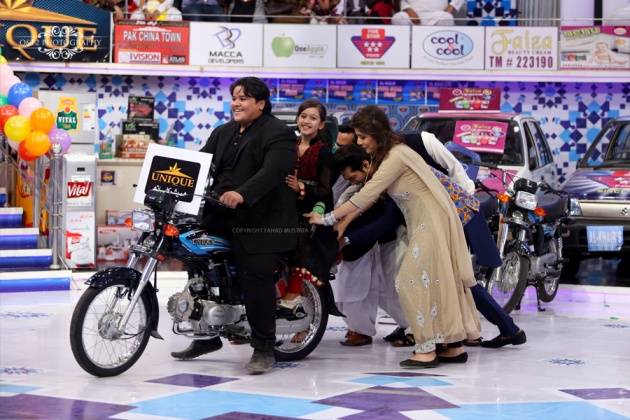 image source: official facebook fan page of jeeto pakistan
The show usually airs on the Friday and Sunday in the week every evening. But in the religious month of Ramadan (Islamic calendar Month) this show runs every day in month.
One of the Famous Games in the show is "Khul gai kismat" (Means Open up Luck). Usually this segment include big worth of gifts in which usually contestants wins Cars and motor bikes.
Example of Girl along her father winning Bike and Car at the same time.
The segment "Khul gai kismat" also includes many other prizes which includes house hold appliances and gold as well.
Promotion trends in Jeeto Pakistan:
This show usually promotes the sponsor's companies but some times movies of the same channel ARY are also promoting in the same show. Some of the movies which were advertised on "Jeeto Pakistan" show were "Jalaibee" and "Wrong Number".
Poster of"Jalaibee"and"Wrong number"movies which were advertised in "jeeto Pakistan"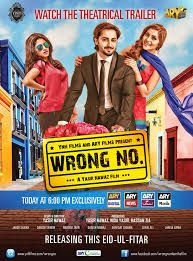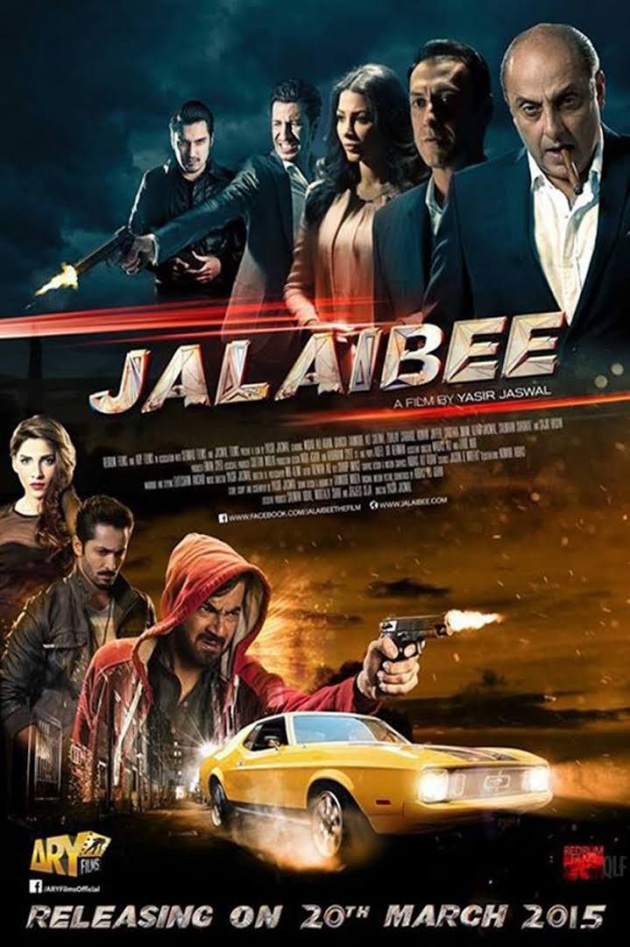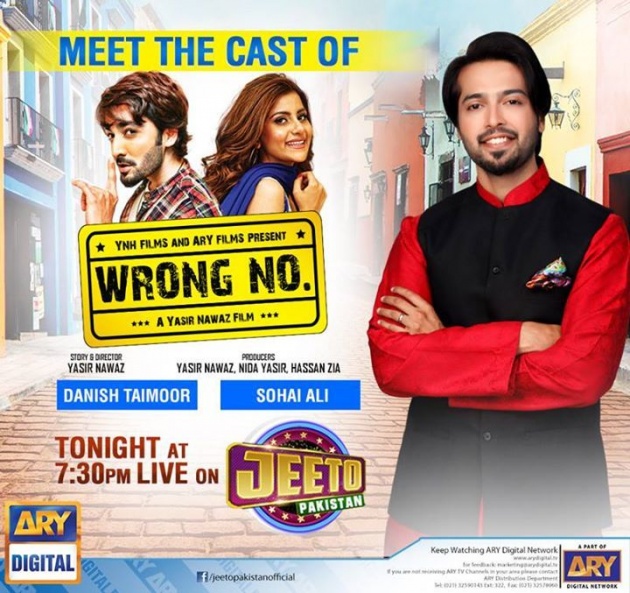 image source: Google images
Segments:
There are many segments of show Jeeto Pakistan, but production team keeps on changing the segments according to the Sponsorship. Each segment are designed in a way that it enable Participants to win Prizes. I will discuss some of famous segments to keep my blog short and interesting.
(i) Handi Charhao Inam Pakao:
This segment is based on cooking competition. Random audience are selected from the show audience. After that they are provided with limited time in which they have to cook the tasty dishes. The judges of this competition are audience themselves. The Participant who cook most Appetizing Dish is rewarded with prize.
Fahad mustafa taking sample of dish to audience for taste check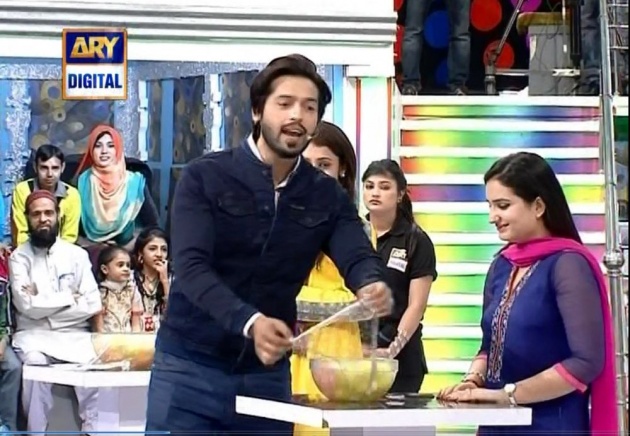 image source: official facebook fan page of Jeeto pakistan
(ii) Jeet Kay Dikao:
This segment consists of different games from running in circles, throwing balls, couple games and singing competition which are played by various audience.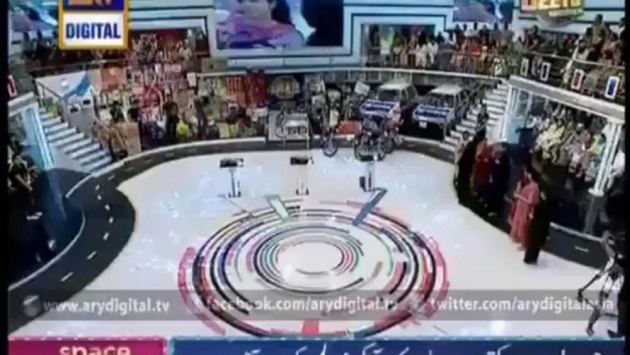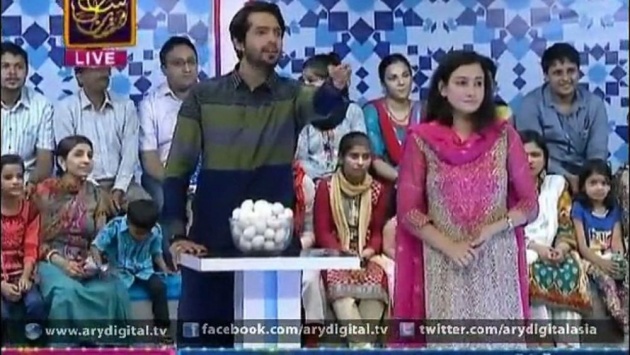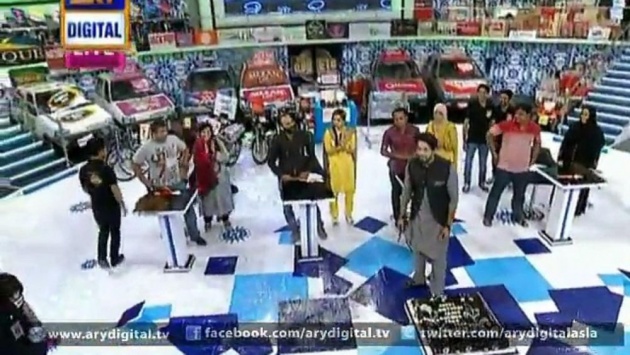 Images source: google images
Games are always unique so no body can predict them. Audience who perform in this game have only one objective to come up on top. Sometimes games get messy but in the end winner always leave happily.
One of funny example of Jeeto pakistan segment "Jeet k dikhao" in which husbands were given task to make their wife witch.
Example of singing competition among female audience of Jeeto Pakistan.
(iii) Bigul Bajao Inam Pao:
Bigul is musical instrument which also shown in first image.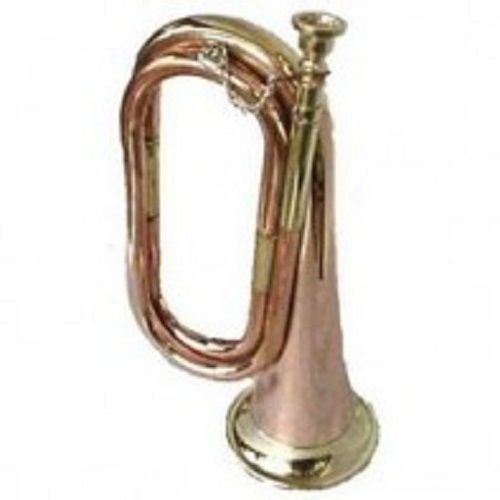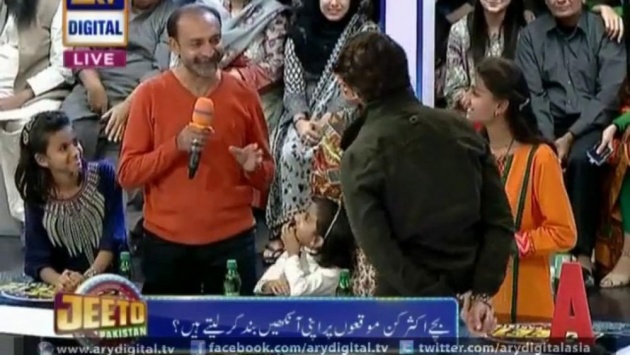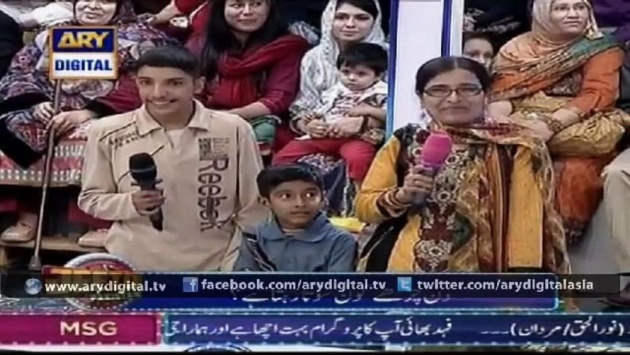 Images Source: Google images
When Bigul is played excitement spread in all audience as every one get ready to answer the question. Usually this segment contains fast paced Questions. If audience are able to answers the questions correctly, so then they are given gift for correct answers.
Celebrity as a guests Guest: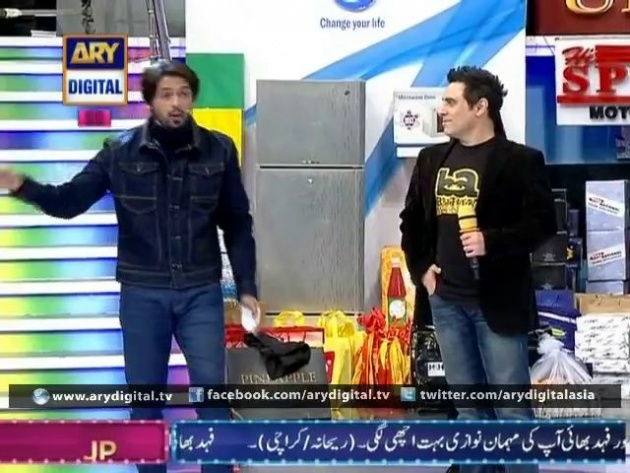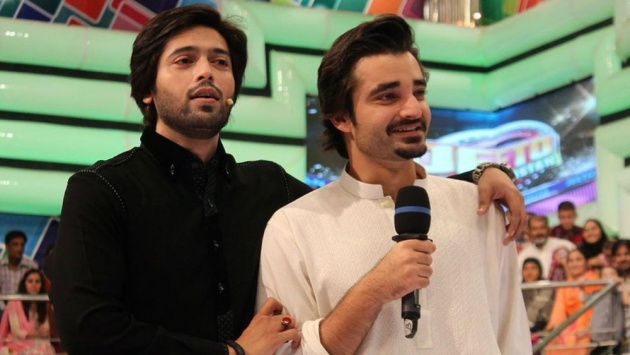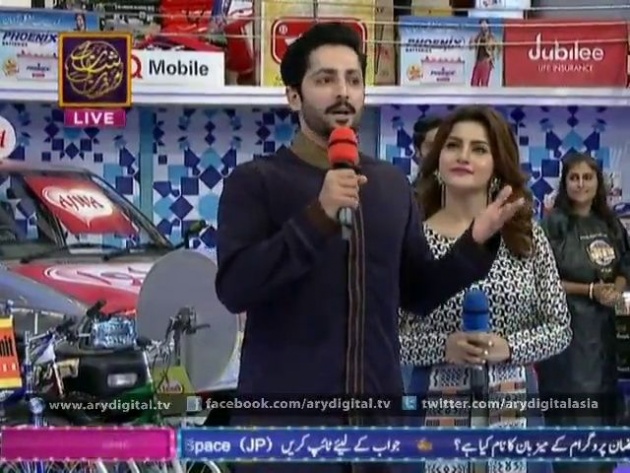 Images source: Google Images
In 1st image famous pakistani singer Haroon is invited as a guest, in 2nd image actor/director Hamza Ali Abbasi has joined show and in 3rd image Danish Taimoor one of famous actor joined show as a guest
Usually celebrities join the Host Fahad Mustafa as a guest in show. Celebrities also participate in fun games and they have to interact with host and audiences as well.
Video of Haroon singing his famous song "Aey Jawan" in Jeeto pakistan
One of the famous Pakistani Drama actor Humayon Saeed participation in one of the game in which his female fans were ask to sing a song for him and from all of participants two of them won bike as their prize.
Future initiatives:

image source: official facebook fan page of jeeto pakistan
Fahad Mustafa showing expression of happiness on good rating of his show Jeeto Pakistan.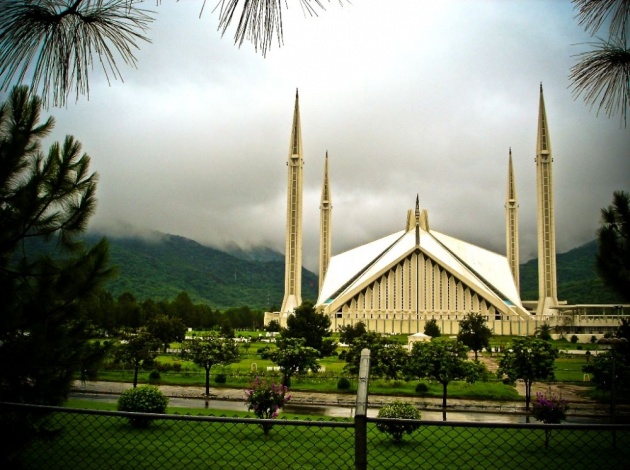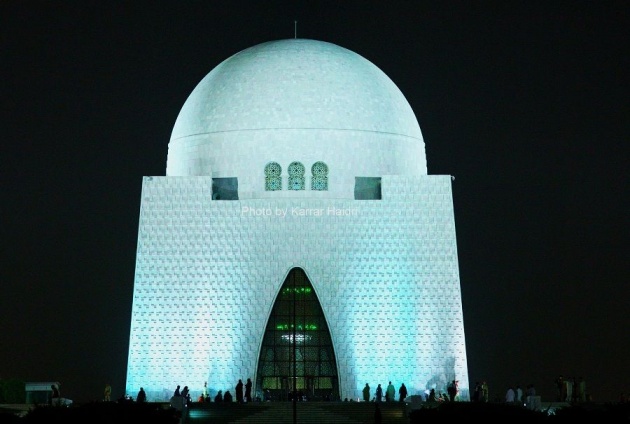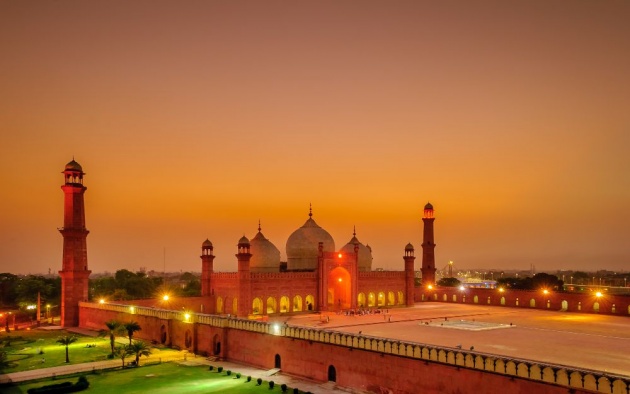 Images Source: Google images
First image is of Faisal mosque the symbol of islamabad, 2nd picture is of Mizare-e-Quid the symbol of karachi and 3rd image is of Badshahi mosque which is the symbol of lahore.
Currently show is only shoot in two cities of Pakistan, karachi and Lahore. Recently, due to the unique format of show and audience interest show is enjoying good fame and also getting famous due to its tradition of giving free gifts. In addition to that, winning of cars and motorbikes has also made show even more famous. Keeping in view the good fame and audience interest, it is decided that soon show will be held in Islamabad Pakistan which is the capital of Pakistan.
Follow jeeto pakistan official Facebook fan page: https://www.facebook.com/JeetoPakistan.Official/
Follow Host official facebook fan page: https://www.facebook.com/OfficialFahadMustafa/?fref=ts