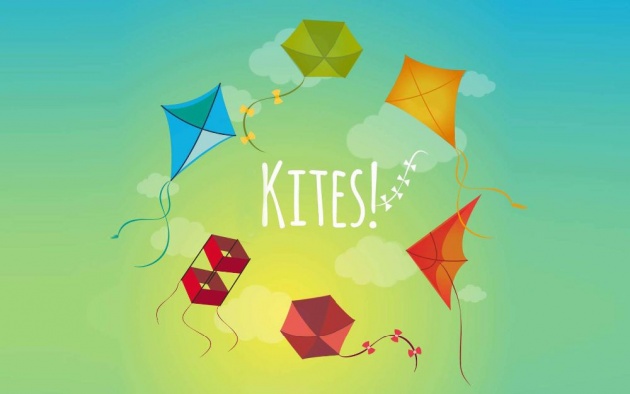 Image Source: Google
Have you ever experienced the thrill of flying huge and little paper airplane in the sky? Known as Kite. Day by day kite flying is becoming very popular fun activity that is why many countries around the world like America, China, India, Pakistan, Australia, Indonesia, France, Italy, Japan, Malaysia, Canada and Denmark held kite festivals.
Flying kite is also in my one of the best activities and it now has become my hobby from the time when I was in my college & attended Kite Festival which was organized by our college management at the end of the February. Yes February is the next coming month in which kite festival takes place on country level in Pakistan and whenever this month is near to start it recalls me my one of the best attended kite festival with my best buddies. It was an awesome experience for me ever. Due to this nostalgia, today I decided to write detail blog on kite so here we go…....
History of Kite:
If we go through the history of kite we cannot find the exact origin of kite but it is believed that more than two thousand years back Chinese flew kites. So, it is considered kite was invented by China. For making a kite they used material which consisted of silk fabric and resilient bamboo for making a light weight and strong kite frame. However, according to another source it is considered that very first kite was made in 5th century by Mo Di (also known as Mozi) who was a Chinese philosopher. In three years Mo Di made wooden kite with eagle shaped which could fly just one day. Later on, Mo Di passed his skill to one of his student named Lu Ban (also known as Gongshu Ban). Lu Ban improved the design of kite and made it with bamboo and silk. Lu Ban succeeds to fly it for three days continuously. Later on, the popularity of kites spread across Asian and Western countries too.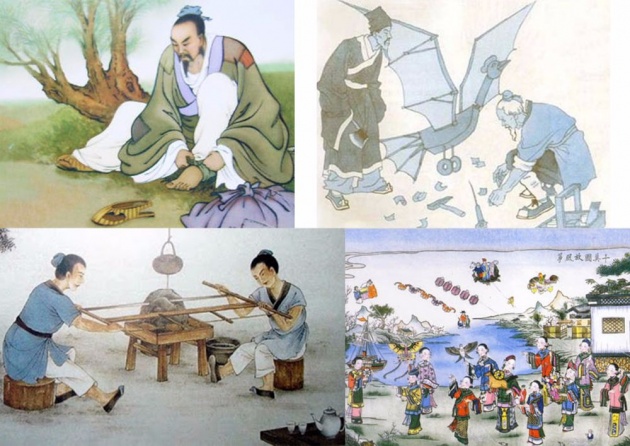 Image Source: Google Edited by Moon Khan
In 7th century, Japanese monks introduced kites In Japan. They used kites for praying a bountiful harvest and to keep away evil spirits. In India, the kite was introduced during the Mughal period around 1,500. According to the Polynesians' kite story which was a myth that it was introduced by two brother gods they challenged each other to a kite duel. In Europe kites were brought by Marco Polo at the end of 13th century. Paintings showed that European used non flying dragon kites on military banners. In 16th and 17th centuries sailors were brought kites in Japan and Malaysia. In 18th and 19th centuries, kites were used for tools and vehicles for scientific research. Alexander Wilson and Benjamin Franklin used flying kites for gaining knowledge about the weather and wind. However Wright brothers, Samuel Langley, George Caley, Alexander Graham Bell and Lawrence Hargrave experimented with kites and succeed to develop an airplane. The US Meteorological department also invented such kites which were used for meteorological cameras and instruments. Over the next seventy years has seen renewed interest in kiting. Many new kites were developed, patent and designed in which tetrahedral kite (also known as box kite), William Abner Eddy's diamond kite, the sled kite and flexible kite which later on provided help to develop modern world hang glider.
Military Purposes:
Another source indicates that paper kites were used for military purposes. Wu di was an empire of the Liang and captured by Hou Jing. Wu di sent paper kite outside for help but his this plan failed. According to ancient Chinese, they also used kites for testing the wind, communication and signaling (for military operations) and calculating the distances.
In 637, a Korean general named Kim Yu-sin was ordered to defeat rebels by launching a burning kites in the sky at night. In 906, during the siege of the Constantinople (it was the old capital of Rome) a Russian prince named Oleg of Novgorod used kites. He made paper horses and men kites and flew them in the sky over the city. When Greeks saw paper made kites in the sky they became frightened. In 1893, British army used such kites to fly in the sky for carrying messages and observing purposes.
In Second World War Hargrave box kites were used. In 1943, Germany also invented gyroplane kite which was lift into the air for obtaining the submarine transactions. In Second World War kites were used for lofting communications antenna.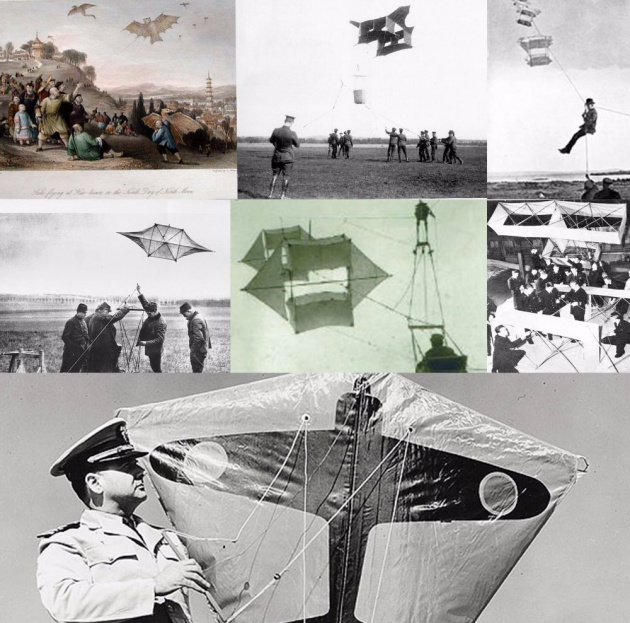 Image Source: Google Edited by Moon Khan
Kite Making Material:
Kites manufactured in different designs like birds, dragonflies, dragon, beats and insects like centipede and butterfly. Chinese for making finest kites use materials like silk fabric, golden spilt bamboo and paint. Modern Lagers kites have abilities to fold them and can be placed in less space. For making cheap kite, polyester and paper material are used instead of silk fabric which is expensive. Some kites are consist of tails. The purpose of tail is to keep the nose of the kite pointing into the air. In Beijing, China there different varieties of kites are made and these kites are prepared by silk, paper, tassels, paints which are totally handmade. Fei Balolin belongs to Beijing and most experienced craftsman who have made more than hundred kinds of kites in different sizes and shapes. This market has a good reputation not only in their own country but also in aboard.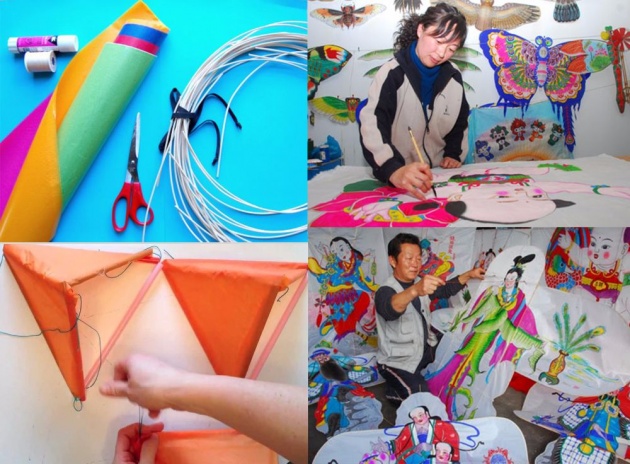 Image Source: Google Edited by Moon Khan
Types of Kites:
There are different types of kites are used around the world. People like to experiment flying different types of kites and enjoy this environmental friendly sport. However these are the following kites which are considered most popular around the world.....
1) Diamond Kite
2) Delta Kite
3) Sled Kite
4) Rokkakus Kite
5) Box Kite or Cellulars
6) Traditional Kite
7) Tetrahedral Kite
8) Traction Kite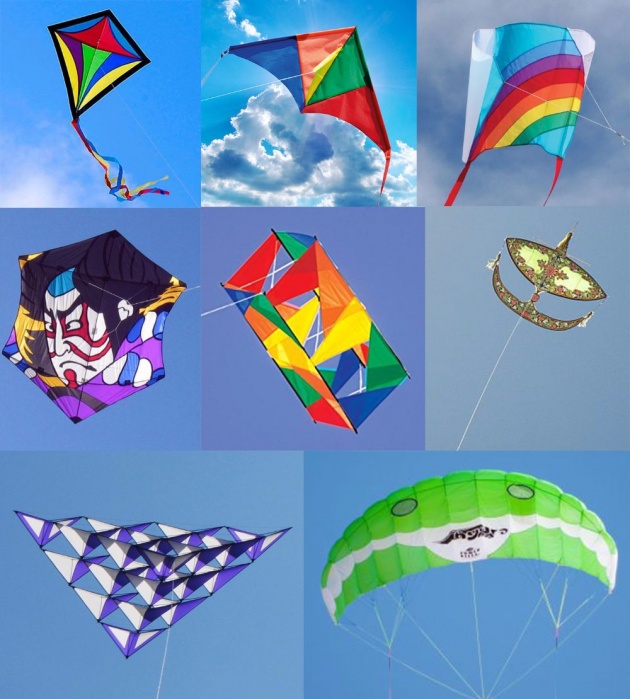 Image Source: Google Edited by Moon Khan
Flying Kite Festivals around the World:
Flying kites have become a very popular entertainment festival across the world. Some countries organized kite festivals for hundreds of years at small local level and considered it traditional festival. But now a days it becomes major International festival in which kite flyers come around the world for celebrating kite festival and show latest technical kites and display their unique art kites. Mostly countries organized kite festival in months of February, March, April and May. There are also so many other kite festivals celebrated in the same mentioned countries but I am discussing the most popular festivals of these countries.
Washington DC, USA:
One of the most popular international kite festivals is organized in Washington DC, America. This festival organized at the end of March to early April for celebrating the arrival of china season. Kite Trade Association International also voted it one of the best kite festivals. Different competitors around the world participate in this event and thousands of spectator's women, kids and men enjoy colorful and different shapes of flying kites in the sky. This festival is organized in the memory of friendship between Japan and America, when the Mayor of Tokyo (Capital of Japan) gifted Japanese cherry trees to the Washington city of America.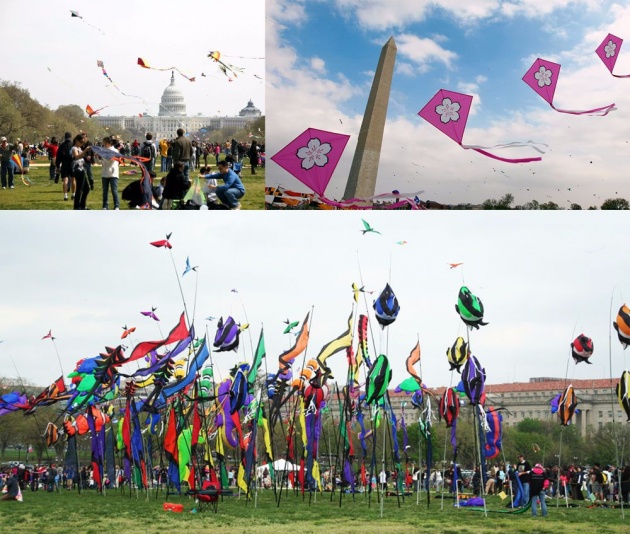 Image Source: Google Edited by Moon Khan
Gold Coast, Australia:
In the largest city "Gold Coast" of Australia, kite festival held in the month of November at every year. This kite festival organized at Kirra Beach and that is why known as Kirra Kite Festival. In this festival different countries participate and introduce their amazing kite culture. People also enjoy food, music, art, tradition and culture of different countries.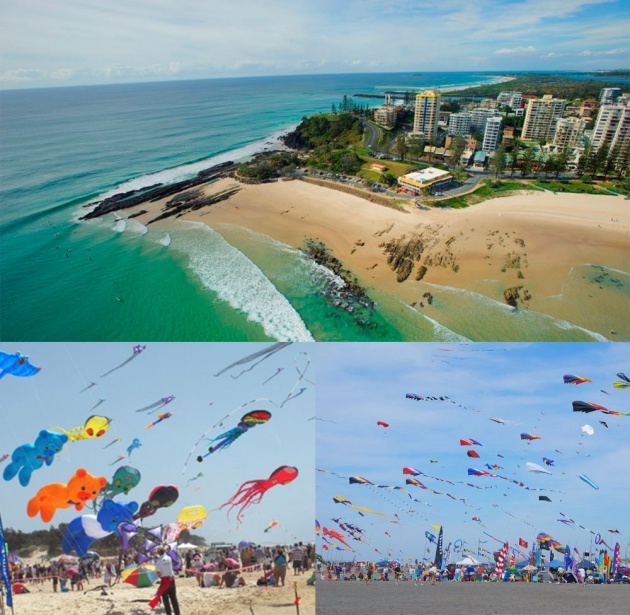 Image Source: Google Edited by Moon Khan
Lahore, Pakistan:
In Pakistan Kite festival started from 20th February till March in different cities to welcome the arrival of china season and known as Basant Kite Flying Festival. This festival is very popular in province of Punjab. Mostly it is celebrated in Lahore, Islamabad, and Rawalpindi. From all cities Lahore is very popular for celebrating Basant Kite china festival. Where kite fighting begin at early morning and continues until the evening. People wear colorful clothes especially yellow is considered favorite color for celebrating Basant tradition festival. Basant Rang Music and other cultural programs are organized. This festival is ended with folk dancers, school bands, cyclists and skaters by wearing traditional clothes. In Pakistan kite is known as Patang.
Video Courtesy: You Tube
Weifang, China:

Another one the biggest kite festival held in Weifang, China. This festival very first time held in 1984 in the province of Weifang named Shandong also known as World Kite Capital. In this festival thousands of people around the world participated. This city also has a largest kite factory and museum in the world. In Weifang, traditional styles of kites are still made and used like Dragon and Centipede.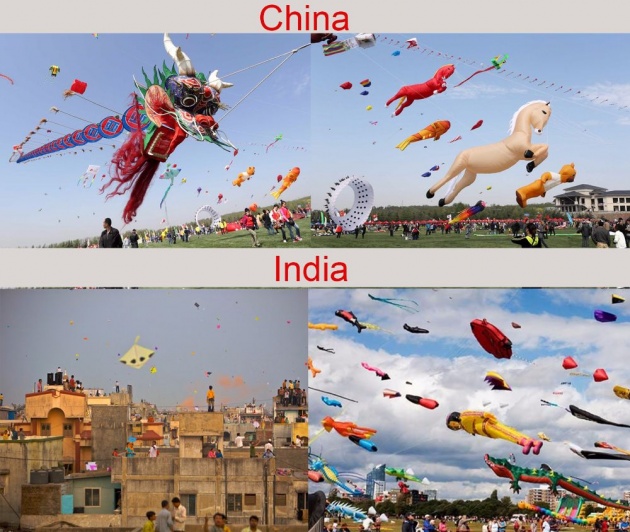 Image Source: Google Edited by Moon Khan
Ahmedabad, India:
In Ahmedabad, India kite festival is held in month of January. It is known as Makar Sankranti. It is celebrated for welcoming sun and arrival of harvest season. In this festival millions of people enjoy kite fighting along with playing music. In other cities of India kite fight competition is organized where citizen participate to compete each other. On that day in some parts of India people celebrate two days of holiday. People enjoy their traditional food named Undhiyu and Jalebi. Before one day of starting kite festival Indian markets are filled with colorful kites.
Cervia, Italy:
In Italy, the best place to celebrate kite festival is Cervia. This festival is celebrated to welcome the arrival of china. In this festival many kite artists around the world are invited and provide them an opportunity to display their beautiful art of kites. Cervia, Italy International Kite Festival is the legacy of well-known Italian artist named Claudio Capelli. This festival considered one of the best festival with the combination of sun, wind, food, wine and kite flying in the sky.
Video Courtesy: You Tube
Hamamatsu, Japan:
Japanese celebrated the Kite Festival in the month of May in Hamamatsu (city located in Shizuoka Prefecture). During kite festival in Hamamatsu the blue sky present a sight of colorful kite battlefield. Thousands of women, kids and men come here and fly their beautiful kites. People also organized late night parties and competitions with their neighbor kite flyers. Another traditional kite festival is held in month of June on the banks of the river of Japan named Nakanokuchi known as Shirone Giant Kite Battle Festival. In this festival citizens and farmers make large kites. They fight each other and try to cut each other kites.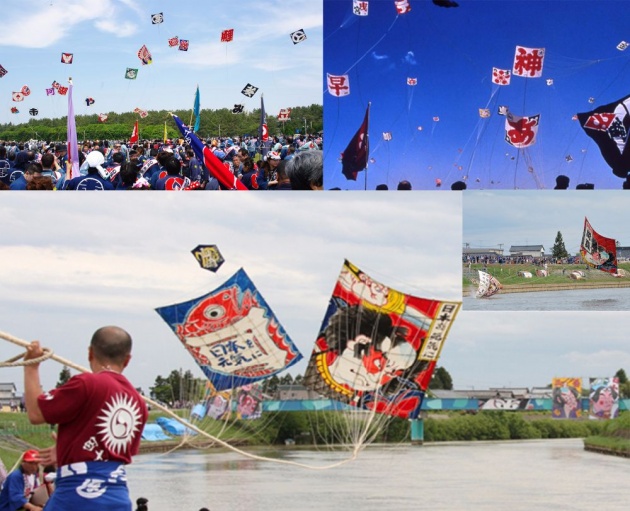 Image Source: Google Edited by Moon Khan
Jakarta, Indonesia:
One of the oldest and popular International Kite Festival is celebrated in Jakarta, Indonesia. It is organized in the month of July every year and continues for two days. People not only around the country but also around the world participate in this fun festival. Spectators especially enjoy the huge size of dragon shaped kite in the sky.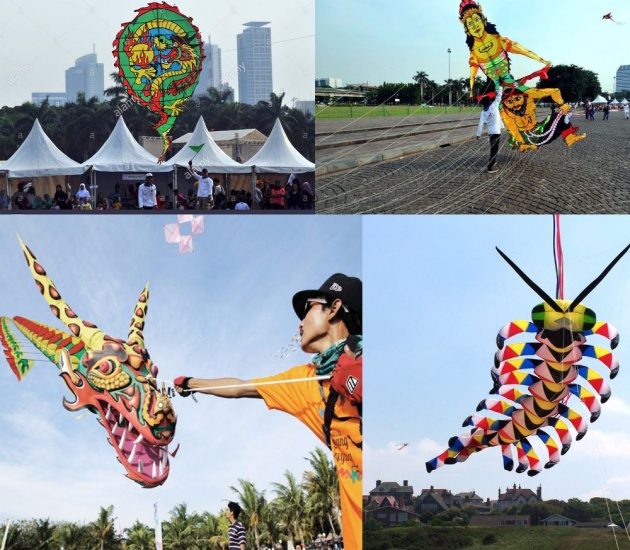 Image Source: Google Edited by Moon Khan
This is the End of my Blog. Hope you people enjoyed alot... I spend my hard working here in writing this and want your comments below in comment section.
Thanks for sparing time in reading My 41 attempt for my virtual home "BitLanders".... Stay Connected for more articles..... ツ