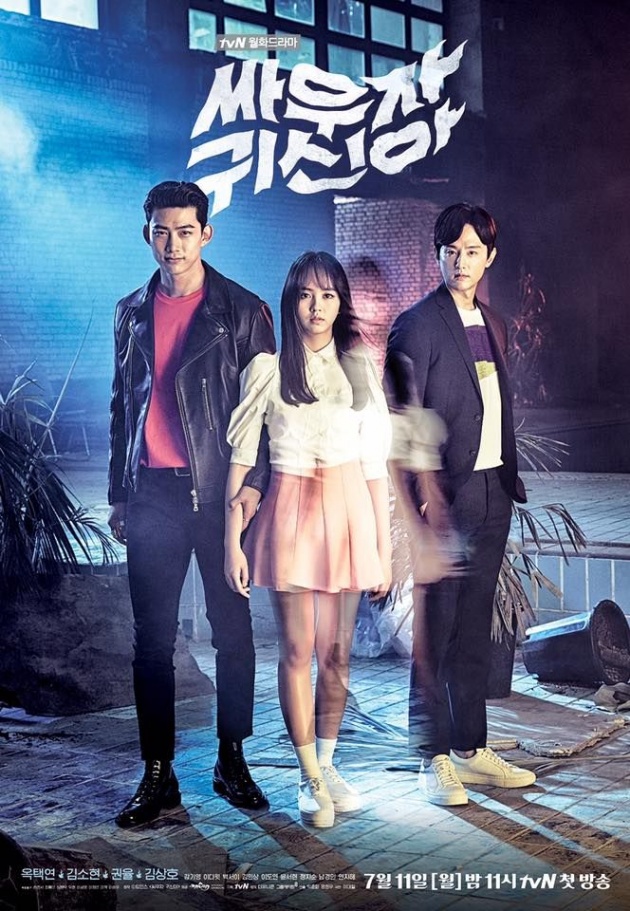 Let's Fight Ghost / 싸우자 귀신아 (2016)
About
"Let's Fight Ghost" is a Korean drama that aired on July 11 until August 30, 2016. The drama was aired on cable TV tvN every Monday and Tuesday at 23:00 KST (Korea Standard time) with a total of 16 episodes and lasted about 60 minutes each episode.
"Funny scene from Let's Fight Ghost"
"Let's Fight Ghost" directed by Park Joon-Hwa who previously directed various drama such as "Let's Eat 2 (2015)", "Let's Eat (2013)", etc. This drama comes from the writer Lee Dae-II and based on AsianWiki, "Let's Fight Ghost" was her first drama project and previously she only wrote one Korean movie tittled "National Security (2012)". This drama is a drama which is based on the webcomic with the same title created by Im In-seu. The webcomic were published from June 4, 2007 to November, 2015 via comic.naver.com/webtoon/.
Story
Park Bong-pal is a sophomore majoring in economics. Because of an incident that happened in childhood, he be able to see ghosts and beat them. Someone said that if he had 100 million won then he could heal his eyes. In order to cure his eyes he collects money by doing exorcism.
"Park Bong-pal and Kim Hyun-ji first encounter"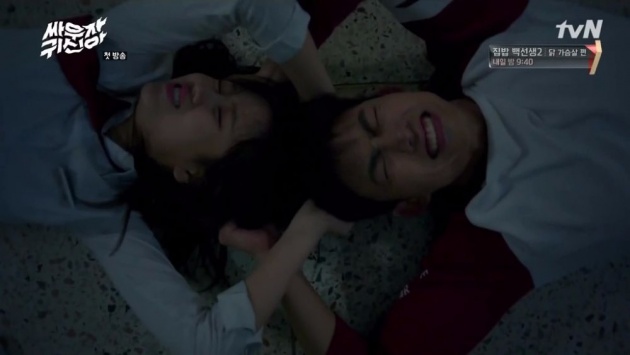 Kim Hyun-ji is a female ghost who died at the age of 19 years. After becoming a ghost, she lost all her memory and for some reason, she can not go to another world. She had been wandering in the human world for several years to find out the cause of her death and searching her missing memory.
One day Park Bong-pal get a message to get rid of ghost in Seoyi Girls' High School. There, he meet Kim Hyun-ji for the first time.
Cast and Character
"The cast of Let's Fight Ghost"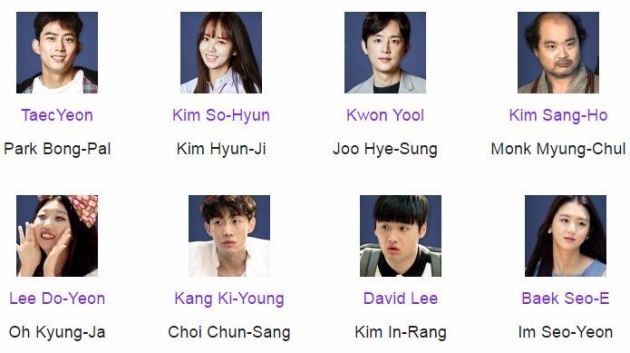 Image Credit: Snapped via AsianWiki
Drama Based on Webcomic
Webcomics (also known as online comics or Internet comics) are comics published on a website. While many are published exclusively on the web, others are also published in magazines, newspapers or in books. -wikipedia-
I do not know since when, but there are lot of Korean dramas which are made based on webcomic and as if it has become the trend. The impact is a lot of fans of the webcomic was disappointed with its drama version, because sometimes the story is different or the cast did not fit for the character from the webcomic version. Call it "Orange Marmalade (2015)" and "Cheese in the Trap (2016)". Both is a Korean drama which were made based on famous webcomic but many fans of its webcomic were disappointed with its drama version.
"Let's Fight Ghost webcomic poster"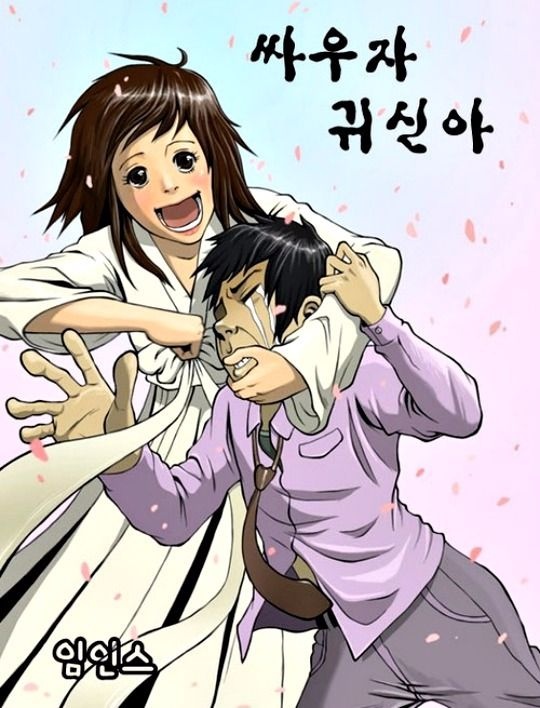 "Let's Fight Ghost" is also a drama which is based on webcomic. I have read somewhere that some fans were disappointed by its drama version. Since I have not read the webcomic version, so I could not say many things about it. In my opinion, "Let's Fight Ghost" is quite entertaining and funny. The main reason why I watch this drama was because of a recommendation from my friend who said that the drama is funny. And at that time I want to watch a funny and light drama, so I decided to watch this drama. And unexpectedly, I was be able to watched 2 to 3 episodes at a time.
Horror Drama
From what I know, there are not many Korean drama with horror genre. "Let's Fight Ghost" as horror drama did a quite good job in creating the horror vibe. From the background, sound effects, and the ghost make-up, it was quite good. Although for me, the ghost is not scary. But still, for you who do not like horror drama, this drama is not suitable for you. Because in each episode you will definitely see a ghost wandering.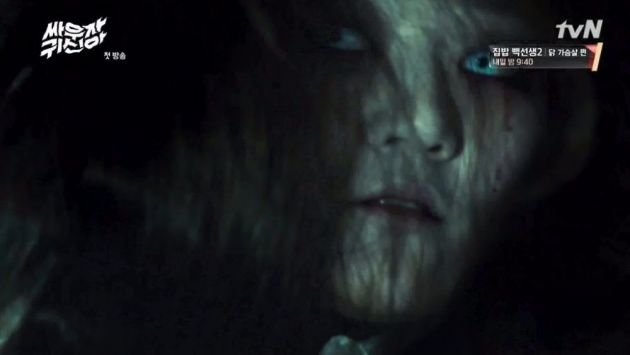 For a horror drama, the story of this drama is quite predictable, although there are some parts that made me curious. But you do not need to think too much about the story of this drama, just let it flow, enjoy it, and ignore the part that does not make sense.
Ghostnet Club
Ghostnet is a ghost hunter club with Choi Chun-sang as its president and Kim In-rang was the only member who joined the club. Due to lack of members, their club will be forced to closed. Finally they both do a variety of methods to recruit Park Bong-pal into their club.
"Ghostnet club member, Choi Chun-sang and Kim In-rang"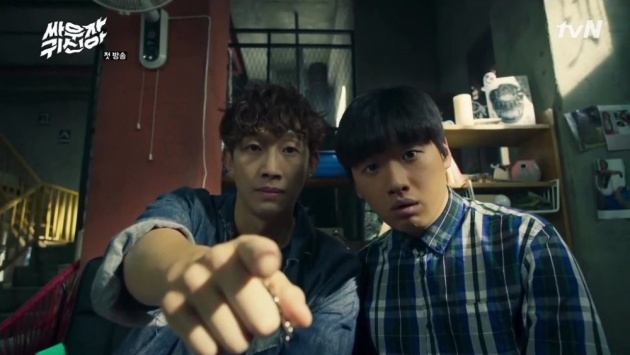 Watching their behavior and interactions in this drama really liven the mood. They always succeed made me laugh and keep on watching. I think "Let's Fight Ghost" will not be exciting and funny without them. They both did a good job in terms of comedy.
"Romantic scene between Park Bong-pal and Kim Hyun-ji"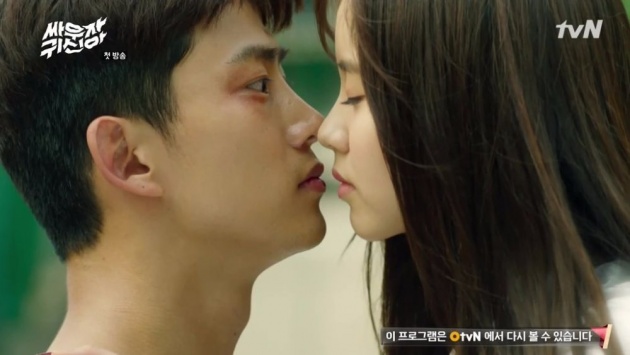 In terms of the chemistry of the main lead, between Park Bong-pal and Kim Hyun-ji, I think it was pretty good. They looks cute in some love scenes. Although the acting of Ok Taecyeon still looks a little stiff in some scenes, but still pleasant to watch and did not bother me.
"Handsome professor, Joo Hye-sung"
I did not like the character of Joo Hye-sung in this drama. His character reminds me of the character of Choi Sung-Jae from the popular Korean drama with same genre "Oh My Ghost (2015)". A man with handsome face and cool looks from outside but has evil nature and psycho. Actually, I have seen a few characters like him in another Korean drama, so it made me not excited enough to follow his character and sometimes made me bored to watch him in this drama.
"The clingy female ghost, Ok Kyung-ja"
In terms of story, actually the story of "Let's Fight Ghost" would be boring if there is no side stories about ghosts in each episode. And over the episode, the main story in this drama gradually developed. Although I was a little disappointed with the story of Ok Kyung-ja which I think was not fair for her character. After she disappeared, there was no more news about her and even till the end nobody mentioned her name. She is like an extra cast and can be forgotten easily.
"Fighting ghost scene"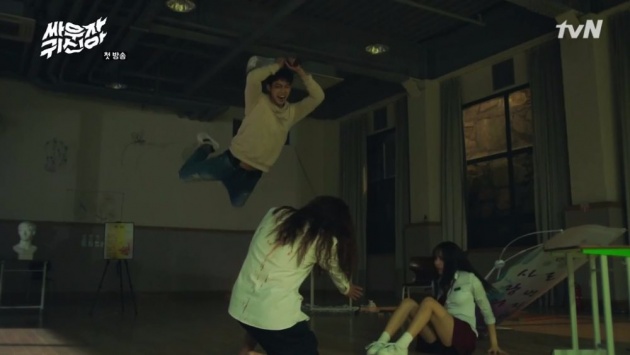 The conclusion is, I would recommend "Let's Fight Ghost" if you like horror drama with comedy. And if you want to watch Korean drama with light story and do not want to think too much about the story, then "Let's Fight Ghost" may be suitable for you. Do not get too focused about realistic things when you watch "Let's Fight Ghost" and ignore it if there are unreasonable things. After all, this is just fantasy and just a drama.
Regards
LookUp
©2017 LookUp. All rights reserved.