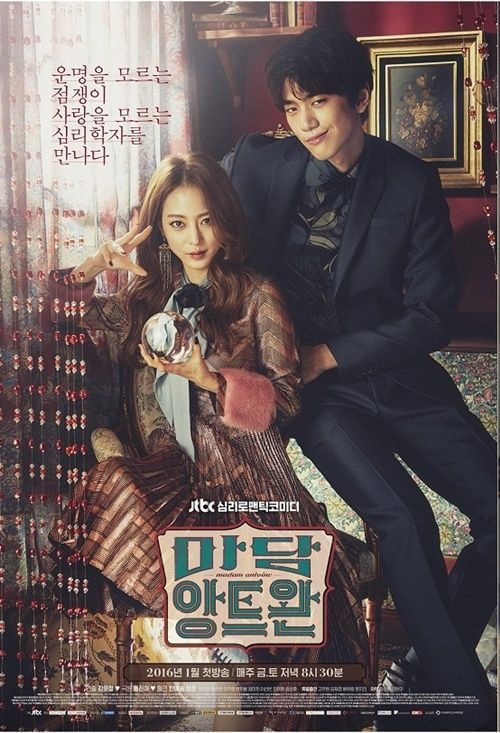 Madame Antoine / 마담 앙트완 (2016)
If there are people who like you, there will be others who don't. Trying to make everyone like you is pointless.
About Madame Antoine
"Madame Antoine" is a Korean drama that aired on January 22 until March 12, 2016. The drama was aired on cable TV jTBC every Friday and Saturday at 20:30 KST (Korea Standard time) with a total of 16 episodes and lasted about 60 minutes each episode.
"Teaser Madame Antoine"
"Madame Antoine" directed by Kim Yun-Cheol who previously directed various drama such as "Can We Love (2014)", "Can We Get Married? (2012-2013)", "Que Sera Sera (2007)", "My Name Is Kim Sam-soon (2005)", etc. This drama comes from the writer Hong Jin-Ah who previously wrote various Korean drama such as "Marry Him If You Dare (2013)", "The King 2hearts (2012)", "Beethoven Virus (2008)", etc.
Story of Madame Antoine
Ko Hye-Rim is a famous fortune-teller. She is known as "Madame Antoine". She has dreams to have romantic love like in movie.
"Ko Hye-rim and Choi Seung-hyun first encounter"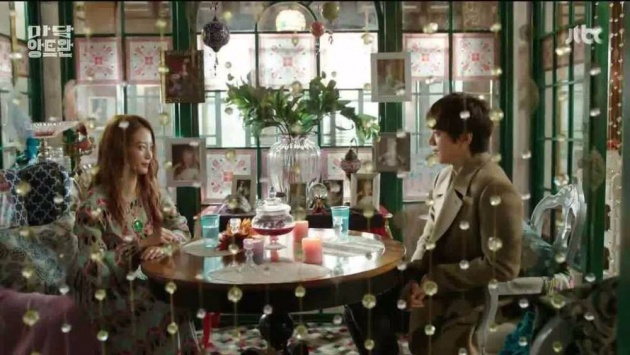 Choi Soo-Hyun is a renowned psychologist who came to Korea to do an experiment. He believed that true love is not exist and he wants to prove it with the experiment. Assisted by Choi Seung-chan and Ji Won-ho he was doing an experiment to Ko Hye-rim by pretending to be in love with her.
Finally, Choi Soo-hyun became falling in love to Ko Hye-rim for real but she still does not know about the experiment which involve her.
Cast and Characters
"Cast and Characters of Madame Antoine"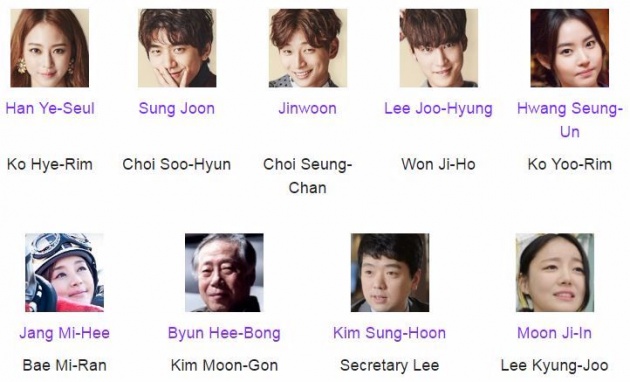 Image Credit: AsianWiki
The Game of Love
"Madame Antoine" is the famous nickname of the female lead who is a fortune-teller. She claimed to be in direct contact with the soul named Marie Antoinette and she always spoke French whenever meet with her clients. Despite the fact it was a lie and she is just talking nonsense in the French language. "Madame Antoine" also used as the name of the clinic belonged to Choi Soo-hyun which he use to do an experiment about love and dealing with his patients. They both happen to be working in one building.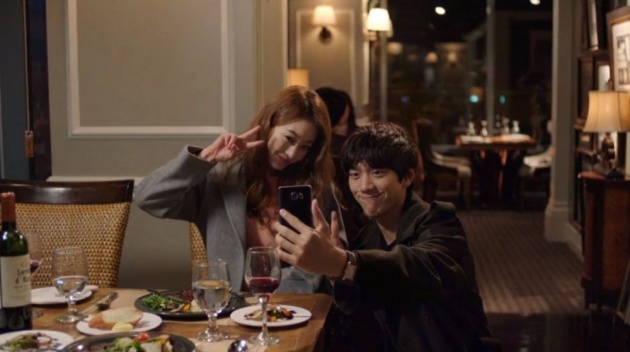 Talking about this drama, in fact not many good things are worth to be mentioned. But I would still want to write a review about "Madame Antoine" even though it was so long since I finished watching this drama. Even so, there are some good and bad points that I still remember about this drama.
The story "Madame Antoine" is quite simple and easy to follow. Starting from Choi Soo-hyun's experiment about love, which he wants to prove that true love does not exist. He eventually chose Ko Hye-rim as his target of the experiments, which he would deliberately approached Ko Hye-rim so that she fell in love with him. But in the process of experiment Choi Soo-hyun getting confused by his feelings to her. I will not tell you about the ending of the drama, if you want to know how it goes, you can watch it yourself.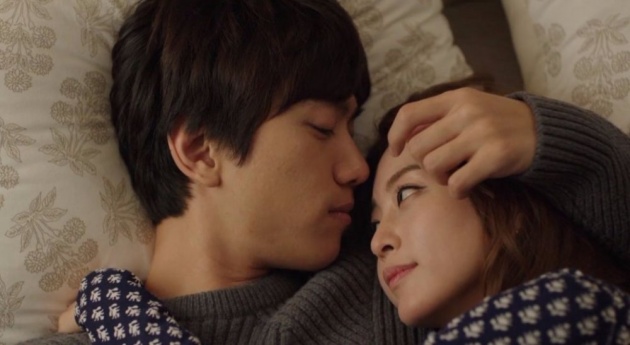 "Madame Antoine" had a good start that can instantly make you addicted to watching this drama. For me, the comedy part was funny and the story was pretty good. However, the main story from the middle to the end of this this drama was fairly dull and repetitive. That is why may be many viewers stopped watching it in mid-episode of the drama because its boring story. In my opinion, the game of love really suited to describe "Madame Antoine", easy to break up and easy to make up.
"Choi Soo-hyun confesses his feelings to Kyo Hye-rim"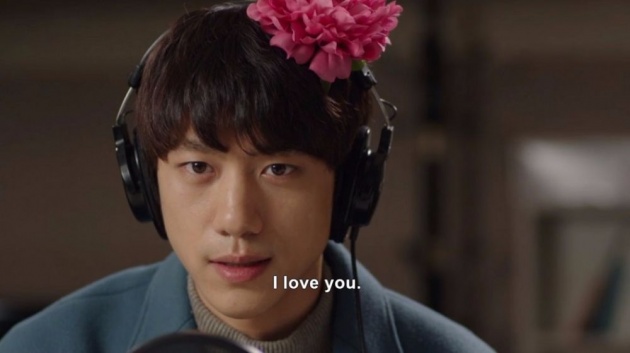 Despite many shortcomings in terms of story, I was still able to watch this drama until the end. Maybe because I was attracted by the main cast of the drama at that time or maybe I just want to watch funny Korean dramas with light story which can make me laugh that time. So, "Madame Antoine" is not that bad for me to the point where I had to stop watching it, because I can enjoy it until the end.
"Won Ji-ho and Ko Yoo-rim kiss scene"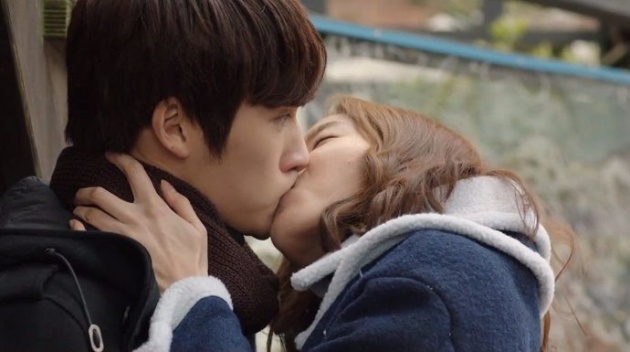 The Shortage of "Madame Antoine" in terms of the main story, could be covered by the side stories which I think was pretty good and interesting. I have told you in my previous blog, that Korean drama with theme of psychology is becoming a trend at that time (2015-2016). And this drama also not so different from other Korean drama that carries similar themes, which is psychology, the side stories about the psychology from "Madame Antoine" was interesting to follow and somehow I like a drama with this kind of theme. Because Choi Soo-hyun is a psychiatrist so he also handles some patients with psychological problems which vary in every few episodes. And actually, Ko Hye-rim also help him in treating the patients with her skills to read the gestures of a person.
In addition, the story of the relationship between Choi Seung-chan and Bae Mi-ran, Woh Ji-ho and Ko Yoo-rim, it is also nice to be followed and could cover the disappointment about the main story. Sometimes they can be cute couple or funny which could make me laugh.
"Correlation Chart of Madame Antoine"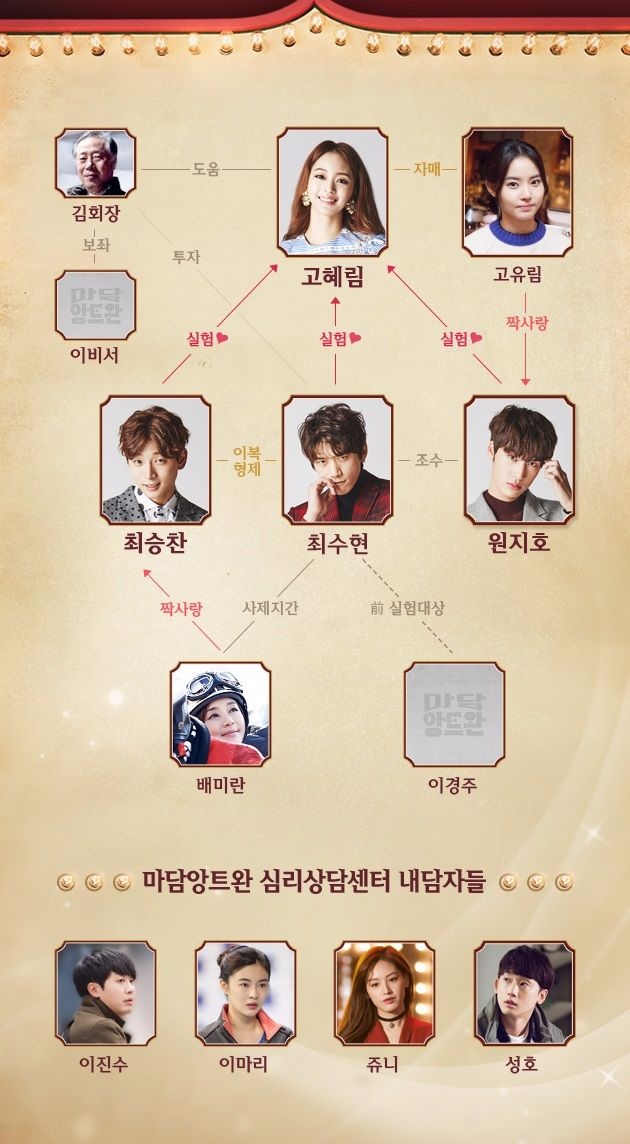 There is nothing special about the acting from the main cast, not bad and not that good, just mediocre. But I could still enjoy watching them, even though the chemistry between Han Ye-sul as Ko Ye-rim and Sung Joon as Choi Soo-hyun still lacking. Because "Madame Antoine" was aired on cable TV, there will be lots of kissing scene in this drama compared with drama that aired on national TV, which to me has one of its own advantages and attractive to watch it. And since Sung Joon is known as good kisser, so you can anticipate their kiss scenes.
"Choi Soo-hyun and Ko Hye-rim kiss scene"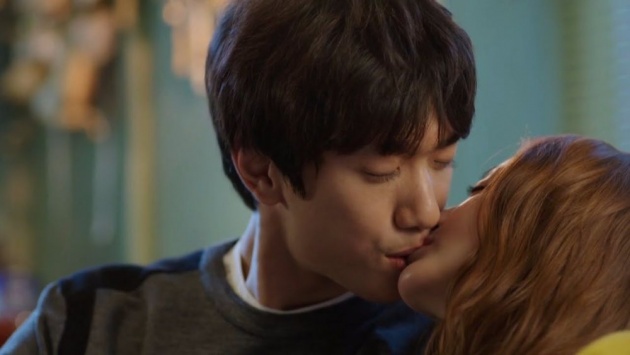 In Korean dramas, mostly I like the style of fashion during the winter. Because usually the players will wear fashionable outfit and looks elegant. Personally, I like the style of fashion in "Madame Antoine", especially the outfit which Ko Hye-rim wears. I love her style, fashionable and looks vintages.
Overall, I would recommend "Madame Antoine" if you are a fan of the main cast and want to watch a romantic-comedy Korean drama with light story and not too concerned with the storylines. Despite many flaws, "Madame Antoine" can still be enjoyed if you lower your expectation about this drama.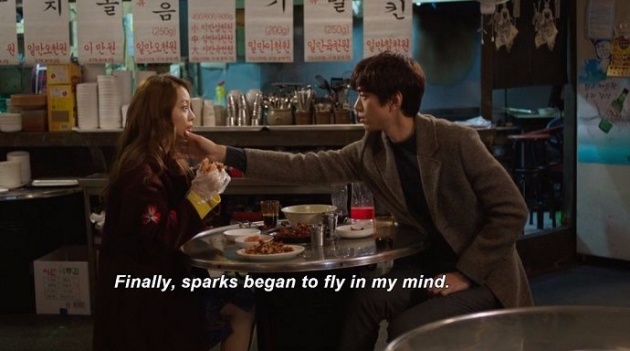 Regards
LookUp

©2017 LookUp. All rights reserved.