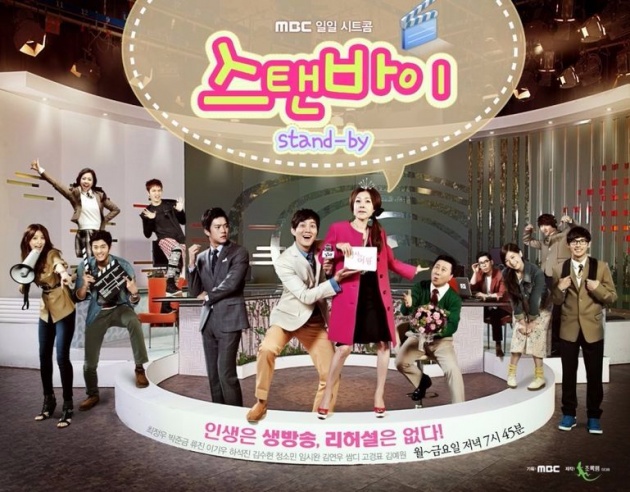 Standby / 스탠바이 (2012)
Inside cup of coffee there is comfort
About Standby
"Standby" is a situation comedy (sitcom) Korean drama that aired from April 9 until October 5, 2012. With a total of 113 episodes and with duration of about 23 minutes each episode, the drama aired on MBC TV station every Monday-Friday at 19:45 KST (Korea Standard Time).
"[Trailer] Standby"
"Standby" directed by Jeon Jin-Soo who previously directed situation comedy Korean drama such as "All My Love For You (2010)", "Hilarious Housewives (2009)", and "Kimchi Cheese Smile (2007-2008)". This drama comes from the writer Park Min-Jung, Kim Yoon-Hee, Lee Eun-Young, Park Jae-Hyun, Hong Bo-Hee, and Baek Sun-Woo. Since this is a situation comedy drama, so it usually involves a lot of writers.
Story of Standby
Ryu Jin-haeng is an announcer in a program called "Queen of Current Affairs" which often made mistakes during live broadcast. Because of his age who are no longer young, his father, Ryu Jung-woo always match him with women. But he already has a beloved woman who had a son, Siwan. To show how serious he is about his relationship, one day he declared his love and ask her to marry him during live broadcast which led to disaster.
"Ryu Jin-haeng made mistake during live broadcast"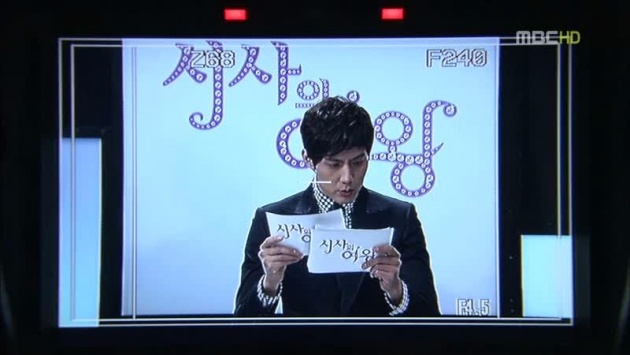 Jung So Min is a small-town girl who comes to Seoul to realize his dream, to become a chef pasta. She worked part-time to save money for her study. During her work he met with Siwan. She then always get involved with Ryu Ki-woo.
Meanwhile, Kim Soo-hyun, Ha Seok-jin, Park Jun-keum, and Kim Yeon-woo are partners in the program "Queen of Current Affairs".
Cast and Characters
"The Cast of Standby"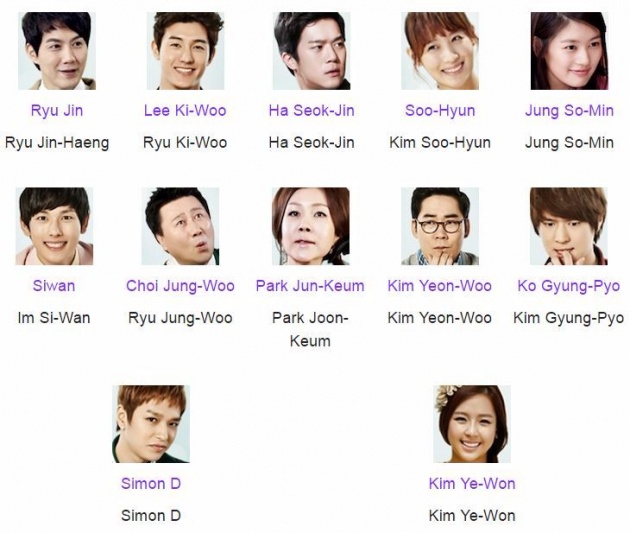 A Situation Comedy Drama
"Standby" is a situation comedy (sitcom) Korean drama, which usually have a lot of episodes, but with a short duration in each episode. "Standby" has a total of 113 episodes, and this is the second sitcom drama I've ever watched after "High Kick! 2 (2009)" with total of 126 episodes. The reason why I decided to watch a sitcom drama is, I want to watch a drama with light theme and without much thought, funny, and entertaining at the same time.
"Standby" as a situation comedy drama had successfully kept me entertained and laugh while watching it. And I miss every character in this drama after I finished with this drama last week. The story of each episode was simply entertaining. Personally, I like how the "Standby" presents different theme of story in every episode, but still manage to show us the development of each characters and the story of each episode still interconnected.
"Ha Seok-jin doing his radio program"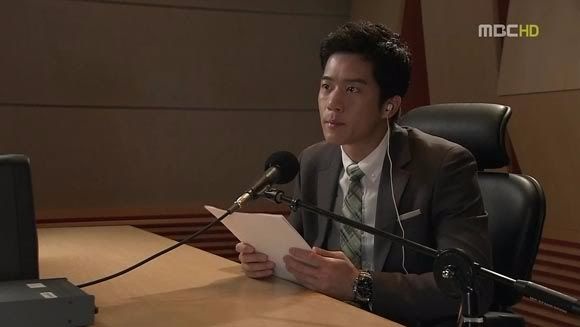 At the beginning of the episode you'll probably get bored and not match with this kind of drama and the comedy part of this drama may be not funny. But if you keep watching this drama, you will find the charm of "Standby", as you will know more each character of this drama.
Each character in this drama has their own characteristic, like Ryu Jin-haeng with his OCD and his exaggerate behavior, Ryu Ki-woo who always drinking milk and joking around, the clever Im Si-wan, the foolish Kim Kyung-po, etc. And this is one of the reason what makes me feel attached by "Standby". Each character of this drama also has their own story, which I think interesting to follow.
"Ryu Jin-haeng dancing for Queen of Current Affairs"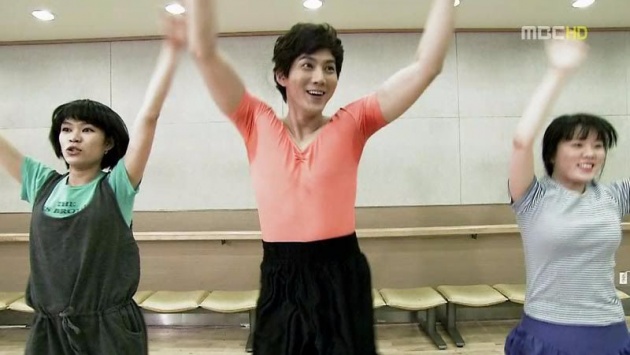 The story of "Standby" will revolve around the workplace of the cast (TV eleven), pasta shop owned by Ryu's family, the apartment where they lived and its neighborhood. The story also will uncover about love life of each character, their own problem, and their family. That is why, "Standby" is easy to watched and followed, because the story is not complicated and there is no makjang story like in Korean drama which usually has many episode.
As a situation comedy drama, "Standby" was filled with a lot of cameo actors and usually they have a special relationship with certain cast in real life. For example, Hwang Kwang-hee came out as cameo in one of episode by being Ha Seok-jin's younger brother who has a dark past just like him and he also became Siwan's rival. In real life, Hwang Kwang-hee is Siwan's close friend in the same idol group called "ZE:A". Other than him, there are also Park Mi-sun, Park Myeong-su, HaHa, and etc, who came out as cameo. It was fun and interesting to watch them because I did not expect them to appeared in this drama.
"Hwang Kwang-hee made appearance as Ha Seok-jin's brother"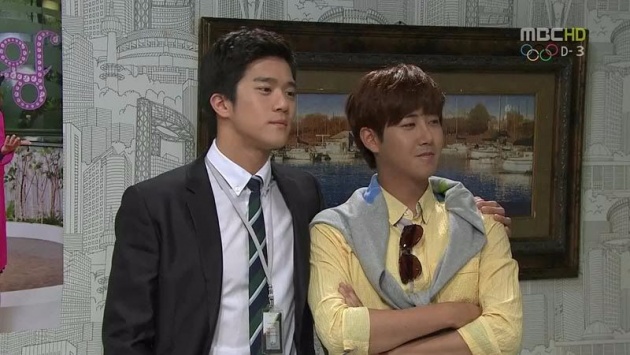 One of the uniqueness of the "Standby" is, all of the cast who play in this drama using their real names as their character's name. Like, Ryu Jin as Ryu Jin-haeng, Lee Ki-woo as Ryu Ki-woo, Ha Seok-jin as Ha Seok-jin, and etc. Actually, this is a common thing in a situation comedy Korean drama where each character in a drama using their real names, but I still do not know the reason why they do it.
In my opinion, "Standby" divide the story of each character quite fair. Each character has its own story and become a main player in a particular episode. Although sometimes the supporting cast almost never appear at all in a particular episode. But it was not a problem for me.
"Ha Seok-jin confronting Ryu Ki-woo"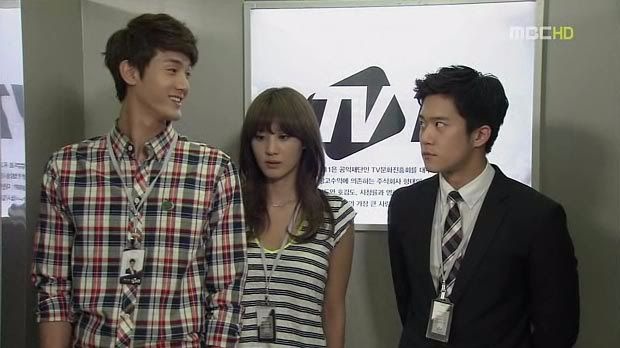 About the ending of the drama, overall I was quite satisfied by it. Compared with the bittersweet end of the sitcom Korean drama "High Kick! 2 (2009)", the ending of "Standby" was better for me. Even though I was not satisfied with the ending story of Ha Seok-jin, but yeah, I would accept it if it was the best for him.
In term of acting, I was not so concerned about the acting of the cast. Yeah, some of the cast do not have good acting and still need to improve it. But as long they can made me laugh with their action and their story in "Standby", I could overlooked it and enjoying them.
"Ryu Jin-haeng and Siwan with facial mask"
There are few characters in "Standby" which is my favorite and they are one of the reasons why I continue to watch this drama. First, Ryu Jin-haeng with his obsessive act over cleanliness, always act silly and exaggerate the problems, he always made me laugh and it was fun to watch him. The second is Ha Seok-jin. At first, I did not really care about him, because he rarely seen on screen and he just had a little part in early episode. But as the story unfolds, his character become more interesting and amusing to be followed. At first, he seemed cold and not care about others, but after knowing him even further, you will know that he is good and warm person which sometimes being ridiculous.
"Ha Seok-jin trying to act cute for his program"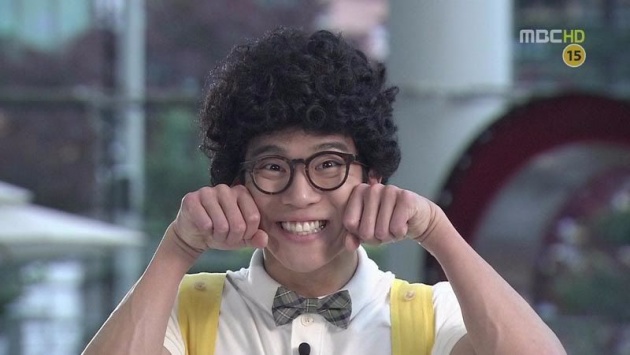 The third is the hidden relationship between Siwan and Kim Kyung-pyo. This relationship is involves Siwan, Kim Kyung-po, and Simon D. Kim Kyung-pyo is Simon D's best friends since the beginning and Simon D do not like Siwan. At first, Kim Kyung-pyo also in bad relationship with Siwan, but after some misunderstanding and some problems between them, they eventually become best friends. Kim Kyung-pyo do not want Simon D know their relationship, so he hide his relationship with Siwan and that is why it is called hidden relationship :D It was funny to watch their silly relationship.
"Part of Standby episode 10 - Siwan and Kim Kyung-pyo: The First Misunderstanding"
Overall, I would recommend "Standby" if you want to watch Korean drama with funny, crazy, and sweet story at the same time. Since "Standby" is a situation comedy drama, so it is natural if it has 113 episodes. Do not get discouraged due to its long episode but try to watch the first of 20 episodes of the drama then decide whether want to continue or stop watching it.

Image Credit: KoreanDrama edited by me
There is no qualification to love someone
Regards
LookUp
©2017 LookUp. All rights reserved.