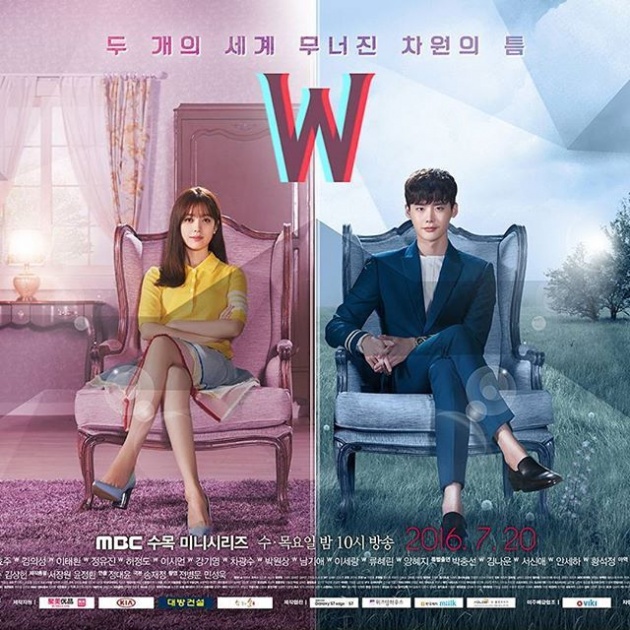 Image Source: AsianWiki
-W-
Two Worlds / 더블유 (2016)
I am a person who wished your life to be a happy ending. -Oh Yeon-joo
About
"Two Worlds" or you could simply called it "W" is a Korean drama that aired from 20 July until 14 Septermber 2016. With a total of 16 episodes and with duration of about 60 minutes each episode, the drama aired on MBC TV station every Wednesday and Thursday at 22:00 KST (Korea Standard time).
"-W- Official Trailer"
Video Source: Youtube
"W" directed by Jung Dae-yoon who previously directed the popular drama last year, "She Was Pretty". This drama comes from the writer Song Jae-jung who is already famous for her drama which mostly became popular as "High Kick!", "Queen In-Hyun's Man", "Nine: Nine Times Time Travel", etc. During the broadcast, "W" get a pretty good rating compared with the competitors dramas that aired in the same slot.
Story
"W" will tell about Kang-cheol, a main character in the comic, "W", written by Oh Sung-moo. In the comic, Kang-cheol is described as a successful young Co-CEO with a sad past. The main purpose of Kang-cheol's life is to find out who is the murderer who had killed all the members of his family 12 years ago.
"Kang-cheol, the main character of comic, -W-"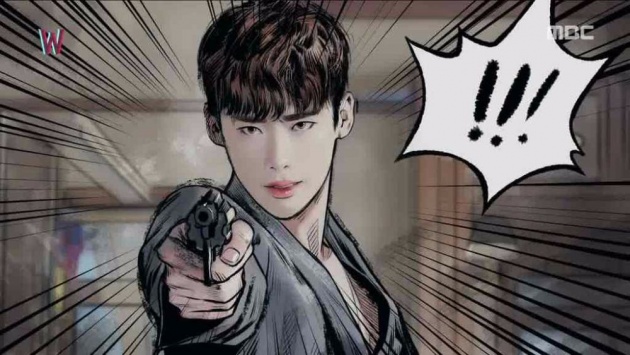 Image Source: Dramabeans
In addition, there is Oh Yeon-joo, a girl who works in Myeongsei Hospital's cardiothoracic department. She is the daughter of a famous comic writer, Oh Sung-moo. She is one of the fan of the comic main character, Kang-cheol. Without apparent cause and reason she met with Kang-cheol who was severely injured in a roof of a building at night.
"Oh Sung-moo, the writer of famous comic, -W-"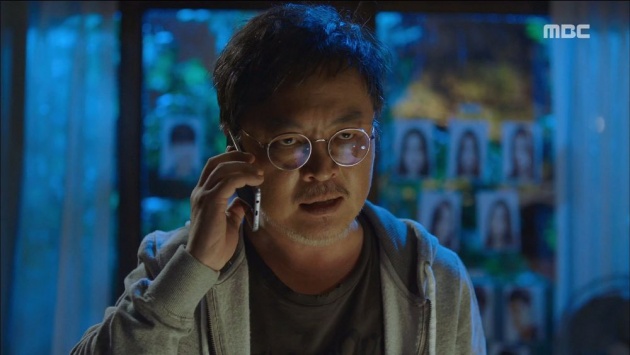 Image Source: Google
Meanwhile, Oh Sung-moo, an author of South Korea's best comic that sells over 100,000 for every chapter: "W". After 10 years of writing comic "W", he was ready to write the final chapter. However, no one knew that he was in trouble which makes him under stress and depression.
And a complicated story between them begins. . .
Cast and Character
"The cast of Two Worlds"
A Comeback Drama
"Two Worlds" or "W" is the first drama played by Han Hyo-joo after her famous drama "Dong-yi" in 2010 ago. Yeah, it has been about 6 years since she did not play drama, but more often play a movie. It is one of the reasons why I decided to watch this drama, because I've been looking forward to her comeback in korean drama world. This drama is also a comeback drama for Lee Jong-suk since his last famous drama "Pinocchio" in early 2015.
"Lee Jong-suk and Han Hyo-joo poster"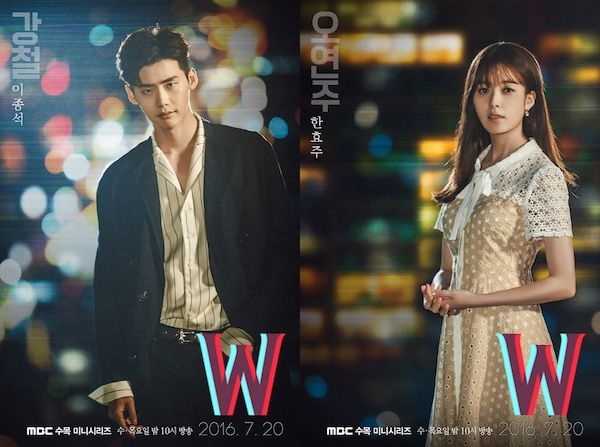 Despite this is their comeback drama, I did not find anything special in terms of their acting. Do not get me wrong, their acting is not bad, just OK. Han Hyo-joo acting did not really give me a strong impact but still good even though still better when she act in movie (though she still pretty as always <3). I won't give much comment about Lee Jong-suk's acting (I am afraid of his fans :D), but he still good in this drama.
A Story in Two Worlds
The story in this drama will be set in two worlds, the world of comic and the real world. Oh Yeon-joo who are in the real world will be able to enter into the world of comic where Kang-cheol are, in certain circumstances. Of course there will be a romantic story between the two of them, since they are the main cast of this romance drama. In addition to the genre of romance, this drama also will be filled with thriller, since this drama will focus on how to catch the real culprit and create the happy ending for Kang-cheol, but of course the story is not as smooth as expected. There will be many unexpected, twist, and surprising stories.
An Unreasonable Drama
As a drama that takes place in two different worlds, maybe you'll find some scene or story that confusing in this drama. This is reasonable, because this drama will not directly explain all the mysterious things in the beginning, but little by little will be explained at the end and with the story goes. Although there are still some things that I think did not make sense. So when you watch this drama, I suggest to see as much detail as possible in every story and scene in the drama.
"The man without face, the real killer in comic, -W-"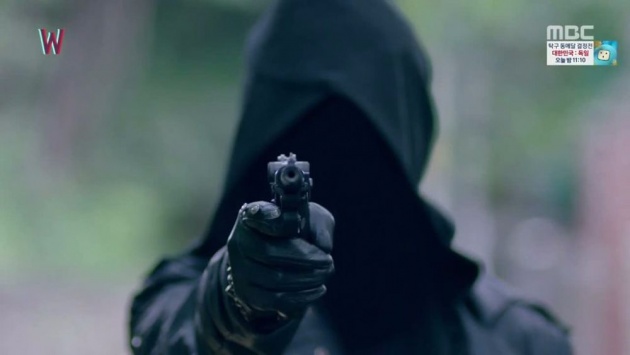 Image Source: Dramabeans
Just like in time-travel drama, as the story unfolds, you will see that the main characters in this drama will be able to go back and forth from the real world to the world of comic, or vice versa. Not only that, they will also manipulate the story in the comic as they wish. So maybe you will feel boring with this drama story from the mid to the end, with its repetitive plot.
In Search of Happy Ending
Most of Korean drama viewers, especially for those who love romance drama must expect a happy ending in the drama they watch, although there are also some which expecting a sad ending. It is no different with Oh Yeon-joo, one of her greatest hope is that Kang-cheol will get a happy ending in his life, because Kang-cheol as the main character in the comic titled "W", has suffered since in the beginning of the story, which begins with the loss of all his family members in the murder case. Likewise, in this drama, from the mid till the end episodes, the story will focus on how to make a happy ending for Kang-cheol, Oh Yeon-joo, and her father.
"Romance scene between Kang-cheol and Oh Yeon-joo"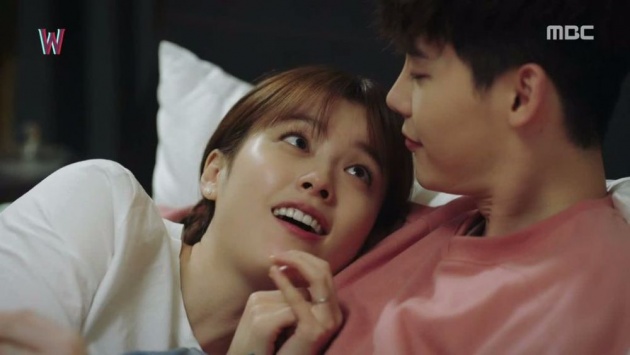 Image Source: Dramabeans
I'm not going to tell you how this drama ends, whether it will be a happy ending or a sad ending. But for me, if this drama takes the path of a happy ending, I hope a happy ending for all the characters in the drama, and if the drama is taking the path of a sad ending, I hope the ending of this drama will be created as tragic as possible, so I will not feel annoyed with half-baked sad ending. And after I saw the ending of this drama, I feel quite satisfied with it and I will not complain about it, at least "W" did not give hanging ending.
When watching "W", I do not know that this drama came from writer of my favorite drama, "Queen In-Hyun's Man" and "Nine: Nine Times Time Travel". No wonder if the story of this drama is somewhat similar like the both dramas. Even so, I think this drama still not able to beat both dramas in term of story and acting.
I got hooked since the beginning of episodes, and I thought it will be amazing till the end. But in the mid, "W" failed to make me to watch several episodes at once, just like in the beginning, I was a little bored with the story, but it got better in the last two episodes. So, "W" is still an interesting drama to watch.
"Handcuff kiss between Kang-cheol and Oh Yeon-joo"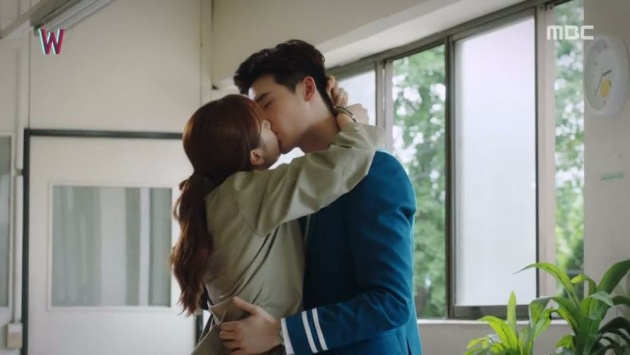 Image Source: Dramabeans
There will be many a twist towards the end of the story that is sometimes even made me tired of this drama. And "W" does not tell us a standard rule between two worlds since the early or in mid episode. But then came towards the end, then came the hypotheses that apply in both worlds which is used by Kang-cheol to manipulate the story. For me, it actually reduce the value of the drama itself. And ahead of the last few episodes, the story seems dull and repetitive.
The chemistry between Kang-cheol and Oh Yeon-joo is OK for me, they look good for each other. And the romantic scenes between them are also quite a lot, especially in the beginning episode, so for fans of romance drama, "W" still worth to watch. And of course there will be kiss scene too between them. Although I felt that some romance scenes seems misplace in some episodes.
"The frightened Park Soo-bong, the assistant writer"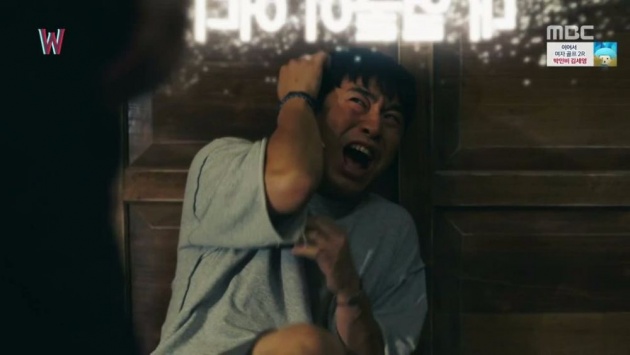 Image Source: Dramabeans
I would like to give special credit to Lee Si-un who acted as Park Soo-bong, the assistant writer and friend of Oh Yeon-joo. For me, he deserve to get an award as "Best Supporting Actor" for his role in this drama. I have watched many of his drama, and he always gives the best in each his role, such as in the drama "Remember", "Beating Again", "Ho Goo's Love ", etc. His expression when startled, frightened, hysterical, etc, always make me laugh, because it's so hilarious. I just love his character in here, he really nailed it~! I hope this will come true.
The conclusion is, I would recommend "Two Worlds" or "W" if you want to watch romance drama mixed with thriller and fantasy. But if you do not like complicated drama which drain your brain, then "W" is not suitable for you. And when you watch "W" and find things that are not logical, just ignore it and just follow the plot and its story, since it is a fantasy drama.

Image Source: Hancinema
You are the key to my life. -Kang Cheol
Regards
LookUp
©2016 LookUp. All rights reserved.