Video credits: Jean Beltran via bitLanders
With summer approaching up really soon here in the Philippines and with the arrival of our boss from Belgium, we decided to open summer early by an island hopping activity just in Mactan, Cebu last week.
It was a quick and simple island hopping but we certainly will treasure it because of course I finally got to meet my direct boss after three years of being in service! I am grateful that he has been very good to me and very considerate as well as he had been a friend to me while being an employer at the same time.
Today, allow me to share with you the islands that we had gone to and how the island hopping went. What are the best spots and those which I recommend? Continue reading to find out!
EARLY DAY START
Sometimes, I find my travel stories becoming boring because I am talking too much but I can't really do something about it because I want to share the start all the way to the end of the travel.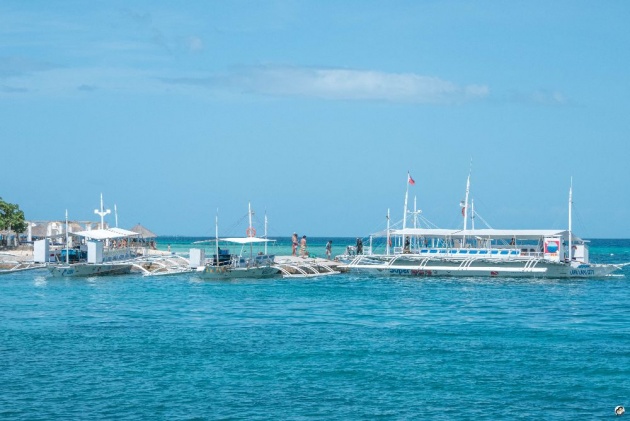 Image credits: Jean Beltran via bitLanders
And in line with that, let me share how my day started.
At five in the morning, I woke up really early because our assembly time was at 6:30 AM! That was very early as the boat will go by nine and we don't want to be late! Our bosses were with us for this outing and we can't really shame ourselves by coming late.
By 6:30 AM, I was with my colleagues who are from the same area as my location. Passed by Jollibee to meet with some of our colleagues but hit the road again after a few minutes so we won't be stuck in the Mandaue-Lapulapu traffic.
By eight in the morning, we were already in Lapu-Lapu City, we assembled at The Outlets. It was my first time to be in this area and I truly liked it because it has a lot of shops, brand stores at a low price as well as eateries!
After a while, we headed to the travel agency office where our boat was waiting. It was just quarter to nine and we were all ready but our bosses have not yet arrived. So we waited again. Finally, after more than an hour, our Belgian bosses were at the location. At last, our first 2018 Summer Outing started!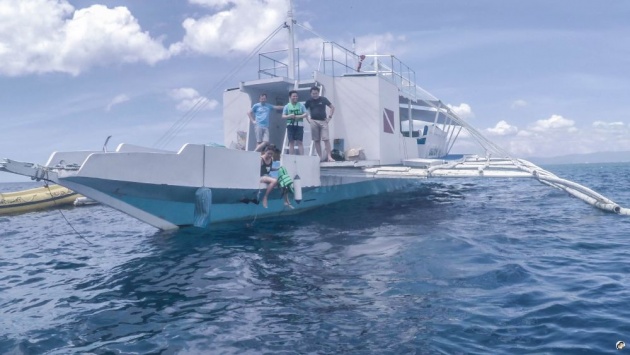 Image credits: Jean Beltran via bitLanders
BOAT "MAKULIT"
Going island hopping in Mactan, Cebu requires boats which are licensed to do such tour.

Our boat was from Fun Sundive Travel and its name is "Makulit" which is a light-hearted context to refer an annoying or stubborn subject. It can be used to describe a person or an object.
But before we even reach Makulit, we have to take a smaller one to transport us from the mainland to the boat. The boatmen were really good at entertaining us and helping us with loading our food and other items.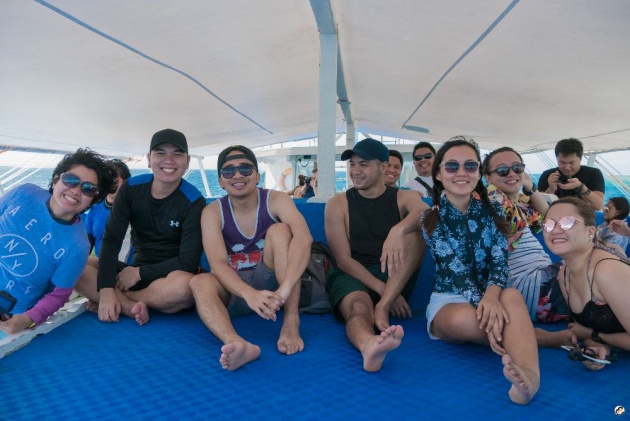 Image credits: Jean Beltran via bitLanders
The boat was super spacious, it has comfortable blue covered foams, snorkeling items are available which were separately paid. They also can grill the seafood brought by the guests with no additional fee. I would like to also comment that they have a nice comfort room, well covered, unlike other boats.
That day, our boatmen informed us that we were going to three islands, mainly:
Nalusuan Island
Pandanon Island
Hilutungan Island
Without further ado, let's open summer with this island hopping adventure!
NALUSUAN ISLAND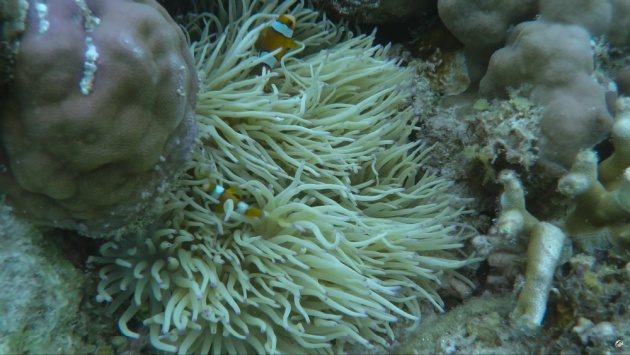 Image credits: Jean Beltran via bitLanders
First on the list was this beautiful coral garden filled island scattered all throughout the vicinity. Our boats docked at the distant, local island attendees were there to collect Php 350 each guest who would be snorkeling around the island. For me, that was too much, especially that we were also Cebuanos.
But since it was company paid, we didn't have to worry about it, all I had to care about was how to use the flippers!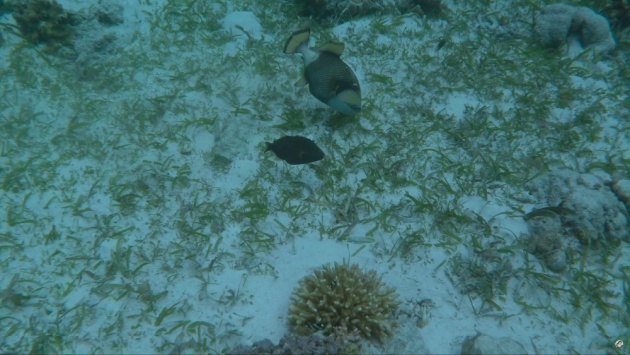 Image credits: Jean Beltran via bitLanders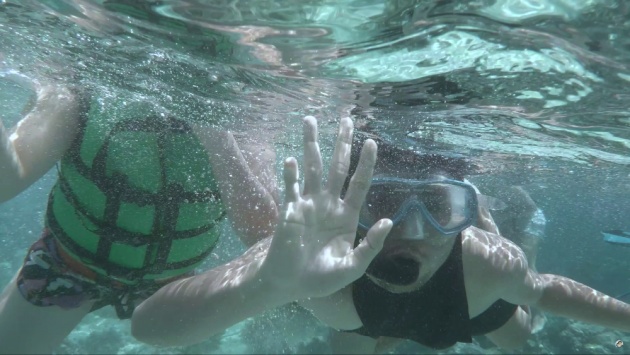 Image credits: Jean Beltran via bitLanders
Yes, it was my first time to use them and boy, I felt like I would have cramps anytime soon because it was just so hard to manipulate! My colleagues told me I should maneuver as if I was walking but that didn't help either.
I still had enjoyed the corals and the fishes, it reminded me of Busuanga's amazing coral gardens!
We spent a good ample of time snorkeling until I noticed my colleagues were nowhere to be found! I slowly tried to go back to our boat but it was super hard to swim back because of the current. After a few minutes, I glimpsed our boatmen with our boss. It was good that I am back at the boat but felt jellyfish stings in some parts of my body. Oh well, that I won't be able to avoid anymore.
PANDANON ISLAND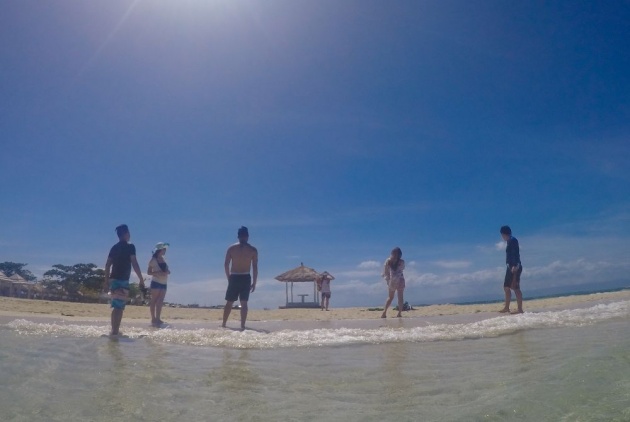 Image credits: Jean Beltran via bitLanders
"You have paradise in your backyard."
This was my Belgian boss' words when we arrived at Pandanon Island's sandbar. He loved the white sand beach and he adored how "virgin" it looked like even his wife had fun while chilling at the nipa huts from the distant.
Pandanon Island is already part of Bohol but it is located close to Cebu that island hopping activities would still include it. Its the farthest that we can go but we spent more time here than in the other islands because of its white sand and clear waters.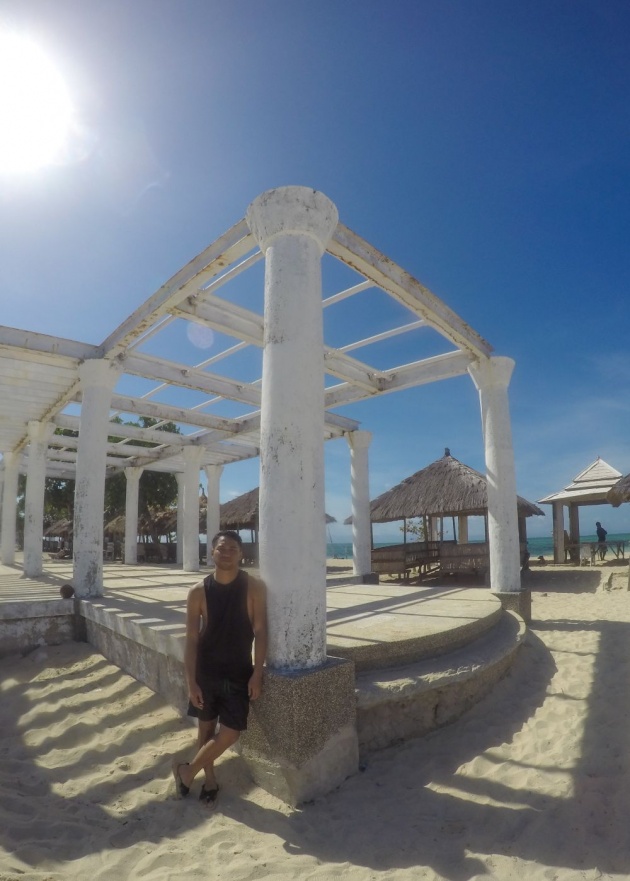 Image credits: Jean Beltran via bitLanders
We had picture taking too at the temple-like ruins which were once a functional house. Its white columns were really eye-catching that we have to take more photos with the entire group.
The island, although far from the main city has a lot of residents. It was a surprise to see local houses grouped at the other side of it. There were different types, nipa, cemented or even just plain roughly constructed as they tend to look like that of the squatters. I am not sure if there's a school here but somehow, it seems their population is outgrowing the island size!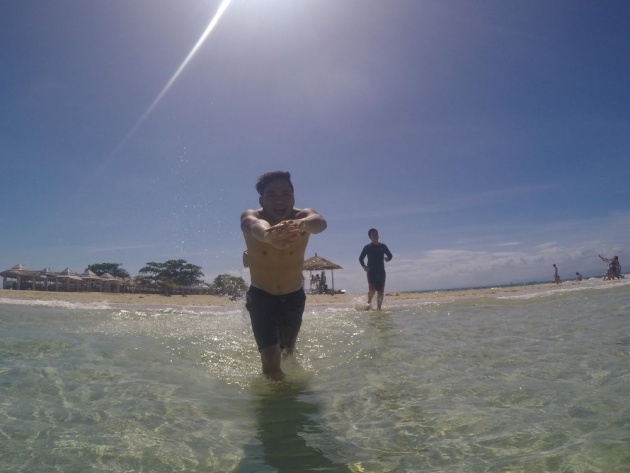 Image credits: Jean Beltran via bitLanders
But the area where the beach is located as well as the sandbar still looks "untouched" as it is separated to the residential area plus there seems to be some governing body who are constraining locals to go overboard.
We paid only Php 100 per person as entrance fee here.
After the swimming and sunbathing, we headed back to the boat. I was telling my boss that the island which we went last year with the team was cleaner, whiter, has clearer waters compared to Pandanon and he was amazed!
HILUTUNGAN ISLAND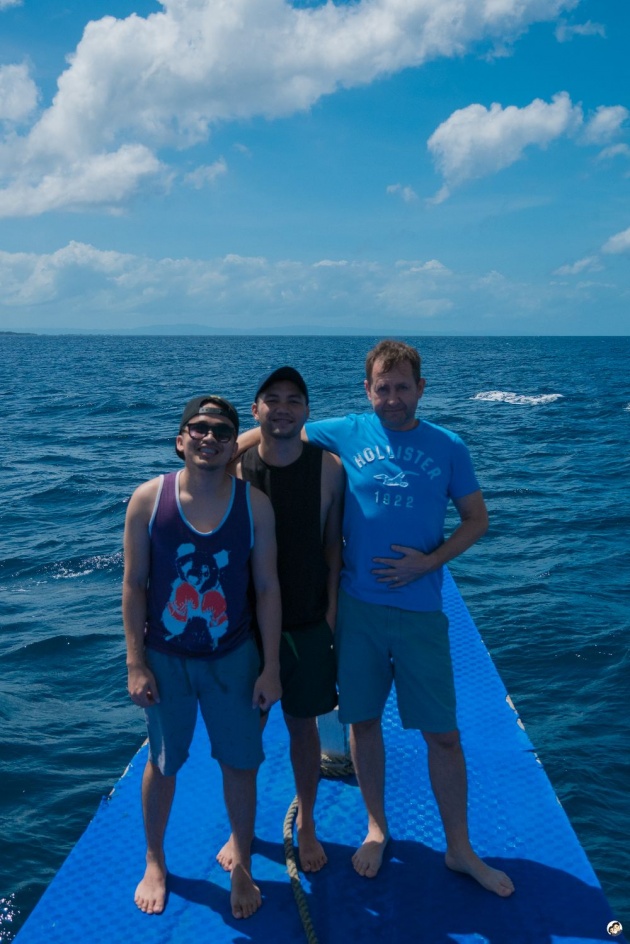 Image credits: Jean Beltran via bitLanders
Our final destination was at Hilutungan Island. Just like the first two, this is a protected sanctuary. The boatmen stopped the vessel in an area where we can visibly see the waters go light green then dark.
Upon swimming, we found it is just in the midst of a steep cliff edge of the seabed. The island is just a plain huge rock with plants and trees that grew on it's in between. There's a protected area where boats are not allowed to get nearer.
So we ended up just snorkeling, the waters here were calmer compared to that in Nalusuan Island but the corals and the fishes were not that much compared to the first island. Still, we had fun while snorkeling as we saw huge fishes which were trying to befriend us or perhaps would like to eat us!
It didn't take long before we decided to go home. We ate all the remaining food and made sure we won't have any other extra pieces of baggage going back home.
All of us got sunburned of course and we love the fact that we had spent time with our bosses who came all the way from Belgium to finally meet us! Here's a summary of our island hopping adventure:
Video credits: Jean Beltran via bitLanders
---- o ----
Blog entry written and published by Jean Beltran-Figues, A Pinas traveler and photography hobbyist, find more travel blogs in my blog section, click here.
---- o ----
Check also my recent blogs:
• My Mobile MultiMedia Applications on the Go
• Review on KKD STK + BBQ : Affordable Filipino Cuisine
• Celebrating Our Third Wedding Anniversary
• Half Day Tour to Sipalay Negros Occidental
• Punta Bulata Resort and Spa is a Hidden Gem in Cauayan Negros Occidental!
• 5 Reasons Why I Can't Get Over Natural Native Sea View Cottage