.In 2006 beautiful city of Pakistan the city Swat was completely under the control of terrorist . They showed the narrow mindedness and want to implement their own agenda and they have different school of thought which they want to Implement their cause and rules on the people of Pakistan (swat) their thoughts are against the Islam Because the Islam is the peaceful religion and always want the his followers should practice Peacefully.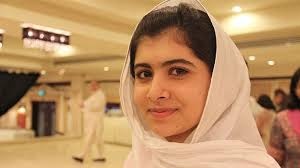 Terrorists demolished the schools, destroying the infrastructure and quite every rising sound against them they destroyed all the girls schools and colleges in swat but a little voice was raised against terrorist the little voice become louder with the time. She wrote the diary with the name of GULL MAKIA and published on internet And Then BBC made the documentary on Malala . Malala raised the voice for the education for the girls of Pakistan. over .2 billion children of Pakistan are out of schools and the ratio of girls is more then that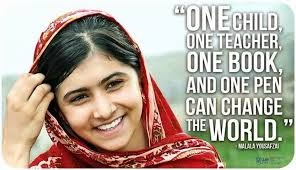 Malala was shout out by terrorist when she was going to school she was shout out by terrorist because she done the struggle for the education of girls after the attacked on Malala a great campaign was launched against terrorist.Now Malala is the symbol of bravery courage and confidence for Pakistani girls by following the foot print of Malala every girl of Pakistan should feel courage , bravery and stand against injustice.