The #Judo #Bitcoin #Rewards are live on BitLanders Judo Rewards Page, building a community of 500,000 users and 180 million friends and fans to support the Olympic Sport of Judo! Check it out and spread the News!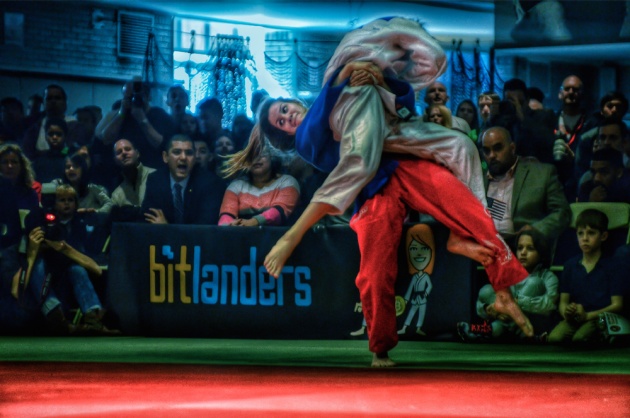 picture by Bauzen
Competition News
Results of the Grand Prix Duesseldorf 2015
Kayla Harrison -78kg, Gold
Travis Stevens – 81kg, 7th
Kayla Harrison Wins First Big Tournament of the Season For USA Judo
By Diego Osorio | Feb. 22, 2015, 5:24 p.m. (ET)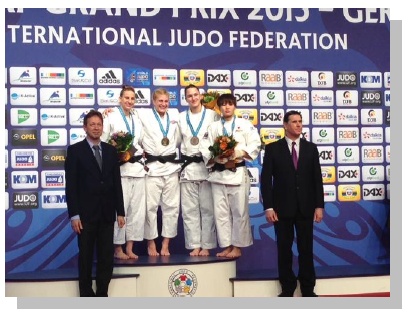 Former judo world champion and 2012 Olympic gold medalist, Kayla Harrison (Pedro's Judo Center), wins the year's first big tournament from the International Judo Federation in Germany, which took place February 20-22.
Harrison defeated Anamari Velensek from Slovenia by yuko in the fourth and final round of the Grand Prix Düsseldorf in the -78 kg weight category. Coming from a bitter encounter from last year's World Judo Championships in Russia, where Harrison also defeated Velensek for the third place among the world's best judokas, this was a must-see match between two elite athletes.
Breakdown:
Preliminary round: Harrison DEF. Lala Talarn (Spain)
Preliminary round: Harrison DEF. Guusje Steenhuis (Netherlands)
Semifinal: Harrison DEF. Ruika Sato (Japan)
Final: Harrison DEF. Anamari Velensek (Slovenia)
With this tournament, Kayla resumes preparations to defend her history making moment at the upcoming 2016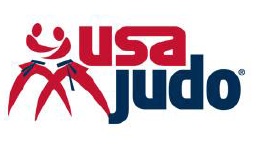 Rio Olympics as the first judoka from the United States, man or woman, to win gold at any Olympics Games.
Results of the Tech Judo Open
Vennitti, Anthony - 81kg, 1st
Chelidze, Mishka - 81kg, 2nd
Jacobs, Andrew - +100kg, 1st
Ronda Rousey defends her UFC Bantam Weight Title
NYAC's Hall of Fame inductee Ronda Rousey defended her UFC title in typical fashion by defeating her opponent, Cat Zingano, in 14 seconds with (what else) an armbar.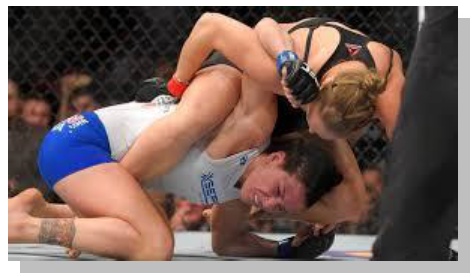 Judo Club Co-Chairman Kevin Earls received a text from Ronda
thanking the NYAC members for all of the support over her career.
Upcoming Tournaments and Special Events
Jimmy Pedro's Judo Challenge
Date: March 8, 2015
Location: Wakefield, Massachusetts
Contact: Jimmy Pedro or Riley McIlwain
info@pedrojudo.com
781-245-0644
New Jersey Judo State Championship
Date: March 15, 2015
Location: North Bergen, New Jersey
Contact: Ramon Hernandez
ramon@northjerseyjudo.com.
201-206-2705
Ocean State International Judo tournament 2015
Date: March 21, 2015
Location: West Warwick Civic Center 100 Factory Street, West Warwick, RI 02893
Tournament Director: Serge Bouyssou (401) 647-4678 or Chuck Wall (540) 656-6342
http://strongvon.com/oceanstates2015
Liberty Bell Classic
Date: Saturday, March 28th 2015
New York Open Team Championship
Date: March 29, 2015
Location: NYAC
Contact: John Walla
wallaj@aol.com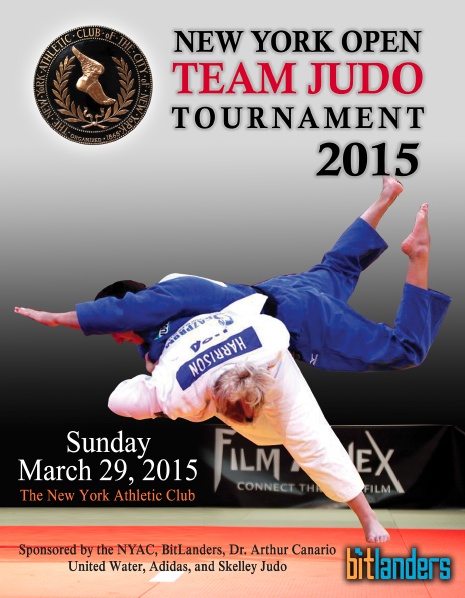 2015 Garden State Judo Classic
Date: Sunday May 17, 2015
Location: Boys & Girls Club of NW NJ, 153 Garside Avenue, Wayne, NJ 07470
Contact: Ramon Hernandez, Phone 201-206-2705, ramon@northjerseyjudo.com.
Lynn Goldberg, Editor.