Riccardo Costa goes against his own rule of not eating at Italian restaurants in New York. Turns out, it was a great decision.
By Riccardo Costa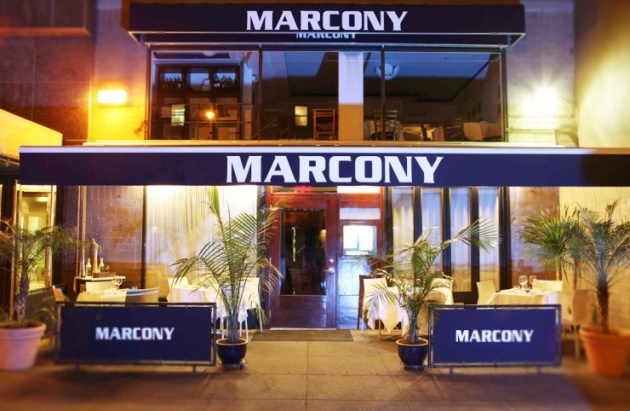 I usually never go out to Italian restaurants in NYC. The main reason is that I'm never satisfied with the food because it's not properly Italian, but rather always reinvented dishes to please the American palate.
Well, Marcony restaurant has changed my mind on that issue. Upon entering, I was greeted by the friendly manager Simone. At my table Simone made suggestions for my dining experience and added his recommendations for wine pairings. His knowledge and the extensive restaurateur background of owner, Marco, gave me confidence that I was in for a pleasing repast. It was more than pleasing, it was truly special. I started with a tasty Tagliata of Tuna in Sesame Crust. As presented, the color of the tuna vouched for the freshness of the fish. There's no sashimi that can compare to this dish's juicy tenderness.
Another starter I tried was Lobster Tartare with bufala mozzarella and bull's eyes tomatoes. Taking freshness for granted, the combination of fresh Bufala mozzarella imported from Italy and lobster was totally new to me and quite impressively so. My skepticism about this coupling flew away after the first bite. This simple original dish is by far the best marriage of cheese and fish I ever tried. Another thing I never do is to order restaurant pasta. Again, I made an exception in this case. I was advised to have the Linguine with Neapolitan striped clams and Pienolo tomatoes, and to try Marcony's ravioli filled with ricotta cheese and spinach in a truffle sauce. Those dishes can make even a vegetarian happy (but not a vegan).
The striped clams were new to me. These special clams are very high quality and have a different and more flavorful taste than the regular clams (and I'm talking about the Italian clams).
Pasta al dente with an abundance of clams combined with Pienolo tomatoes grown from the soil surrounding Vesuvius volcano, famous for their sweetness and intense flavor, is a must try. The full flavor of fresh ricotta cheese with the creamy truffle sauce remains on the palate for a while, and it's a nice filling portion (not just three tortelloni, but a full plate). The dough is thin layered and perfectly consistent. Expertly mastered cooking time yielded a pasta whose ricotta taste was not diminished and the plate was not watery which sometimes happens with tortelloni. The ample wine selection helped to appreciate and balance the dishes, you can also have an excellent red like Nero D'Avola, or if you prefer white, I suggest Varo della Sala by Antinori. Marcony, from the owner Marco, is a restaurant in Capri style that truly takes you on a journey through the flavors of that magnificent island.
Marcony
Website
184 Lexington Avenue, New York, NY 10016