How is marriage celebrated in our country?
Hello guys!
Assalam o Alaikum everyone!
I'm Asad again on an interesting topic which is about marriage ceremony in my beloved country Pakistan. In my blog, I would like to tell you about marriage and its celebration procedure in Pakistan.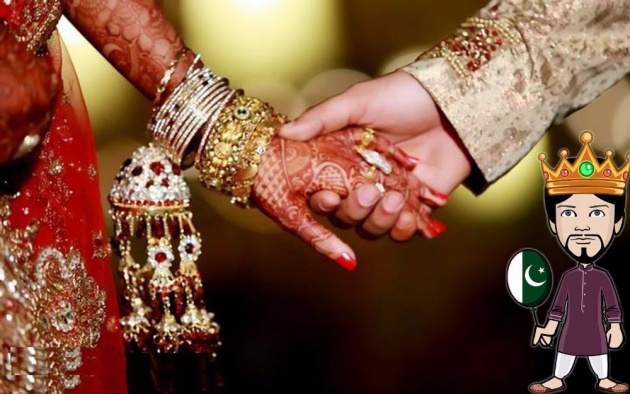 Image Credits: wordpress.com & edited by Asad Munib
I'm trying my best to tell you about my beloved country in my blogs as I know that I can promote and make the publicity of my country here through blogging. So I usually write blogs about things, places and events which are held in my country because I have some information about it.
Video Credits: Youtube via Raghib YouTube Channel
So today I decided to tell you about marriage celebrations in my country. And now I will move forward and would like to tell you what marriage is?
Image Credits: Youtube.com
Marriage is a holy relation which is made between two people, a male, and a female. In this relation, they are granted to live with each other in future until death. It is advised to both of them to live happily by taking care of each other very well. Parents of boy and girl usually fix the relation and they tell them how to take care of each other in future.
Image Credits: Fashion360.pk
Marriage is a holy relation which is very strong and this relation is created on the earth with a strong belief. This relation had many issues, problems, benefits, and effects which will be discussed in my next blog but now I will tell you how a marriage is celebrated in Pakistan and what major functions which are celebrated in marriage party are. Although there is some difference in different areas of the country mostly these functions are same which I will mention here.
Here in my country marriage usually celebrated in following functions.
Mehndi Function at night in both homes of bride and groom.
Sehra Bandi function.
Baraat function.
Nikah.
Walima function.
These functions are celebrated here and now I will explain these in my words here.
Mehndi function: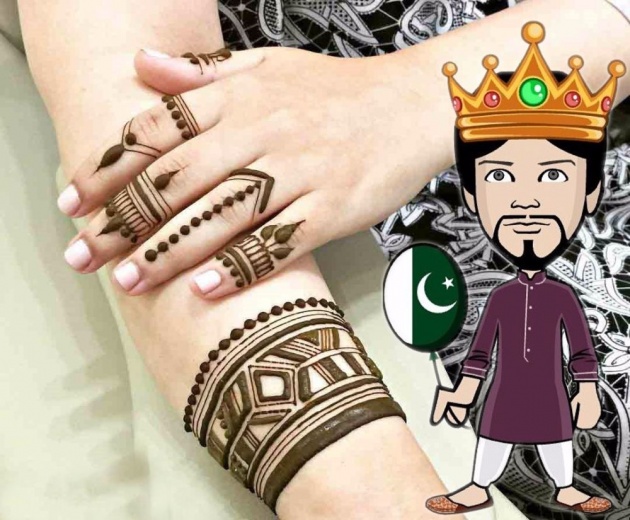 Image Credits: http://allmehandidesigns.com Edited by Asad Munib
This function is usually celebrated at home in the night time. The function is celebrated separately at both homes. Friends, relatives, and other invited guests celebrate this party with music and delicious dishes and then bride or groom is sited in front of the guest and the function takes place. Mehndi is a liquid which is pasted on the woman hands and it gives beautiful colors and beauty. Thus relatives and guests paste the Mehndi on groom or bride hands and function is ended with love and happy mood.
Image Credits: Youtube
Mehndi function has now become a compulsory party and it is very beautiful party especially for youngsters. They enjoy it a lot with friends and music is also a compulsory part of this function. Now Mehndi is also celebrated in wedding halls and they organize all the function and decorate the hall for this party. Celebrating this function in marriage makes it more beautiful because there are different and amazing lighting an entire hall is decorated especially for this function with lights and flowers.
Sehra Bandi function:
Image Credits: http://pakistyles.com
After Mehndi function in the morning, Sehra Bandi function is celebrated and organized at the groom house. This function is celebrated after decorating and making up the groom for a wedding. In this function or you can say event, parents or any elder relative of groom puts the Sehra cap over the head of the groom. Sehra cap is a type of cap which is specially prepared for groom so that he can look special. At this event usually, guests and relatives give the greetings and hard cash to groom and after praying for a successful journey, the event is closed.
Now Baraat is prepared;
Baraat function:
Image Credits: http://www.exquisevents.com
In this event or party, the relatives and guests are prepared to go in the event of the wedding and entire people are called Baraati, the event is so-called Baraat. The entire home of groom goes to the bride home for getting her to the bride's home. People go to the bride's home and they are welcomed there with dishes and foods.
Men and women are usually sited separately and then drinks and foods are presented to them. After getting foods, Nikah ceremony is organized.
Nikah:
Image Credits: http://pca.org.pk
Nikah is a religious ceremony of Islam and both groom and bride parties are invited to a place and guests are also invited. At this time a religious scholar is called for this event. He recites the Holy Quran and then prays for the success of their new relation. Sweets are presented to the guests after this party.
This function is compulsory and without it, marriage cannot be made.
Returning to Baraat:
Image Credits: Youtube
After the successful function, the groom is taken in the home with some fellows and relatives. Some rituals are made between both parties and photo session occurs. The bride is now sited in the groom car with prays and love. These moments are very difficult for parents who take care of her daughter since born.
Walima party:
Image Credits: http://www.beststylo.com
Now as Baraat is taken back to home, the entire guests are kept in the home and then householders of groom prepare for next day of Walima party. Walima function is prepared by groom's parents and parents of bride come there along with relatives and guests. Different foods and dishes are presented to them and this function takes place. After Walima function marriage comes to an end.
Video Credits: Youtube via ZAIDALICIOUS Channel
The marriage is celebrated in the entire Pakistan with these functions. Some function may vary but mostly these functions are same. Marriage is a holy and loving ceremony which makes both parties happy. It is now up to groom and bride that how they live with each other and try to make their parents happy because real life is started after marriage.
Dear friends, this was my blog about marriage functions which are held in Pakistan. I will explain my topic a little more on next blog and will also explain that why marriage is compulsory for a person. And will also tell you some advantages and blessings of marriage.
So friends, take care and have a great life ahead, thanks for reading my blog. Wish you best of luck.
Best regards
Asad Munib