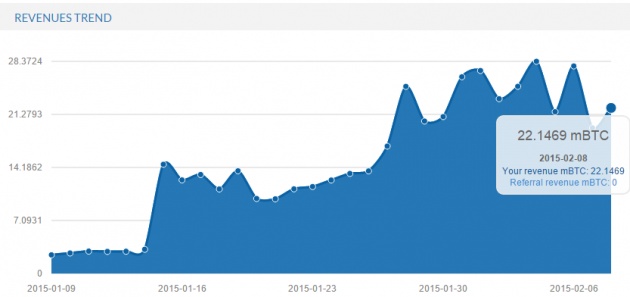 Yehey! I am glad that my revenue had increased from 19 to 22 this time. I have also noticed that my base buzz score had increased as well from 84 to 87 and I am thankful to bitlanders for increasing that. I am wondering if that could be because I had also increased the number of entries for gallery and blogs yesterday because the other day was just really boring, I didn't post the same number of blogs and galleries.
I took a screenshot of the whole revenue trend so that I can share to everyone my journey here in bitlanders. As you can see, I don't have any active referrals, it's zero unlike my brother,@jjeeppeerrxx-nartleb who is getting really good scores because he is my upline, I am unfortunate that I don't have any active downlines, I am not good in selling myself and letting others join here. Although my family members who had receive the invites would try to but the invite in fb is not working either so it's just nonsense.
So basically my earnings are just mainly from my own hard work. I hope I can also let someone join here and earn the same way so I can get my earnings to increase more but most of my friends are really busy, they are working and they don't have any time for social networking, they have children and they are always telling me that they are busy with their lives. So, I give up but I still post my referral link on FB just in case.
And by the way, you'll also see that there's a great leap on the month of January, it was that time that I had submitted a blog for review. It has never went down less than 10mB since then. I am super thankful to bitlanders for this opportunity.