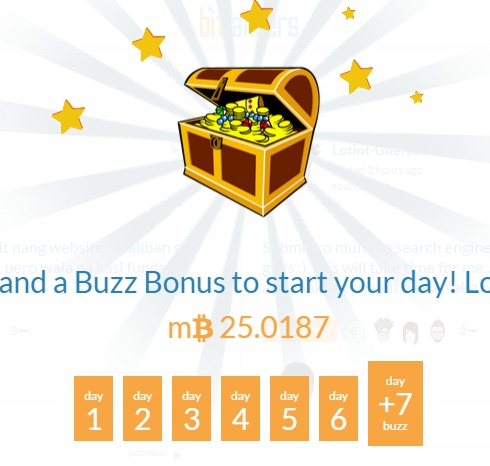 I thought that the previous bonus score I had received two days ago was the maximum amount that I can get here with bitlanders but I was definitely wrong. It was only the start of something bigger. I was totally mesmerized when the treasure box came out at exactly nine in the evening Manila time and that it showed me a stunning amount of 25mB. I jumped out of my chair and just took another look at the numbers showing on my screen! Yes I was not hallucinating or anything, it was true!
Well then, I checked on the buzz score trend and checked what had increased. I was happy seeing an increase on both base buzz score as well as the direct powerups. It makes me happy seeing my base buzz increased because for the past days, it was dropping but then it had hiked up again this time. The direct power buzz had increased rapidly due to the blog review feed backs given by Miss Hillary. I couldn't thank her enough for rating my 5th blog submission with five out of five stars, it was a perfect score!
Gems are just indeed worthy investing and submitting blogs is the best way for each of us to earn this much. Just follow the guidelines given in the FAQs section and I am pretty sure you'll get a good score as well! Good luck to each and everyone!