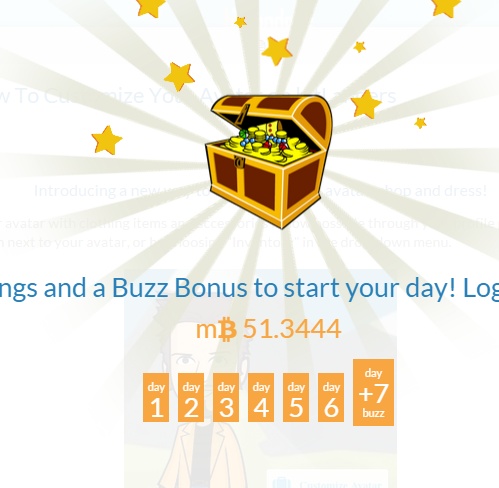 While February ended with a bang, my firs day of March was still great with this specific earning. It is indeed fun to socialize here in bitLanders as we all also earn from those socialization. I have a lower buzz score though because I wasn't able to get enough direct power up buzzes and I guess it will be the same case today.
Due to the reset which happened yesterday, the bonus eaning which was supposedly be redeemed was taken out and after the calculation done by bitLanders, I only received back 0.02mBTC while it was originally 0.05mBTC. It was a regret that I didn't redeem it but nonetheless, I am still glad that I was able to redeem last night after receiving this bonus earning.
I am wondering if I would be able to receive these redemption today or maybe tomorrow as I am already running out of buzz points. I am also waiting for Miss Hillary for the blog reviews but since I am not yet able to receive any blog review, I am just working on purchasing stuff from the shop to add more buzzes. I had even duplicated some items, it is just funny.
Again I am glad to be receiving this amount. More power bitLanders!