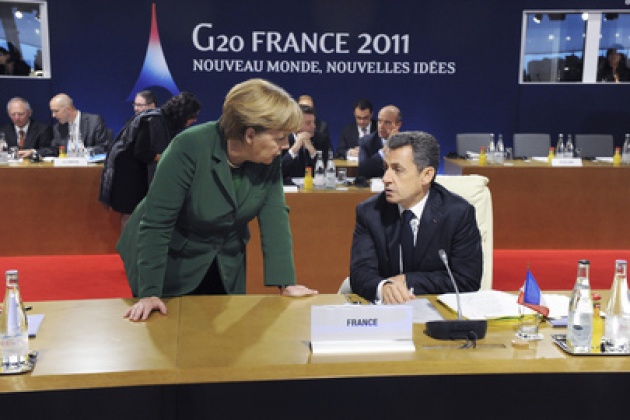 ---Preaching austerity like mom urging abstinence to child off to college?--- Germany's Chancellor Angela Merkel may already be on her way out via election defeat next year but she still controls the purse strings of Germany and thus most key joint Eurozone/EU institutions. Today's EU summit in Brussels for the first time has brought together European leaders since France elected the pro-growth Francois Hollande and is post the Greek election chaos. (Merkel clearly feels less secure without the echo of Nicolas Sarkozy - above UN Photo). However, Merkel hangs to the old scheme of austerity with only limited concessions to the calls for more growth and jobs. She frankly is not any more convincing then a parent preaching abstinence as a child heads off to college: deficits continue to haunt but is no growth and no jobs the best way to tackle a problem that cannot be overcome by simply saying no. See our Blog for Film – "Europe's Political Walking Dead-Austerity's Zombies"
Initiatives for Eurobonds or other more stimulus directed measures are being blocked by Merkel. The ECB (European Central Bank) under new leadership since late last year may opt for further monetary liberalization – it has served as a substitute for fiscal stimulus in the Eurozone in much similar way as Fed in the US through various asset purchases and/or cheap loans to sppoked banks. Again though this may still depend on Germany. There is some idea for "project bonds" and the European Investment Bank to address more specific capital programs, but the numbers appear to be inadequate and probably too narrow to overcome the much bigger problem.
The OECD (Organization for Economic Cooperation & Development) appears to be issuing similar warnings as most electorate across Europe have begun through elections: austerity is hurting economies even more than projected and is not making deficits better but worse. The OECD as well as most independent economic observers (UN and World Bank with possible exception of IMF Chief Lagarde) have raised alarms for some time that the focus on austerity is risking reversion to recession in Europe and collateral economic damage beyond - as well as undermining jobs and justice by cutting critical social programs. Read our Blog for Film: "UN: Banks as Masters-Globe Needs New Deal" We have also been on this wave perhaps even earlier than most financial institutional analysts. -Read our Blog for Film from October 2011: "More Jobs Needed or Globe Could Sink into Recession".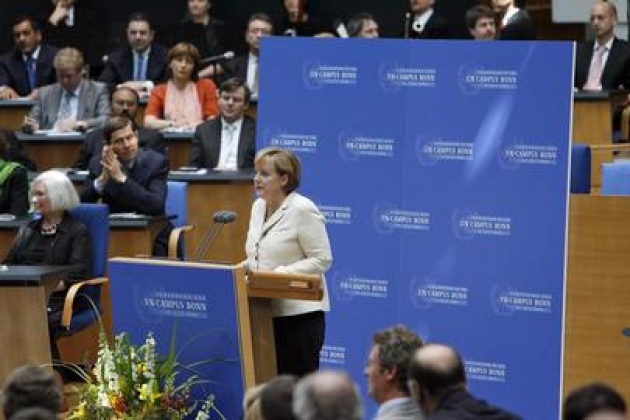 The continuing drop of the Euro reflects both the uncertainty and the lack of economic growth prospects. Germany has been one of the greatest beneficiaries of the Euro with respect to both domestic consumption and its export-induced economy. It is not merely a rich uncle or aunt writing checks for sake of philanthropy or Euro family. Merkel though appears more like Nero fiddling the same old song as the Eurozone does not necessarily burn or crumble but the trembling is enough to sour confidence and prospects. See our Blog for Film –"Austerity is Killing Jobs & Economic Health".
Ambassador Muhamed Sacirbey - FOLLOW mo @MuhamedSacirbey


Facebook-Become a Fan at "Diplomatically Incorrect"








Twitter – Follow us @DiplomaticallyX







For many further current news event articles, see our popular video blogs at "International Financial Crisis" Channel