If there's one person on earth who will love us unconditionally, that would be our mothers. They are the persons who had endure us in their bellies for nine long months and would endure the pain of laboring us, nourishing us from birth until we would become adults. They won't stop from loving us even until we grow old. This blog is dedicated to all the mothers out there.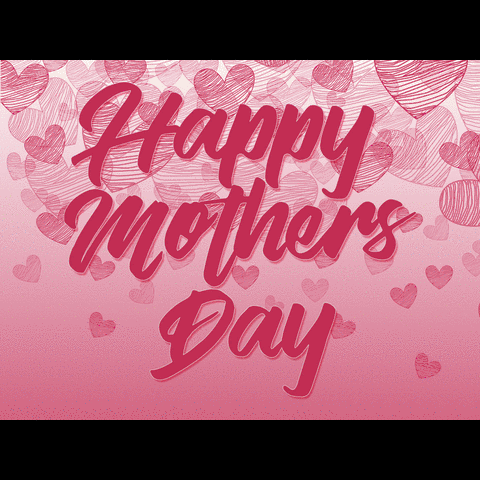 Photos are mine. GIF created via Giphy.com
Indeed there's no doubt our mothers are the most patient, most enduring and the ones who would support us even if it would cost it her life. Today is a special day as it has been known as the Mothers' Day. This blog would talk about the history about Mothers' Day.
Mother's Day is a celebration honoring the mother of the person, as well as motherhood, maternal bonds, and the influence of mothers in society. It is celebrated on various days in many parts of the world, most commonly in the months of March or May. It complements similar celebrations honoring family members, such as Father's Day, Siblings Day, and Grandparents Day. - Wikipedia.org
The Start of Celebration
Video credit to GalaxyDreaming via Youtube.com
Even in the ancient Greeks and Romans, celebrating this day of the mothers has been always present. It has been observed that they held festivals in honor of the mother goddesses Rhea and Cybele.
In the United States, this celebration started way back 19th Century where some personality as Ann Reeves Jarvis helped start Mothers' Day Work Clubs to teach local women how to properly care for their children. This became a unifying force in a region. However, it only became official with the efforts of Ann Jarvis, daughter of the first one who had efforted this act - Ann Reeves Jarvis. She conceived of Mothers' Day as a way of honoring the sacrifices mothers made for their children. Her persistence paid off in 1914 when President Woodrow Wilson signed a measure officially establishing the second Sunday in May as Mother's Day.
However, the celebration varies throughout the entire world. For instance, in Thailand, Mothers' Day is always celebrated in August. In Ethiopia, they celebrate it on each Fall. And more over. However, in the Philippines where I live, we had adopted the US day of celebration which is the second Sunday of May. Today, is the 14th of May, the second Sunday and we celebrate the said event as well.
In my country, there have been different ways to celebrate Mothers' Day and sad to say that this has become very commercialized but eventhough it has been looked up to this way, it is one way of treatin our parents, making them feel loved and honored at the same time.
Here are some of the list of ways to celebrate Mothers' Day in the Philippines:
1. Giving Flowers, Chocolates, Cakes and Sweets to the Mothers.

Photo is mine.
This is like the easiest way to celebrate it. We give stuffs to our moms. In the country, we have several ways of addressing our mothers. Mama, "nanay", mom, mother, "mader", "mudra", "inay", "ina", "nanang" and a lot more. It would depend on how we have been taught to but we would not call our mothers by name, it is most likely an disrespectful act.
So when Mothers' Day come, what we usually do is give flowers, whatever kind it maybe, when I was a little younger, I would pick random flowers around our house, whatever is available like Santan, Bougainvillea, Orchids or Gumamella. My mother would laugh at me as that make-shift bouquet composed of her own garden's flower but I believe she appreciated the effort.
When I started having money, I buy her chocolates and cakes. Sweet stuffs which every mother would love, except for those who have diabetes though but we would always love sweet ones.
These items are somehow being commercialized these days. Special delivery charges have been imposed for those who can't be there in person, they'll hire some services of companies who can deliver the bouquets and chocolates for them in their behalf.
Bouquets are also getting expensive and results to others getting something more affordable - plastic flowers.
White Carnation bouquet. Photo credit: aliexpress.com
The white carnation, the favorite flower of Anna Jarvis's mother, was the original flower of Mother's Day.
"The carnation does not drop its petals, but hugs them to its heart as it dies, and so, too, mothers hug their children to their hearts, their mother love never dying," Jarvis explained in a 1927 interview.
However, these acts are always appreciated and would be done once in a year so it is still something that most are embracing.
2. Make Personalized items - Cards and Gifts.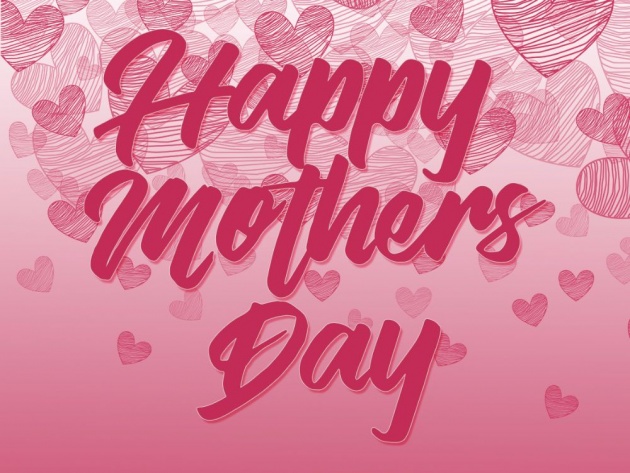 Photo is mine.
I don't know about you but I would appreciate personalized gifts more than those which are just bought. Why? Well because you had exerted efforts in these items.
Personalized items includes cards made from scratch. I had made these types of cards before way back in my secondary years. I use thick papers, make lettering, draw something on it and add glitters if it applies. Then I'll be writing some dedication inside the card. Place it in my own made envelope as well and would surprise her with it in the actual Mothers' Day.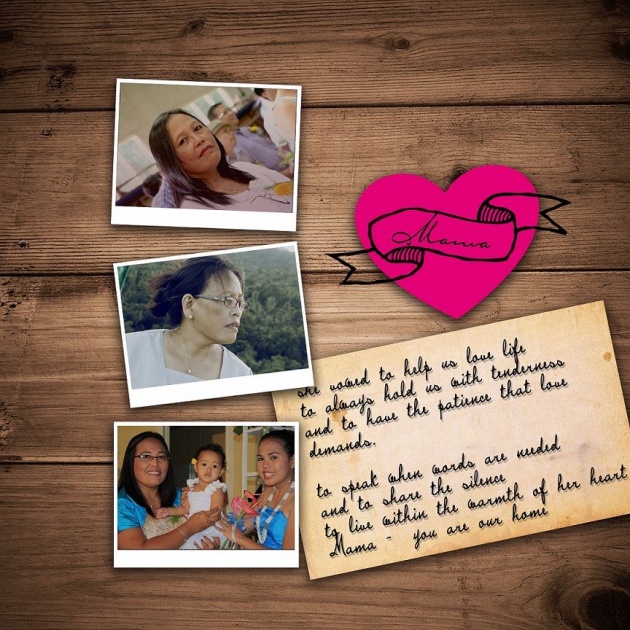 Yet another scrapbook page I created for my mama. Photo page is mine.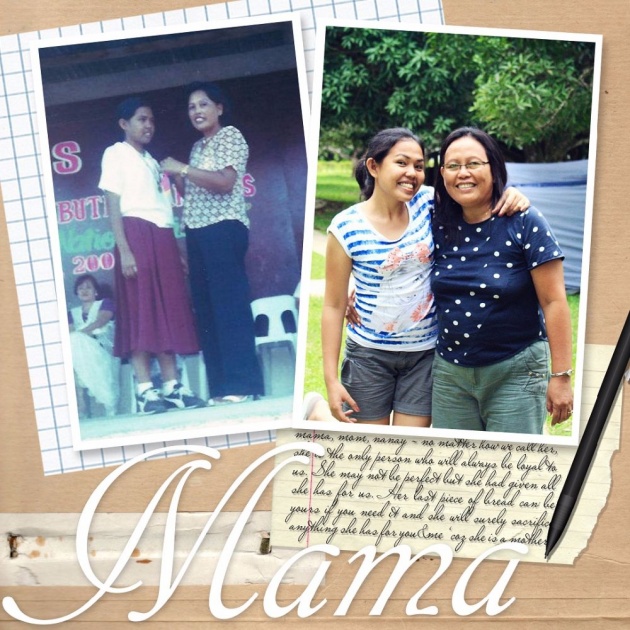 Scrapbook page I created years ago and posted on Facebook. Photo page is mine.
I greatly believe it made my mother happier. There were also times when I made my own digital scrapbook as a gift for her when social media was already a hit. That was when I was away and it was nearly impossible for me to send her a card. So I made a digital art, like a scrapbook page and posted it in her time line.
Others make albums full of photos and wrap them into a gift. Others would print out letterings and more.
3. Treat Their Moms to Dine Out.
My mama making her own halo halo. Photo is mine.
This perhaps is a perfect way to celebrate it with the entire family. Treating the mother for a meal outside their homes which would mean that the mother is out for a day of cooking.
Most restaurants nowadays in the Philippines would give also special discounts and deals for occasions and this includes the Mothers' Day. There are plenty of these eateries which gives free meals or complimentary meals for their customers who are bringing their moms out for lunch or dinner. Buffet restaurants also have their own share of honoring the mothers by giving them extra cakes and flowers. It would then be depending on the restaurant you are getting services with.
4. Take Moms for a Vacation.
My parents, mama and papa enjoying the waters of Henann Resort in Panglao. Photo is mine.
May it be a day out of town or perhaps an overnight stay-cation at a nearby hotel, it doesn't matter for as long as the mom would enjoy and relax for this day. Well, it would also depend if you'd like to take her one a day or a few days or perhaps a week, she'll definitely love to explore her favorite place or perhaps a new location.
Our time is what our mothers love to share with us. When we were small, they had sacrificed almost everything for us that is why we should also show them the love and affection they deserve. Treating them and spending time with them is something which they would treasure.
Video credit: lu155257 via Youtube.com
Let us not forget that while we are busy working, building our own family, saving up for that dream house and other thing we aim to achieve, our parents specially our mothers are also growing old. They badly need our time to talk to them, laugh a bit and hug them.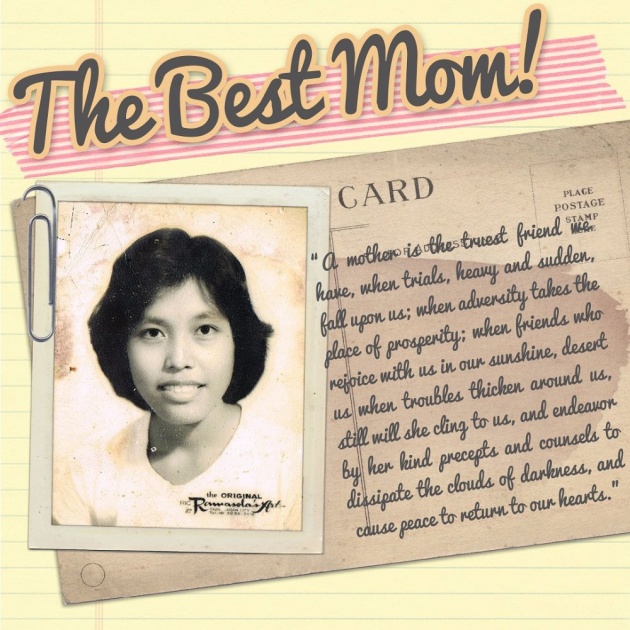 Photo is mine.
So today, it is not too late to make a phone call, send a message or perhaps drive for a few hours to see your parents or your mother. Give them a hug, talk to them and share laughter. For those who have been hurting and perhaps have been carrying burdens and grudges for their mothers, learn to accept them and forgive their tresspasses. They are not perfect but I greatly believe that every mother who is in their right mind would always choose what is best for their children. They maybe away because they are working so they can earn and send you to a good school, to give you a good life and to supply all your needs. Thank them, make them feel loved and show them that you are grateful for their efforts. It only takes a few minutes and your mothers will certainly take that within their hearts.
To my mother and my sister in law. To my mother in law and to all my friends who have bare kids. I pray nothing but happiness.
Best Regards,
Jean Beltran-Figues
bitLanders user since 2015