Mutter Pulao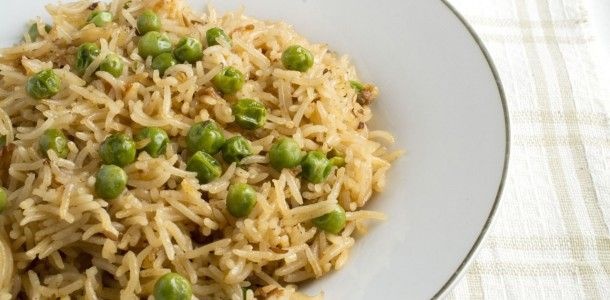 Mutter pulao is one of most favourite dish of all the Pakistani people. It is very simple and easy to make, all the ingredients are available on your kitchen counter. This recipe is for 7-8 people you can serve mutter pulao with raita or salad. Give a try to this recipe I am sure you will love it…. All the ingredients and cooking directions are given below follow them and make easily the mutter pulao at home.
INGREDIENTS
Rice ½ kg
Mutter/peas 1 cup
Onion 2 medium size
Tomato 1
Salt to taste
Red chillies 1 table spoon
Green chillies 2-3
Cumin seeds 1 table spoon
Cinnamon 2-3
Black cardamom 1
Cloves 3-4
Garlic paste 1 table spoon
Yogurt 3-4 table spoon
Oil 4-5 table spoons
All spices powder 1 table spoon
COOKING DIRECTIONS
Heat oil in pan; add cumin seeds, cinnamon, cloves and black cardamom let them to pop.
Now add onion fry it till golden brown.
Add garlic paste, pees/mutter and tomatoes stir for 5-6 minutes.
Now add yogurt on slow flame , all spice, red chillies, green chillies salt and fry pees for another 5 minutes till they are soften.
Add 2 cups of water let it to boil then add soaked rice in it.
When bubbles appeared on the surface of rice slow down the flame and cover the pan for DUM for 5-10 minutes.
When water is dries out dish out the pulao and serve with raita or salad.
FOR RAITA
Take yogurt in a bowl add finely chopped onion, tomato, green chillies, green coriander leaves salt, red chillies, and mix all ingredients well.
Add 4-5 table spoons of water in it to set the consistency of yogurt.
TIPS FOR MAKING PULAO
Rise should be soaked in water for at least half an hour.
Do not overcook the peas as they will more soften in rice water.
Does not cover the pan when you add rice in boiling water, once bubbles appeared on the top surface if rice, then cover the pan and put them on steam.
Add 2-3 table spoons of yogurt so the rice will not stick to each other.