My All American is a new movie hitting theaters this Friday, November 13, 2015.
It tells the story of Freddie Steinmark (Finn Wittrock) whose dream is to play football. Judged too small by the usual athletic standards, Freddie trains hard with his father which ultimately gets him noticed by legendary University of Texas coach Darrell Royal (Aaron Eckhart). Along with his new team, the Longhorns, he rises up the charts. But when Freddie suffers an injury, the shocking diagnosis will bring the biggest challenge he will ever face.
The Los Angeles premiere was held at The Grove, and was attended by the movie's stars Finn Wittrock, Aaron Eckhart, Robin Tunney, Sarah Bolger, writer/director Angelo Pizzo and their celebrity guests Evan Peters (American Horror Story), Emilie De Ravin (Once Upon A Time), Perrey Reeves (Entourage), Amanda Righetti (The Mentalist), Richard Schiff (The Affair, Ballers), Bradley Whitford (The West Wing), Jane Kaczmarek (Malcolm in the Middle), Keyon Dooling (13-year NBA veteran), Geoff Blum (Former Houston Astros/New Astros Broadcaster), Alyssa Roenigk (ESPN), Justin Gimelstob (SI/Tennis Channel), and John Salley (NBA veteran).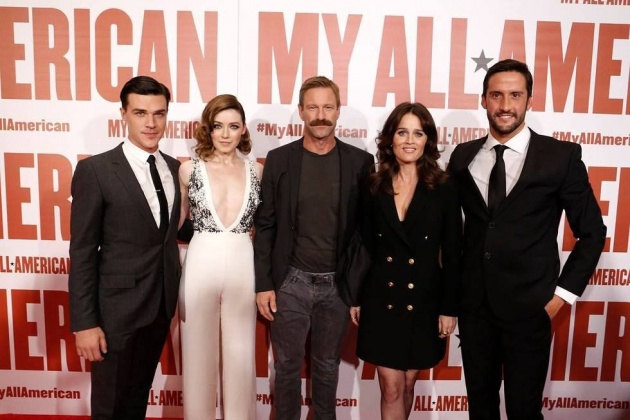 STARRING: Finn Wittrock, Aaron Eckhart, Sarah Bolger, Robin Tunney, Michael Reilly Burke, Rett Terrell, Juston Street.
WRITTEN AND DIRECTED BY: Angelo Pizzo, based upon the book "Courage Beyond the Game: The Freddie Steinmark Story" by Jim Dent
PRODUCER: Paul Schiff
DISTRIBUTOR: Clarius Entertainment