Our "Buzz Scores" are actually composed of two categories which are the "Base Buzz Score" and the "Buzz Bonus". The Base Buzz Score are your accumulated points according to your activity on the community such as Micro-Blogging, Blogging, Uploading Movies, Photos and etc... As for the Buzz Bonus, you gain these points through daily log-in, inviting your friends to join BitLanders, subscribers bonus and purchasing specific items from the shop.
As a new BitLanders member, I actually never tried yet cashing-out my earnings either via Paypal or into my BitCoin Wallet. It's because, recently BitLanders Team has been releasing a lot of items in the shop that gives Buzz Bonuses (Cricket Costumes). Thus, every time that I am able to reach an amount good enough to purchase 25 Gems, I spend on it. As a result, my total Buzz Scores is playing at around 80+.
Yesterday, my total Buzz Bonus was exactly "83" which pushed my rank from the Leaderboard at top 30. But by the time of the release of the Treasure Box (probably also the "Reset Time" of the system), my total Buzz Scores went down to "82". Now, I'm currently being ranked from the time of this post at "top 31". I came to realize that one of the Buzz Bonuses that I purchased had finally lapsed.
Despite of the 1 point decrease of my total buzz scores, I am happy to see that my earnings today (2/23/2015) wasn't affected at all. It actually increased.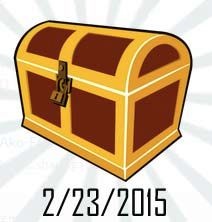 Moreover, I still have a lot of items that gives Buzz bonuses from the Shop that I am planning to buy. This should probably maintain my rank from the Leaderboard.