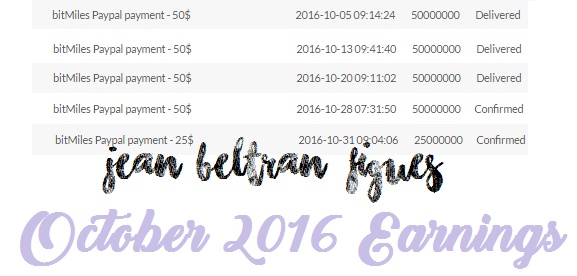 Yow guys! I finally had the time to put up my October 2016 month's revenue which I was not expecting to reach this high considering that last month I had earned less than 200 dollars. This month, I had earned more and I am definitely thankful for this blessings.
I believe my new interest in video making had greatly help me reach this amount this month. I had submitted more videos than blogs actually but I am still glad that even if I am not getting five stars for the video, I am actually giving a shorter amount of my time in creating these videos with the help of Adobe Premiere so I believe it is way better than aiming for a five star blog which sometimes would take me weeks to finish.
But I am still making blogs though, I still love writing and sharing stories so that won't end for sure. I have lots of backlogs and I am hoping to be on track with my blogging., soon!
Speaking of ending, I am a bit sad that this month might be the last time that I am earning bigger amount of bitMiles points because the Tiaras which I bought months ago will soon expire! Sad news but that is the truth so I am hoping that bitLanders will be offering something new in the future!
By the way, I have listed the payments which has not been given to me, I still consider that as a revenue for sure they'll arrive in my PayPal account pretty soon.
Anyways, thanks to everyone who had made this possible.
Regards,
Jean Beltran-Figues
Thanks guys for reading this blog. Check out my earnings from the previous months below: