My Dining Experience at Stone House Restobar, QC
Intro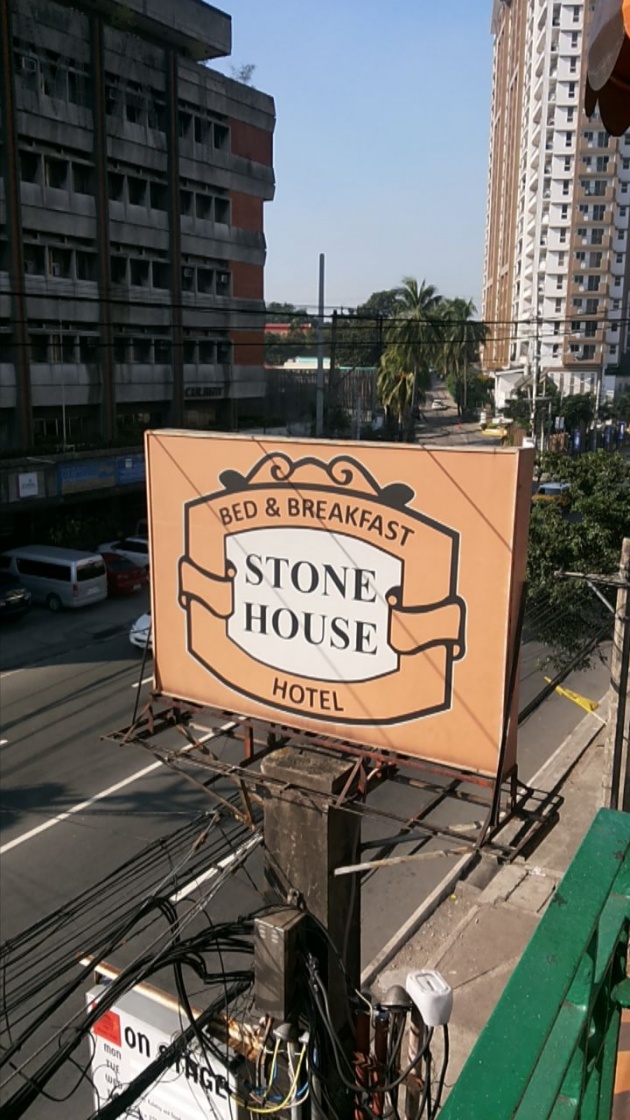 Photo credit: lapiz-lazuli
We had an overnight stay at the Stone House Bed and Breakfast, so we needed to have dinner at the vicinity. We planned to order via Jollibee delivery, but we got curious about the restobar downstairs. After vacillating for a while, we finally decided to order food downstairs and requested to deliver it in our room.
My sister went to the reception desk to ask for details on how to go with the set up. The receptionist kindly advised us to eat at the restobar instead so we could enjoy listening to the live band. We agreed and now I'm sharing my experience about dining in their restaurant.
About Stone House Bed and Breakfast
I've mentioned this before, but reposting anyway about their place.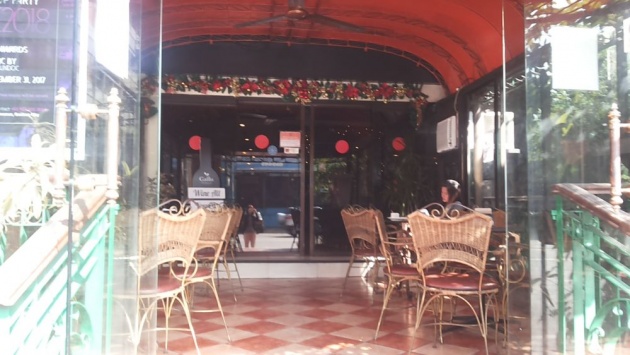 Entrance at Stone House. Photo credit: lapiz-lazuli
What makes Stone House Hotel, Quezon City unique is our dedication to bring you closer to home by giving you the basic comforts you need at affordable rates. We have different rooms to suit your style and budget.

All of these air-conditioned rooms are equipped with a private toilet and bath; hot and cold shower, cable TV and telephone. Free wifi is available at the restaurant and Penthouse garden. Daily newspaper is also available if you want to keep abreast with the current news and latest happenings around the globe.

- from Stone House Website
Place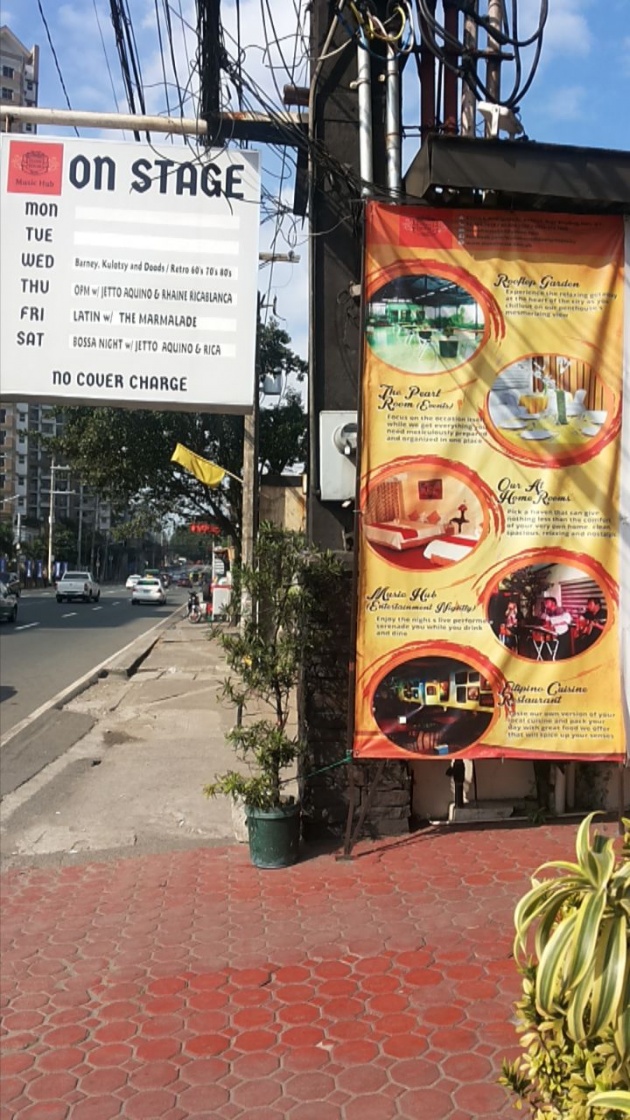 Schedule of perfomances. Photo credit: lapiz-lazuli
The restobar was not spacious and dimly lit. The place is suitable for casual, intimate occasions because of its laid back atmosphere. Even the live band scheduled around that time had a cozy theme as they play songs you probably hear on Easy Rock radio.
Live Band. Video credit:
lapiz-lazuli
I think they have only less than 25 tables in their restobar, tables outside the main door included. The place was really for casual happy time and not for rowdy celebrations.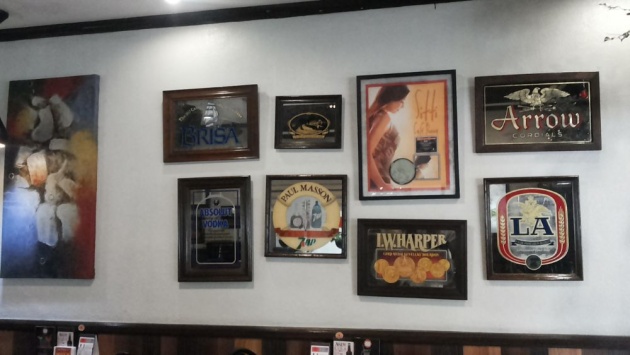 Photo credit: lapiz-lazuli
As for the decor, I think theirs was quite cool as they have plaques of liquor brands as well as local artists with signatures (who probably had guestings at Stone House Restobar) plastered all over the walls. It's very chic that you won't mind how little space the restobar had.
Washroom was also generally clean.
Food
Menu. Video credit:
lapiz-lazuli
OK, so onto our orders:
Chicharon Bulaklak
Being as restaurant as well as a bar, they serve pulutan, also known in the Philippines as snacks eaten along with alcohol. However, these pulutan can also serve as appetizers for a meal.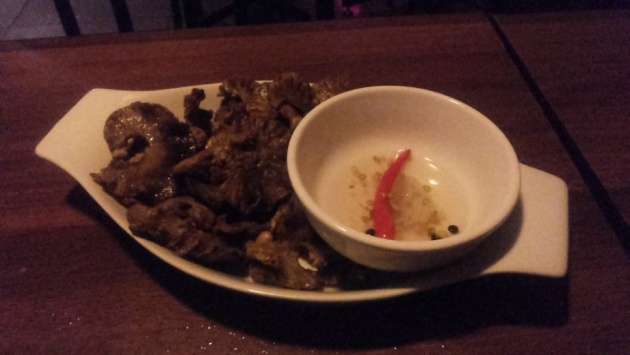 Photo credit: lapiz-lazuli
We ordered pork skin known as chicharon. The variety was called bulaklak, or flower in english, as it is shaped like a flower. Their chicharon bulaklak was one of the better cooked pork skin I've tasted. It was very soft but still crispy! I wish I knew how to cook (or even buy) a chicharon fried like theirs.
Tortang Talong
Ok, onto the next order. If I remember correctly, this was the 2nd dish served at our table. Tortang talong means eggplant torte, such that the eggplant was fried along with eggs. I think it's the direct translation in english, though I won't very much consider it as pastry or sweet. It's more of an oily, salty food that can be eaten alone or paired with other stuff.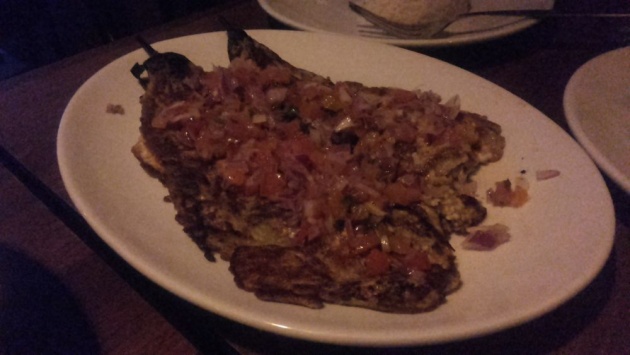 Photo credit: lapiz-lazuli
Theirs was a so-so dish, because I can't remember much the taste, but it wasn't gut-gagging either. It's just an OK dish that would also be suitable as a main course or partnered with rice. Yum!
Sizzling Tofu
I find their Sizzling Tofu to be very dry, or I would just prefer my fried tofu to still have ample water content in them. Anyway, theirs wasn't very flavorful to the point that it's bad. It's seasoned just enough to make you forget the real bland taste of tofu.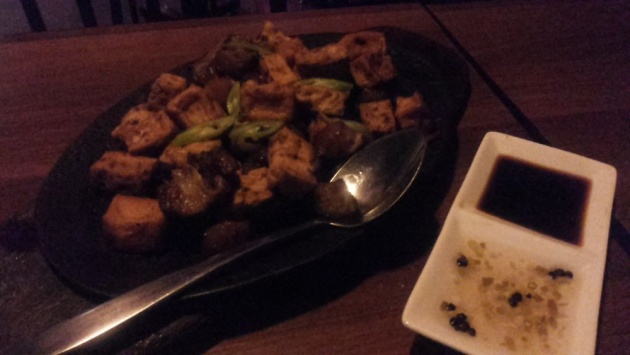 Photo credit: lapiz-lazuli
It comes with a soy sauce condiment, in which you can tweak the taste by soaking them tofu for as short or as long as you want. This is another salty dish on our order, so around this time, I think I've requested for cold water to dilute the total sodium we ate.
This dish also served as our viand, apart from the eggplant torte we had. Viands in the Philippines are often paired with rice.
Pancit Palabok
Sister wasn't satisfied with our previous meal, so she added Pancit Palabok on our tab. After waiting for a while, we were very astonished to find out that the pancit we ordered were for medium group sharing! Well, it was too late to cancel the order...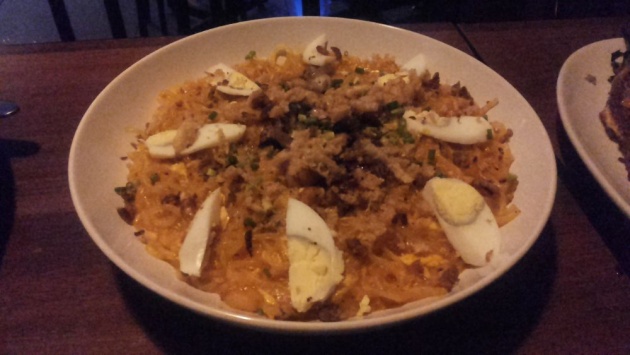 Photo credit: lapiz-lazuli
We didn't manage to finish even a quarter of the whole plate! I think we took the leftover at our room and just gobbled up as much as we can before it had gone stale. I was quite sorry for the wasted leftovers; we didn't have a fridge in our room so we bid goodbye to the remaining plateful of food...
As for the taste and texture, I kind of find it weird that it was very slippery for a Palabok. This kind of pancit I tasted over the years have slight dry noodles; this one did not. However, it was easier to "sip" the noodle strands so eating it was a breeze. Nonetheless, it was weird.
The taste didn't disappoint, but I was getting full from the cup of rice I ate, so I didn't fully appreciate the dish. There's nothing wrong with it other than the one mentioned, which had been also a quirky advantage.
Margarita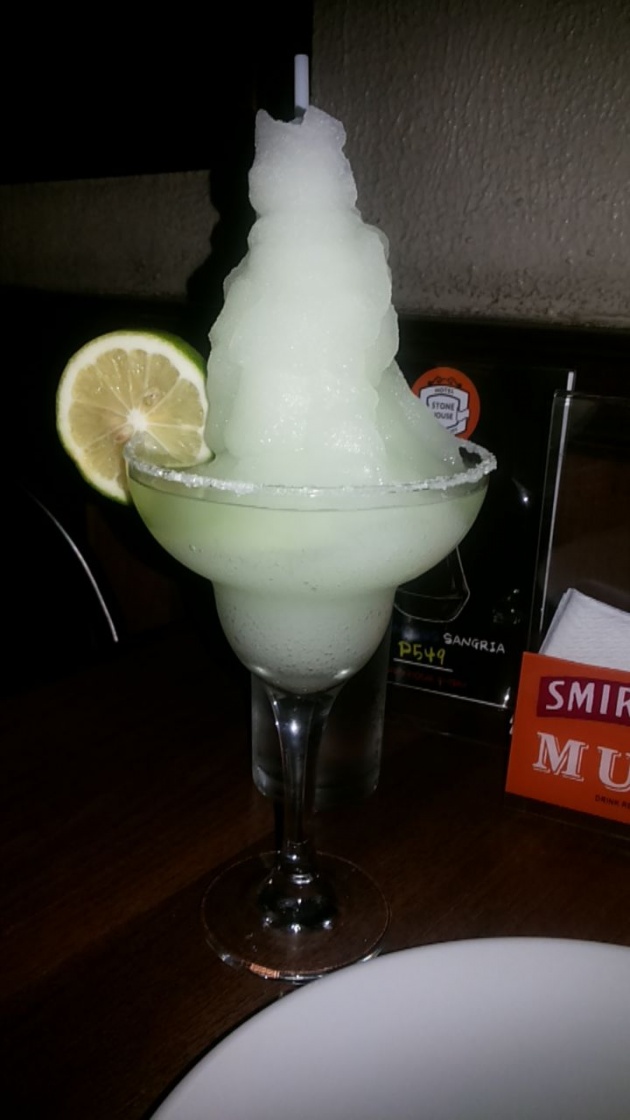 Photo credit: lapiz-lazuli
Sister ordered an alcoholic drink. I was also asked by the waiter about what I wanted, but my sister didn't allow me. I also didn't want but I took a sip, just for a taste. Nothing bad happened to my sister when she downed the drink, though I never asked if she has a high tolerance for hard drinks or not.
Staff
Staff was very nice and approachable. The restobar was virtually empty! We and only another very small group were at the diner, so I guess we were attended to immediately. I hope they can also manage this kind of service even if the place is crowded.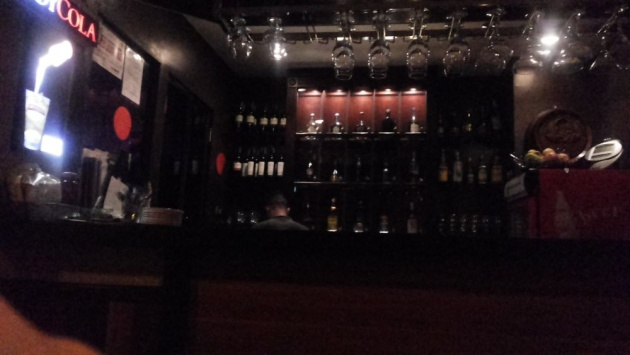 Photo credit: lapiz-lazuli
The staff were the ones to ask if we're ok with eating or if we needed assistance. They also initiated to ask if we need tto refill our glasses or not. Kudos to the staff of Stone House Restobar!
The live band was also nice. They also asked what songs we want to be sung. We were just shy around that time because we don't know if tipping was mandatory afterwards.
I had a cool stay at this restauraant. Stone House Restobar is a great place for private, smaall group, laid back feastings for friends and family.
Disclaimer: Pictures, videos and write-up are originally shot/written by lapiz-lazuli, unless otherwise stated. Views and opinions in this blog post are truthful but subjective and are not influenced by sponsorship of any sort.