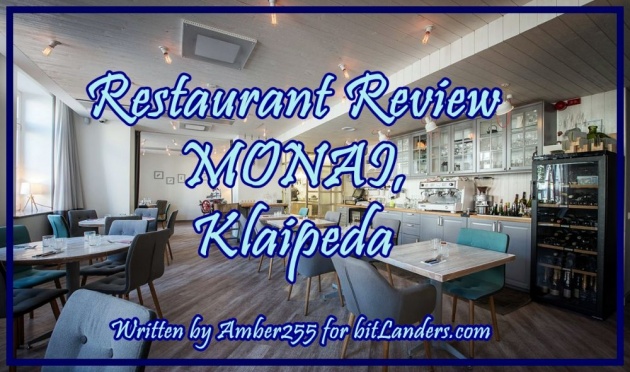 Restaurant review: Monai, Klaipeda - Photo credit: 15min.lt, Edition by Amber255 via bitLanders.com
I continue to write restaurants review of my country, and this time, it's again restaurant in my city - MONAI. This name may sound strange to those who do not know our language. If to translate it to English, it would mean magic tricks. The owner was looking for the restaurant name for a long time, but it wasn't born naturally. So they asked their colleagues from the creative agency for help. These offered the MONAI variant. As I mentioned, it means magical tricks.
It is one of my most visited Klaipeda restaurants; I can even say it is my favorite one to have dinner on occasion or a quick lunch.
If you in Klaipėda and if you need to have any meeting aspecially with your family Monai is the perfect place for it. Ordinary clean and not crowded place is a perfect place at sea port city of Lithuania Klaipeda.

Credit: review at Tripadvisor
There are such super people who are well aware of what a good restaurant is. Sometimes these people are not the chefs at all, but they certainly have to enjoy good food and good wine or just love people and their work. But there are also chefs who fulfill their dreams of opening restaurants. And MONAI is one of such restaurants opened by one of the best Lithuanian chefs.
For me, MONAI is one of the most cozy, beautiful, and pleasant restaurants I've ever been to. There's everything is done with the heart and love.
Best Restaurants in Klaipeda, Lithuania - Video credit: youtube.com
MONAI Restaurant History And Info
The chief Vytautas has been a trainee and has worked in foreign restaurants, including Copenhagen's Noma, recognized few times as the best restaurant in the world. Returning to Lithuania, he probably the first of the titled chefs has opened his own catering establishment. Until he opened Momo Grill and MONAI, he and his wife hosted a creative kitchen bistro - La Cle.
About La Cle. It's a pity that this restaurant now is closed, but the premises rent was drastically raised up when hosts saw the success of this restaurant. But all the changes are always only good, because if the host would not have push out La Cle, then apparently there would be no two new, perfect Klaipeda restaurants: Momo Grill and MONAI.
One of the best chefs of the country, Vytautas, has long dreamed of a place where people could have a party with their families, organize business meetings or just sit down with friends to have delicious dinner, prepared seasonality and with elegance.
By the way, MONAI settled on the same Liepu street as the MOMO Grill. Vytautas is the owner of both these restaurants, and I already added a review about MOMO Grill.
It was not easy to persuade the host of the premises to let creating a restaurant there. Finally, both sides have agreed, and now they are satisfied with the situation. Earlier in this building was the prosecutor's office, and in the current kitchen premises - a black mysterious room.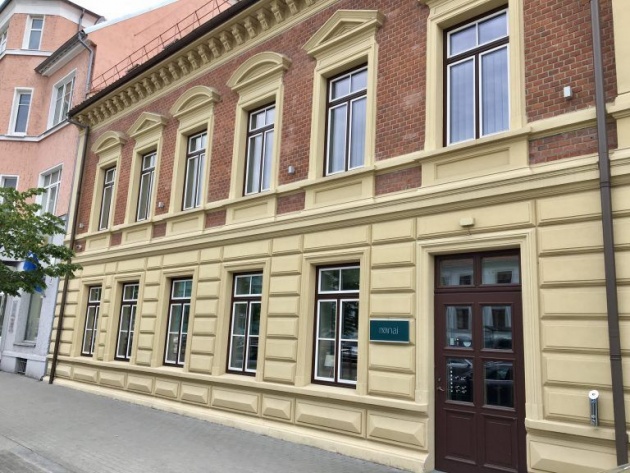 Klaipeda restaurants: MONAI - Photo credit: ampalas.lt
MONAI Concept
MONAI is a home-like space for quick but subtle dinners, for a stylish dinner, for a special celebration or just for discovering new tastes. The owners perfectly created the sense of coziness and warmth of homes by tickling the visitors with the most surprising discovery of flavors.
The chefs are masters in the kitchen, and visitors can watch their improvisations in the kitchen if have such a wish. It's interesting that they produce the dishes according to the seasons, experiment with flavors, textures, and colors.
In workdays from 11.30 to 14.00, restaurant MONAI offers fresh, usually extraordinary daily dishes.
Stable growth of food culture in Lithuania, more and more noticeable individuality of restaurants and rising quality led to the list of 30 best restaurants in the country. A few years in a row MONAI enters this list.
True, the kitchen here is even more open than in the Momo Grill, because only glass partition separates guests from the masters of the kitchen. So people sit in the kitchen practically. This is another feature of the restaurant that helps to create a free and cozy home environment in the restaurant.
30 best restaurants in Lithuania: MONAI - Video credit: youtube.com
If to compare, the Momo Grill menu is simpler and more economical ; it is dominated by classic grilled meat dishes. Meanwhile, MONAI is more sophisticated, looking for more elegance, subtlety, and aesthetics on the plate. By the way, a pre-order is also available here for tasting sample dinners.
MONAI Interior
MONAI- a home restaurant, so it's not worth looking for pomp or surprising design solutions in its interior. Just simple fork with knife, and spoon next to them. Minimum details. The creative work for the guests begins with a plate, which is where they try to surprise guests.
The environment is cozy and not overloaded to make you feel comfortable, but at the same time festive.
As I mentioned, the entire interior of the restaurant is dominated by the kitchen theme. It is obvious that the hosts wanted to create a cozy and warm atmosphere not only for themselves but also for the guests of the restaurant. It's cozy and homely with the attempt to create an impression of home cooking premises.
A bright space, dominated by bluish, white shades, wood and warm surfaces, all reminiscent of a cozy kitchen with good interior from the magazine pages. Of course, an open kitchen allows you to watch how works a professional team.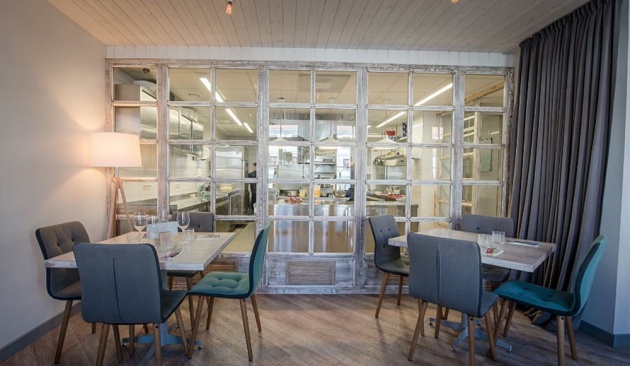 Lithuanian restaurants: MONAI in Klaipeda - Photo credit: Amber255 via Bitlanders.com
MONAI Food
Cuisine - modern European.
The main menu changes depending on the season's freshest products. They offer fish, seafood, meat dishes that reflect the touch of the owner that is the main chef there. And everything will be made subtle, stylish, with lots of love.
Every Sunday MONAI offers brunch. It's a late breakfast. So, if at the weekend you are lazy to make a solid breakfast to your family or yourself, visit MONAI and try Benedict's eggs, Mimosa, fresh coffee aroma. It will give you a good feeling at the end of the weekend. All dishes are delicious as made at home.
While reading restaurant MONAI review, check other places where to eat in Klaipeda:
If you have a special occasion, MONAI team will prepare a special menu offered by the chef for you and your guests. It will be unexpected, solid, and unforgettable time spent in MONAI.
Dishes at MONAI are lighter, more delicate, and stylish than the nearby Momo Grill. The owner-chef is experimenting here and looking for more diverse flavors and more interesting structures. There are also more fish dishes - there are always at least 2-3 fish dishes and 1-2 meat options.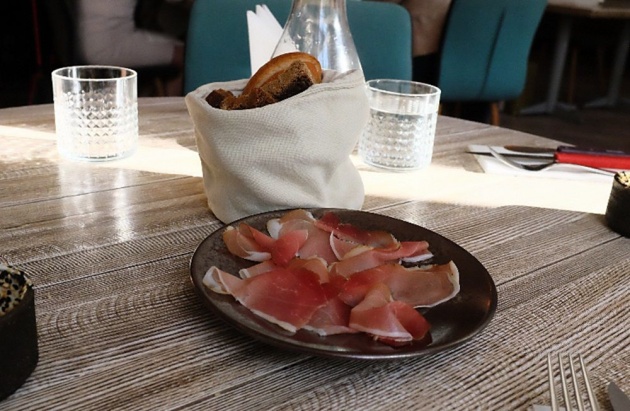 Best restaurants in Klaipeda: MONAI - Photo credit: Amber255 via BitLanders.com
True, although the restaurant is close to the sea, fish owners have to transport them from abroad. Only in this way, the restaurant is able to make sure the continuous supply of high-quality products, not as fishermen succeed. The fish here is fresh, means cooled - stored in ice in vacuum before using. Those who understand it, value fish dishes.
This year's MONAI news is a slightly changed menu concept. There are more dishes for sharing with others. There is also more one-bite dishes for larger companies. With such an innovation, the hosts affirm their original idea of creating a space where people would feel like in someone's home when they are sincerely taken care of and when everything is shared and so on.
The lunch principle is similar to the Momo Grill: soup (1.5 EUR), snack, several hot dishes (4.5-8 EUR), but different production principles.

Best restaurants in Klaipeda: MONAI - Photo credit: Amber255 via Bitlanders.com
MONAI Drinks And Desserts
The restaurant's hosts pay much attention to the desserts. Staff at the end of the dinner offer a desserts tray and tell about each one individually. Through the operating time, restaurant examined the most popular desserts, and now they are always on the tray, and only one dessert position of six changes every time.
By the way, there are desserts for vegans. There is also an ice cream with malt that came up after many experiments with ice cream and beer. People loved this dessert, and now you can taste it only in MONAI.
As I heard, recently owners have had to cut their wine card - the citizens of Klaipeda are not big fans of wine. The wine culture only slowly comes to this country. So, to the dishes, they offer Kraft beer from local brews and the cult Red Brick.
And still, the professionally designed wine card delights and allows you to enjoy a glass of favorite and fitting to food wine at dinner, lunch or breakfast.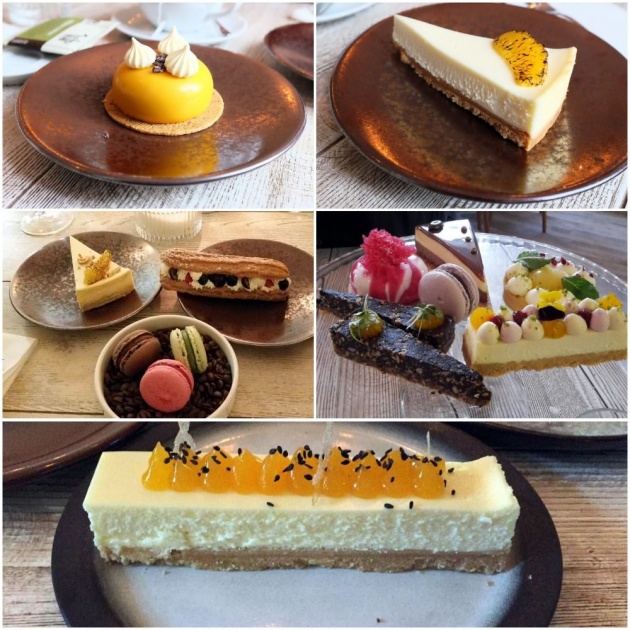 Where to eat in Klaipeda: MONAI - Photo credit: Amber255 via bitLanders.com
My Insights
On the street of Liepu, the restaurant MONAI shines in such order and novelty, so that you don't think that it operates for almost three years. Honestly, it looks like the restaurant was opened just today. It would be worse if it looked as empty as in the furniture salon, but here is not the case.
Last time I was in MONAI, the restaurant was full, obviously here the Klaipeda people come to celebrate their birthdays and anniversaries. Everything I ate was wonderful.
All I could say bad about this restaurant is the non-alcoholic wine glass I drunk (I couldn't drink alcohol because I was driving). Of course, they do not produce this terrible wine, but, please, for the sake of all of us, remove that abomination from your territory. About everything else I have not any complains.
When I go to the restaurant, I don't have any abnormal expectations; it is very important to me with whom I go and what I do there, the mood and the energy are most important to me.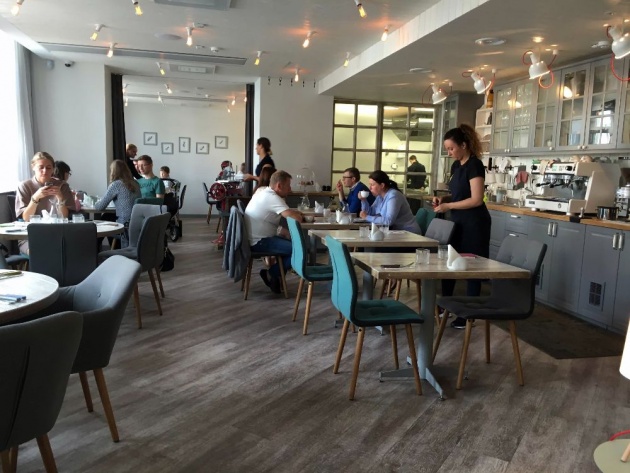 Lithuanian restaurants: MONAI - Photo credit: Amber255 via bitLanders.com
The menu is not large and often does not change. Of course, there is always better a smaller menu, high-quality and fully finished dishes than the over-supply to just offer anything. Tuna tartar and beef carpaccio that have already become cult snack there must be tasted. Of course, do not limit yourself to snacks, enjoy the quality fish dishes there. Desserts also receive much attention.
Do you know that feeling when just from bread, and even more from the menu and from the first dishes, you know that everything will be fine?
And so, what we ordered? Tuna tartar snack (€ 7.50) - looked elegant, neat. The sea scallops (€ 10.90) eating them I could feel being in heaven. I could sit and eat these scallops until the restaurant is closed.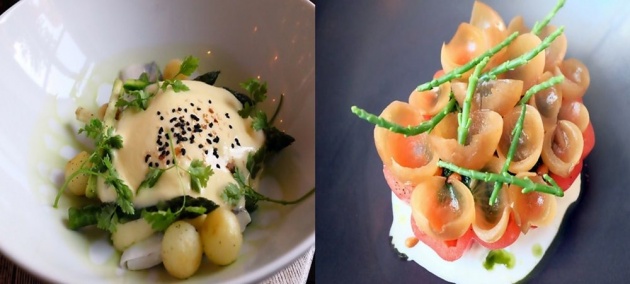 Restaurant review: MONAI - Photo credit: Amber255 via bitLanders.com
The Burrata cheese snack with tiny onions (€ 5.60) was both memorable and balanced, and such that I wanted more. The octopus (€ 14.20) was hidden under the sauce, but it was aromatic, perfect consistency, neither crunchy nor rubbery; just as should be octopus if you know what I'm talking about.
I can say the same about the salmon (€ 14.50) - it disappeared from the plate faster than we could understand what was happening here.
And I will say the same thing about lamb chunks (€ 16) - great, perfect; I'd go and eat them again. It's a male, solid dish.
As there were dessert eaters at the table, we also tasted desserts, and they were some fantastic ones. One round cake (refreshing, € 3), and a cheesecake piece. I did not eat more tasty cheese pie anywhere.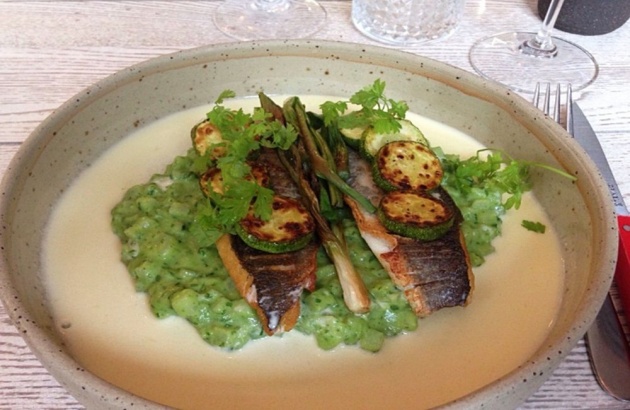 Restaurant MONAI in Klaipeda - Photo credit: Amber255 via bitLanders.com
On A Final Note
The restaurant meets every visitor as a good old friend, and your stay in the restaurant is turned to the pleasant moments that you can share with friends later.
The cook team works precisely and concentrated, quickly, cleanly, and neatly, focusing on what they do. An obvious school of intellectual access to food, but also freedom and sympathy for a true, good taste. Everything is simple but ingenious - when the purée and the foam are because they simply have to be, not because they are fashionable.
Obviously, everything is thoughtful and rejected what is not necessary and concentrated on what is really important - a variety of vegetables baked perfectly, the plate is not overloaded and flavors not overshadowing each other.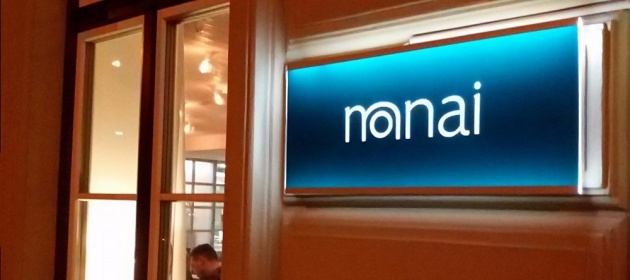 Restaurant review: MONAI in Klaipeda - Photo credit: Amber255 via bitLanders.com
Summary, it's the best place to eat in Klaipeda (and one of the best restaurants in Lithuania). Of course, there is always room for improvement for everyone, and more importantly not to sleep on laurels. But it seems that the professional chef does not yet intend to sleep.
Very friendly, welcoming staff, a unique and creative menu, the food was amazing, they are definitely on a way to earning a Michelin star in my opinion. The interior decor was stunning and the food... Oh my the food! We even took some bread back with us as it was the best bread I've ever had. Highly recommend this place.

Credit: review at Tripadvisor
HAVE FUN!
**********************************************************************************************
Thank you for stopping by and reading my blog
2019, All Rights Reserved.
You are very welcome to join Bitlanders and share your valuable knowledge and opinion.
***********************************************************************************************