Cover image: My First 6 Months in Bitlanders
created by @artbytes for Bitlanders
Time Flies. I have just realized that I am already on my 6th month in bitlanders. It is time to look back on my first 6 months in bitLanders. In this post I will share with you the following:
How I found bitlanders.
My Failures and Lessons Learned in Bitlanders.
How I improved my blog post ratings.
My Earnings and Journey to the Leaderboard.
Some Tips for my fellow bitLanders.
How I Found bitLanders
I found bitLanders through a link by @Sharon-Lopez on a forum. At that time I was active on another social blogging site that pays their members for their contents. Even before that, I have joined at least three blogging sites. They were:
Redgage.com
Bubblews.com
Niume.com
As most of you know Bubblews and Niume already closed down. Redgage is still up but the site is too slow from my end and I am not sure if they are still paying their members.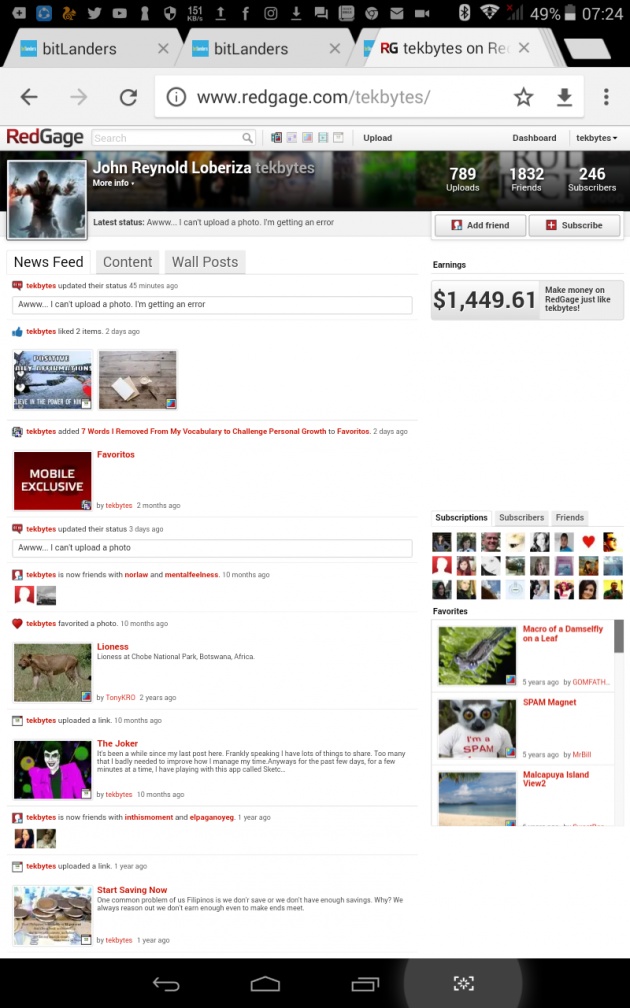 Screenshot of my Redgage Dashboard (I use Tekbytes as my ID)
Image by: @artbytes
My First 60 Days.
I have already posted about My First 60 Days in bitLanders. During those days I was balancing my time between bitLanders, the other blogging site and at least two paying forums. Plus I was working on my personal site.
My First Post Was a Failure
My First Post "Greetings Bitlanders! I Come in Peace" (I was trying to be funny) was technically a failure. I wrote only a little over four hundred words, two images that did not show up and nothing more. Why? Because I never did bother to read the bitLanders Content Review: How are blogs rated article nor the FAQs! It got a rating of two stars only.
Another mistake that I did was, I never bothered to take a screenshot or recorded Ms. Hillary's comments, so I did not know what I did wrong.
It was from the comments from other active members that I learned how to improve my blog posts.
Second Post is a Blunder.
I felt disappointed with the two-star rating of my first post. So I made my second post at least a thousand words long, and I made sure I used up the ten images allowed and the videos. After submitting it for review, I waited for result first before I started a new blog.
One week passed, no result. two weeks, three weeks until one month, I lost hope of that post being approved at all. In the back of my mind, I have a notion of what I did wrong this time. I thought I included too much referral links in that post.
Then I thought of searching for a message from bitlanders on my email. There I found a message that proved me right.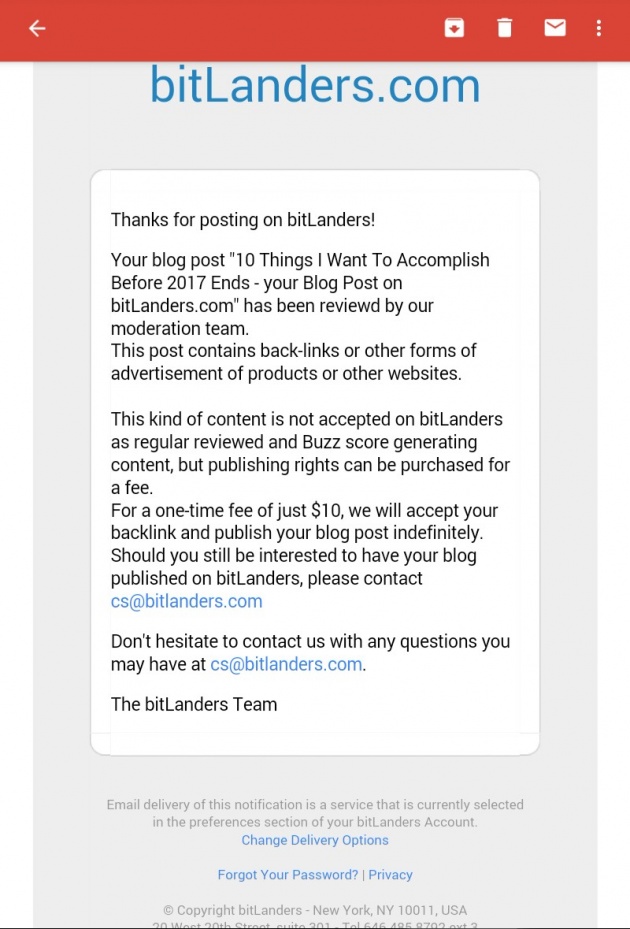 Screenshot of an email from bitLanders
by @artbytes
I could still publish it, at the cost of 10 gems. I did not bother to do so and moved on to make my next blog post.
I was challenged
In a way, I was challenged. I wanted to improve the ratings of each post. It wasn't just the content I have to think about. In bitLanders, in order to get a high rating you have to consider the following:
Length - although it's been mentioned that they will accept blogs with more than 250 words, the more words you use in a blog the higher the rating would be. These days I write at least one thousand words per post.
Language- bitLanders allow several languages. I use English. There must be no spelling and grammar mistakes.
Formatting and Presentation- Includes appropriate use of headers, paragraphs, block-quotes, and bullets. Also for each post 10 images are allowed and two videos plus the Querlo Chat.
Tags- are keywords that tell the readers what your blog is all about. In bitLanders, we are allowed 10 tags per post.

A number of succeeding posts got only two stars! I thought Ms. Hillary is sterner than my 6th grade English Teacher. Not that I am complaining, I learned a lot from that teacher. I take Ms. Hillary's low rating and comments as a continuous challenge.
How I improved my blog post ratings
Using YOAST SEO for WordPress
I have a personal WordPress site. I use YOAST SEO to check my blogs for errors and improve my SEO score. What I did was, I would upload my draft first on my WordPress site and make the corrections and copy the text to my bitLanders post.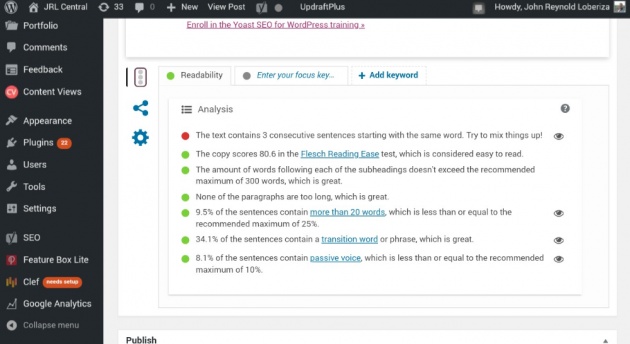 Yoast SEO showing my readability score and other information about my post.
by @artbytes
Doing this helped. I got three stars on my next succeeding posts. I never got lower than three-star rating ever since. However, I wanted to have that five stars!
Using Grammarly
Then I learned about Grammarly from @Sharon-Lopez through her post 5 Tools Everyone in the Blogging Industry Should Be Using. Since I am using my Android Tablet to compose my blog posts, I gave it a try.
At that time, I was using Swift keyboard. Swift keyboard comes with a spelling check features and also learns my typing pattern and "learn" the non-English words that I commonly use. However, it does not check my work for grammar mistakes.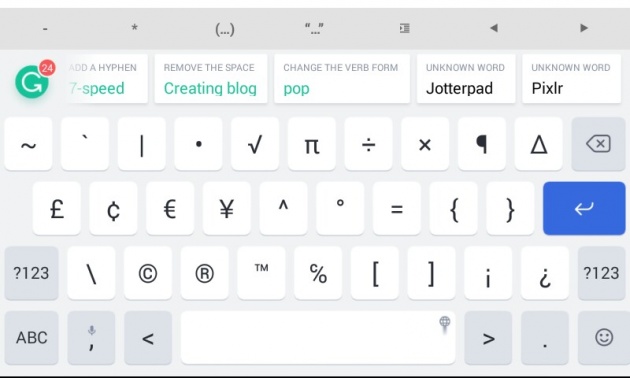 Screenshot of Grammarly with suggested corrections.
by @artbytes
When I started using Grammarly, I was pleased to see that it can correct my grammatical and typographical errors, including my punctuation marks.
With Grammarly and Yoast SEO I started to receive 4 stars on my blogs.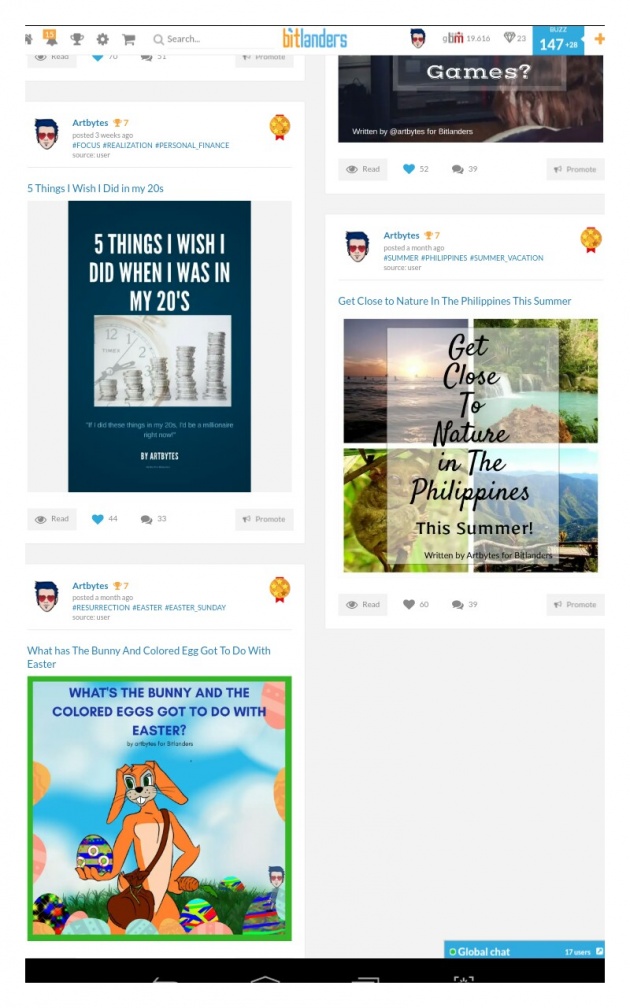 Screenshot of three of my blog posts with 4 stars
by @artbytes
I still have a problem with my tags and presentation.
My First 5-Star Blog
Then I posted "Do You Know How Much Do You Need When You Retire?". Being a Financial Advisor, this is a topic I know and I teach. And I used screenshots of the TVM Calculator app and a few photos from Pixabay. Since I really know the subject I got the tags perfectly. I am proud to say I finally got my first 5-star blog!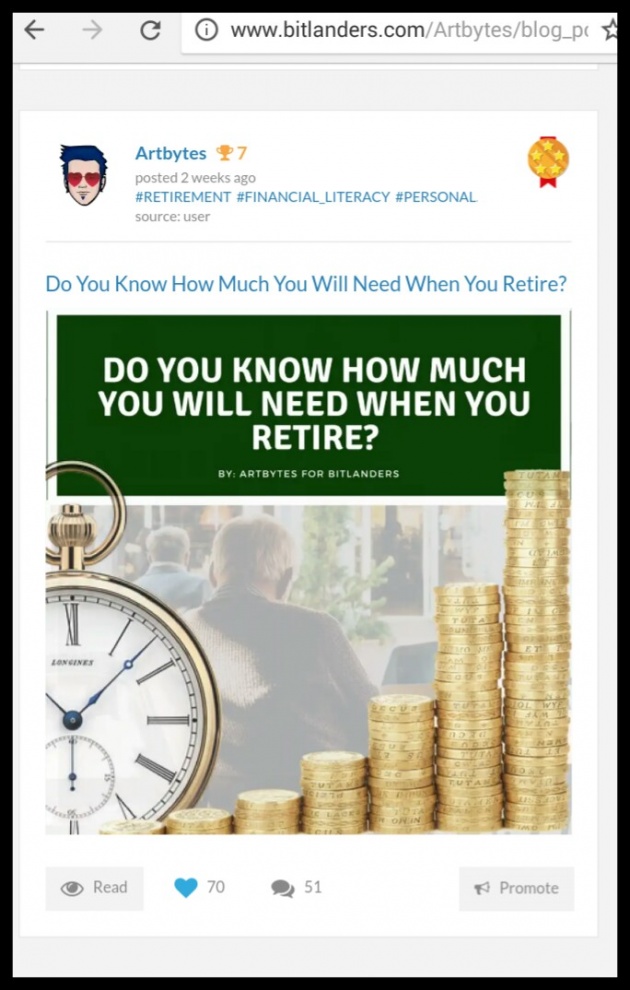 My very first blog that got a 5-star.
by @artbytes
And this is what Ms. Hillary said:
Ms. Hillary's comment on my blog.
by @artbytes
My Earnings and Journey to the Leaderboard.
My first 60 days in bitLanders was quite slow. However, it wasn't that bad either. In my first 60 days, I had been in and out of the top 30 of the leaderboard already, earning between $0.30 to $0.50. In the second week of January, I got as high as Top 10 in the leaderboard. At the time of writing, I am at the no. 7 spot.
Currently, my total earning is 141 gbm that's equivalent to $141.00 minus a few dollars that I used to buy gems.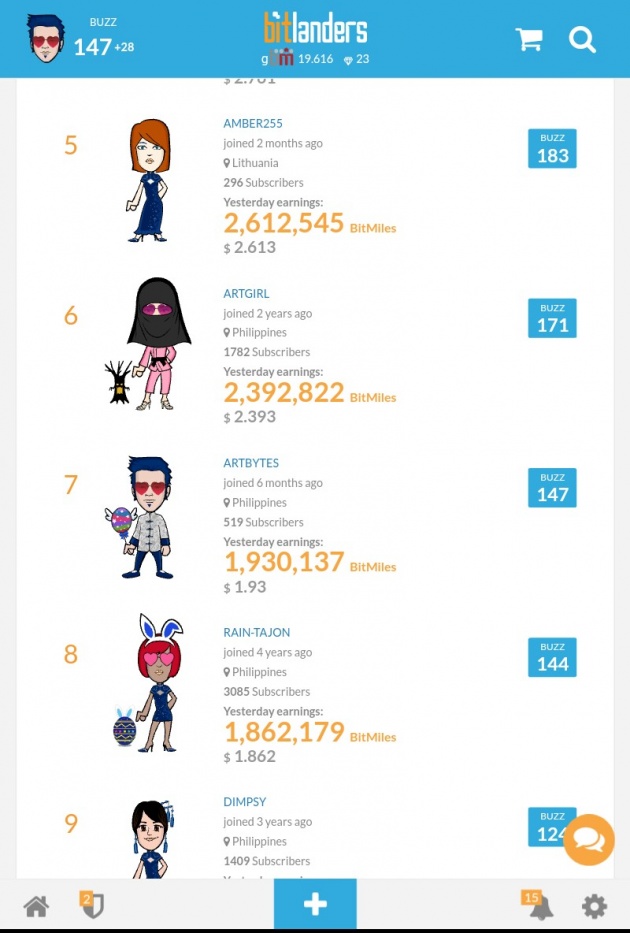 Screenshot of the leaderboard.
by @artbytes
Earnings Redeemed
I reached my first $10 earnings within the second week of January. However, I had to delay my withdrawal a bit because I was already out of gems and I already had a blog post to be submitted. I bought 10 gems and submitted my post. A few days later I earned the amount back and redeemed my first $10.00. I received my first $10.00 a week after I bought my gems. It was delayed because I have not verified my account in time.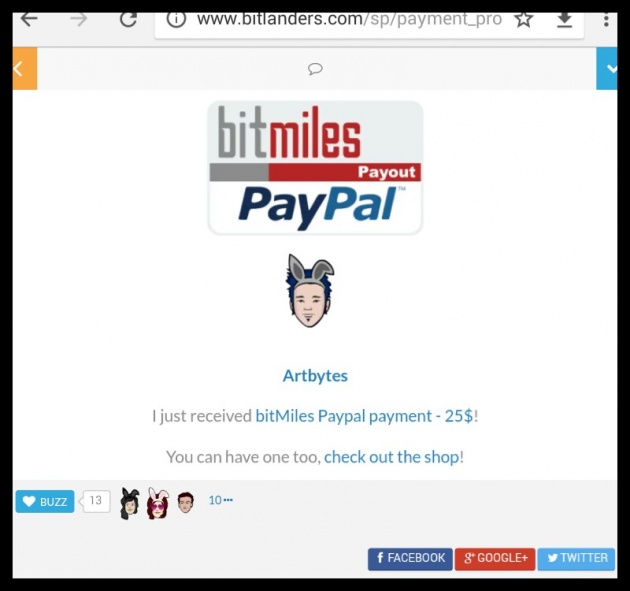 Screenshot of my biggest withdrawal so far.
by @artbytes
Some Tips for my fellow BitLanders
Here are some tips on how to earn more in bitLanders
Blog as often as you can. If you can submit one QUALITY blog every day, that's the best. But so far doing that is quite challenging, especially if you don't want to sacrifice the quality.
Always try to improve quality. English is NOT my native language, but I keep trying to improve my English writing skills, especially on grammar. Also, writing a blog is quite different. I learned some lessons as well from YOAST SEO.
Learn from the others. It so happens those ladies on the top two of the Leaderboard are very helpful. Don't just read their posts. Learn how they present it. They also posted a number of blogs that could help you improve your writing skills.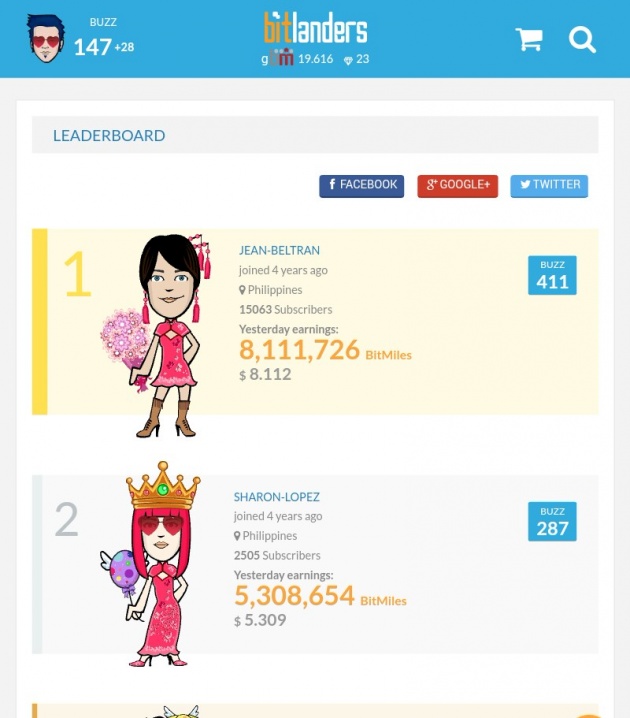 Screenshot the top two ladies of bitlanders.
by @artbytes

Lastly, here's a nice video on how to improve your blogging skills.
How To Write Better Articles on Blog Posts
Until my next blog, thanks for reading!