The University Athletic Association of the Philippines (UAAP) Women's Volleyball season 79 had started early this month and as a follower of the said league, I had made sure to watch a live match between my favorite team, Ateneo Lady Eagles and UE Lady Warriors last February 22, 2017. This blog is intended to share my personal experience on my first time to watch UAAP Women's volleyball live!

Video credits: Jean Beltran Figues via bitLanders.com
Currently, I am writing this while on flight bound to Manila via Fight Z2 - 764 with Air Asia, I have to mention that this flight was originally scheduled to leave Mactan International Airport at eight in the morning. That was our original booking schedule however, few months ago, Air Asia sent us an email notification that this original flight was cancelled due to certain aircraft reassignment. Although they had provided us with new flight schedule itinerary, I was not so happy with the new schedule because it's time of departure was at thirty minutes past ten in the morning, it will arrive in Manila at around 12 noon and the UAAP game starts at two in the afternoon. So, I called up the Air Asia customer service hotline and asked for them to reschedule our flight which was allowed for free as well.

I received a new time of departure which was at 7:25 in the morning. That would have allowed us to reach Manila at an earlier time and we would be able to secure a good seat at the San Juan Filoil Arena but an hour before the game on the 22nd however, on the day of the flight, just an hour before five in the morning, I received a new email notification that our new flight has been reassigned again. The reasons were regarding aircraft reassignment once again and I don't know if we should call to have it rebooked again for an earlier time. The new time was at 11:25 on that day, this is way way longer than my original schedule but I really can't do much about it since the Air Asia customer service starts at seven in the morning. I told myself that we will just keep this schedule and take more time sleeping. But actually, I ended up finishing my overdue Henann Resort blog instead. And I got it all done before nine which was our pack up time.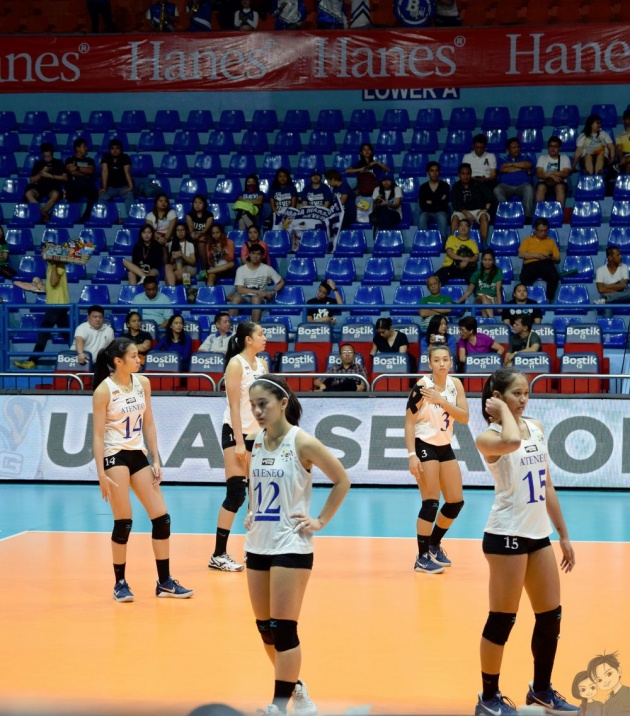 The Ateneo Lady Eagles at the court. Photo credits: Jean Beltran Figues via bitLanders.com
But as we arrived at the airport, I found that the check in gates has been closed already. We were five minutes late! So the busy check in agent advised us we will have to wait for the next flight.

Gladly, I recall that I had checked in online but was not able to print the boarding stubs. So that means we will still be flying on the schedule provided but we need to wait for our stubs to be printed plus we have free meals as a courtesy of the delayed flight. Oh hurray to saved lunch!

On board the AirAsia flight Z2-764 which was really full. I then thought right there and then that this airline has a strategy of cancelling or delaying flight so to keep one aircraft full before flying. Anyway, whatever it was, we still have to catch up for the UAAP game that day.
Free Lunch at the Aircraft
I heard the calling of the ground crew for all the passengers of the delayed flight and my spirit was kind of uplifted with the thought of being able to arrive just in time for the game, perhaps we will be a bit late but as long as we get to see part of the game.

Captain Lacaya was flying the plane and another co-pilot or first officer on board too together with five cabin crews. Captain Lacaya was able to take-off and fly the plane property and we reached Manila at ten minutes past one in the afternoon.

But I would like to also state that because of the delayed flight, we got ourselves free Jollibee meal, one piece fried chicken, rice and a bottled water. That had saved our lunch and we won't be spending any more time for lunch at the airport or at the arena since we were covered by Air Asia. We ate that free meal at the plane while flying.
What's inside the FilOil Flying V Center Photo credits: Jean Beltran Figues via bitLanders.com
En Route FilOil Flying V Arena
It took us just a minutes going out of the airport so the next step is for us to reach the arena as soon as possible and the best option for that is to take a cab which would only take us around no minutes compared to almost an hour if we will be taking the public jeepney or public vehicles.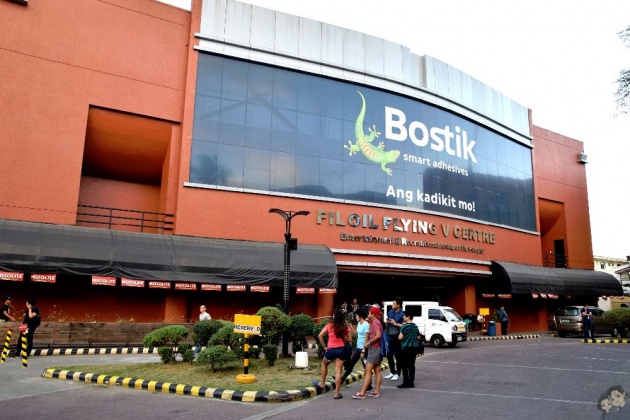 The view from outside. Photo credits: Jean Beltran Figues via bitLanders.com
We got a Grab application on our phone so we decided taking a grab car instead. When booking, it only took us a minute to wait and immediately, someone accepted the booking. A red Mirage G4 approached us and we hopped in. It took only 30 minutes and we were already at the venue. We paid Php 333 for the trip but a bit disappointed with the air conditioning as it was only a makeshift electric fan that he had made but I gave him four star for the fast service.
Tickets and Get Blued Tshirt
Upon arrival at the FilOil Flying V Arena, I rushed towards the ticket window, there were only a couple of people lining up for a ticket so I was third on the line. I got totally excited as I heard Bea De Leon's name as the server. I hurriedly told the teller that I need two tickets, unfortunately, only lower right tickets were available that costs Php 170 each ticket.
After grabbing the tickets, I passed by the GetBlued booth outside the arena and I had been wanting to obtain one t-shirt of the Lady Eagles so I went to check out the designs.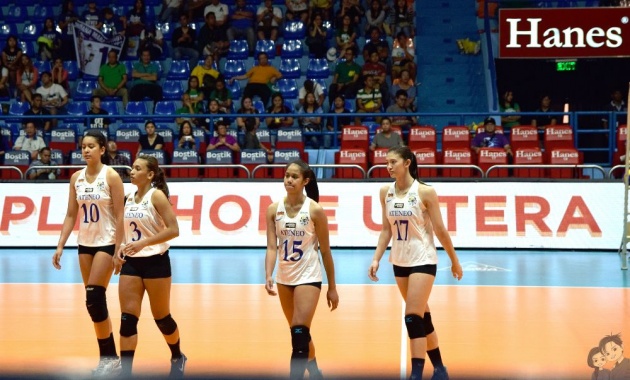 Lady Eagles seemed unhappy. Photo credits: Jean Beltran Figues via bitLanders.com
I didn't stress myself with the designs though, I had to grab one which has the Alyssa Valdez number which is number 2. Got hold of it which was worth Php 450, which I myself thought was too expensive but anyway, I still need one. I was also given a free athlete magazine of the Ateneo De Manila University.
While I have a huge backpack behind me and James too has his own backpack full of camera accessories, I felt like I was not bringing anything at all because of my excitement.
Inside the Arena
Hurriedly, I then found myself in front of a huge stadium full of blue and red chairs and people shouting OBF or One Big Fight. At the center were players set at different sides of the court, bouncing and hitting a volleyball. I now have a real vision of how a UAAP game commences.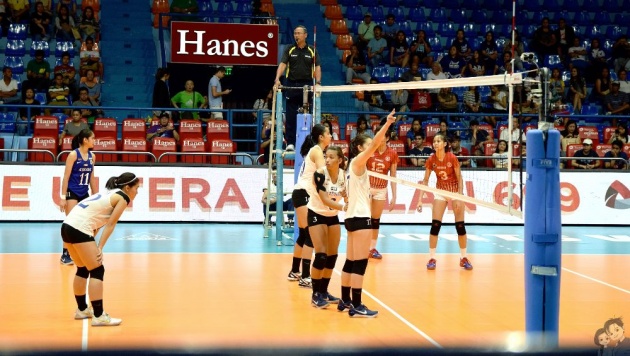 Preparing for a service. Photo credits: Jean Beltran Figues via bitLanders.com
Our chairs were located at the end part of the lower ring at the Ateneo side however, we found empty seats at the front line, no one seemed to have taken those seats just yet or perhaps if there was one, he or she had ditched this game. I can see some professionals attending and cheering for Ateneo too whom later after the game I found out that they were friends of Ateneo Lady Eagle, Bea De Leon as she waved at them at the end of the game. We were seated next to them, so I believe they owned the seats but their companions were nowhere. They had allowed us to stay there though which I was thankful about.
James and I sat down, I started cheering and of course took some photos to be posted on social media. I have to be proud of myself for reaching here and being able to watch the game live.
Game 1: Lady Eagles vs Lady Warriors
I can't really believe that I am watching it live now. Although the arena was not full of fans and volleyball enthusiasts, I still felt the UAAP vibe.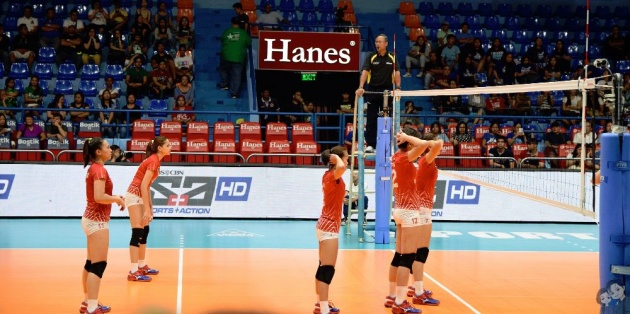 Lady Warriors placing their hands at the back of their heads to avoid injury. Photo credits: Jean Beltran Figues via bitLanders.com
The game was between the University of the East Lady Warriors and Ateneo De Manila University Lady Eagles. It took only three sets for the Lady Eagles to finish the match. The UE Lady Warriors seemed to be missing something from their game and although they had been noted as the weaker team, they had shown great improvement with their blockings and attacks at the same time but they were not able to get this match to their favor however, I believe they have a lot of learnings out of this game which they can apply in the next games to come.
The Lady Eagles on the other side had been also a bit shaky with their service and their attacks. There were lots of errors especially with the services. Some other first six players were being exchanged for their bench players and I believe that was because they want to experiment on their plays.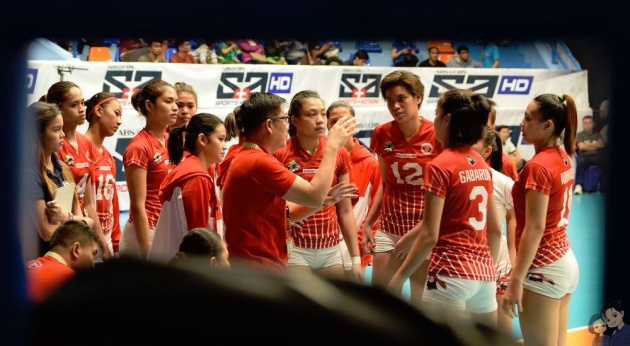 Coach Francis time out. Photo credits: Jean Beltran Figues via bitLanders.com
Overall, the Ateneo Lady Eagles had overpowered the UE Lady Warriors.
It has been evident that I am a fan of the Ateneo Lady Eagles since I learned UAAP. Someone had influenced me and that's no other than Alyssa Valdez and ever since that day, I had been a fan of the team and a huge fan of Valdez.
Here's Kat Tolentino score. Video credits: Jean Beltran Figues via bitLanders.com
Game 2: Lady Spikers vs Lady Falcons
The tickets we bought were good for two games and so we had stayed at the same side of the arena to also watch the next game between the DLSU Lady Spikers who is the archrival of the Ateneo Lady Eagles versus the Adamson Lady Falcons.
The De La Salle University Lady Spikers are the defending champions and they were coming against the young squad of the Adamson Lady Falcons. I actually feel a little bad that the Lady Falcons had to go through a huge drop from being one of the contenders before on the past seasons and now being one of the bottom teams. Their floor defense was one of their main weapons as they would do everything they can to keep the ball up.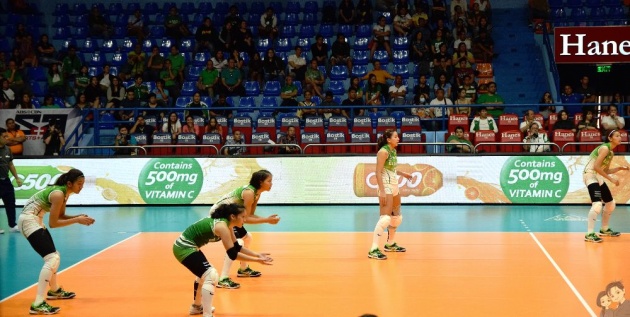 Game face ! Photo credits: Jean Beltran Figues via bitLanders.com
However, things had changed and now, they have become considered as the younger squad, with more rookie players on the court and the less experienced group.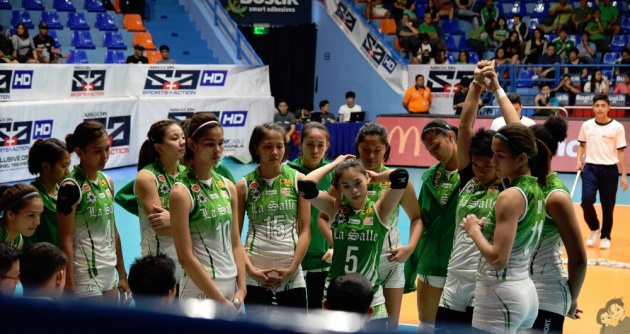 Team time out with the girls. Photo credits: Jean Beltran Figues via bitLanders.com
The game took also three sets like the first match. It seemed like the Lady Spikers didn't even sweat a bit. There were a lot of errors from the side of the Lady Falcons, giving away cheap points to the other side with their service errors and spikes too.
Overall, I had enjoyed the two games and I am glad that I was able to watch the game live even if Valdez was not anymore playing for the team. I would still be supporting them and that in the near future, I would still be eager to watch their games live if given another chance.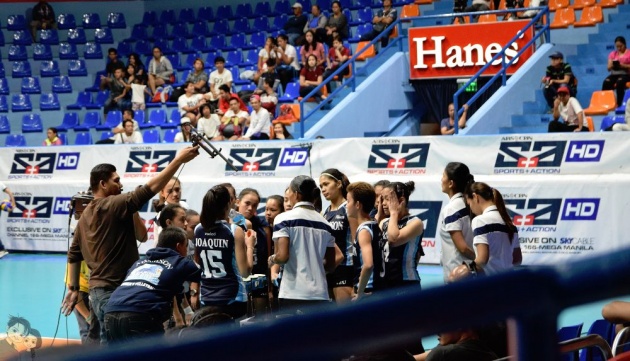 Adamson Lady Falcons time out. Photo credits: Jean Beltran Figues via bitLanders.com
That experience was one thing that I know is just the start, definitely, there will be more volleyball games that I will be able to watch live. I am just thankful to my husband, James for being supportive to me and had really been there at my side even if he isn't really a fan of volleyball. He had showed support for whatever my passion maybe.
As volleyball is a team sport, let me also add this Querlo chat about being a team player, please do participate in this survey:
All images and videos are mine, otherwise stated.
©Jean Beltran-Figues
bitLanders user since 2015