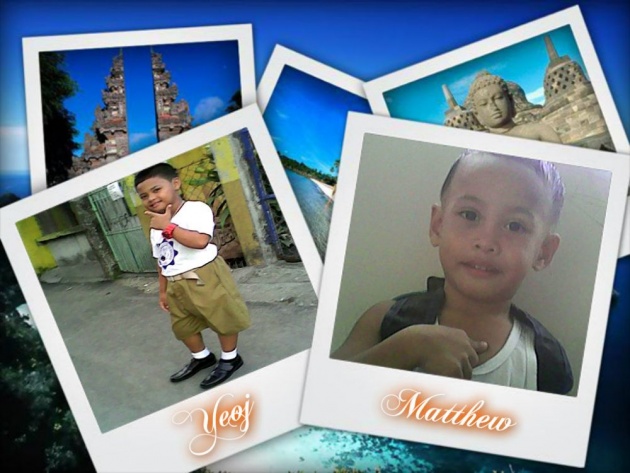 My eldest son, his name is Yeoj Marc but I call him "Yeoj" sometimes "Kuya"(older brother). He' s only 7 years old, and in grade 2. He is so energetic child. Lots of things he wants to do again and again and again. I can remember when he's in his 2-4 years old, he love watching Mr. Bean and Tom & Jerry in a whole day hahaha! He love eating siopao, siomai, pork tocino, sweet foods and soups. He likes to dance and sing. At his early age as two(2) years old he memorized the tagalog song by Willie Revillame (Philippine tv game host, actor and singer) titled "Ikaw na Nga" (oh how can I translate this?lol) but time past by he forgot too =)
He love animals, chicken, fighting cock (roosters - much more) dogs, birds and so on. His wish on his last birthday(Nov 2012) is to have a couple dove or dog(chihuahua) but I couldn't grant it co'z I have no enough money to buy that stuff. Maybe on his next birthday :) He's now turning 8 this coming November 23.
My youngest son, Jey Matthew is his name. As you can see I choose a Bible name Matthew, means God's gift :) He's one(2) year and 11 months old only and turning 3 this coming Saturday. He started to walk when he's at his 11th month old, before when he was just 1 year old, he just can say "mama,papa,yis(means aalis - leaving), besh(bless) and some animals sound like as lizard (tsk tsk), dog(bow wow wow), rooster(ak aaokk) and goat (meeeeh)- funny right? But now he's still a little baby talk.
That's why my parents are so happy to have them in province. Even they are so tired from the farm,when they saw,kiss, hug and talked to kids they'll laugh out loud right away.

Kids are precious. They are blessings. That's why I so love my angels,my children.
xoxo
author: marichuy28
link: http://www.bubblews.com/news/153688-my-wealth-my-angels-my-life