It is believed that all those sentenced to multi-year terms are UN and international NGO aid workers, and apparently are Muslims. However, in its briefing the UN spokesperson was not able to provide any details about the identity or alleged crimes committed beyond that the two convicted most recently were employees of the UN's World Food Program (WFP) and the UN's Refugee Agency (UNHCR). The "trials"/charges stemmed from last month's violence in Rakhine state between the Rohingya minority community and the majority Buddhist, the UN spokesperson was apparently uninformed as to further details: UN spokesperson Martin Nesirky said that no further information was provided by the local authorities to UN officials in Myanmar's capital, Yangon. "The UN has consistently held that formal and precise charges would need to be provided to us before action is taken by the Myanmar authorities. We would like to indicate that the detained staff should be treated in accordance with all the applicable international conventions and immunities they may be entitled to."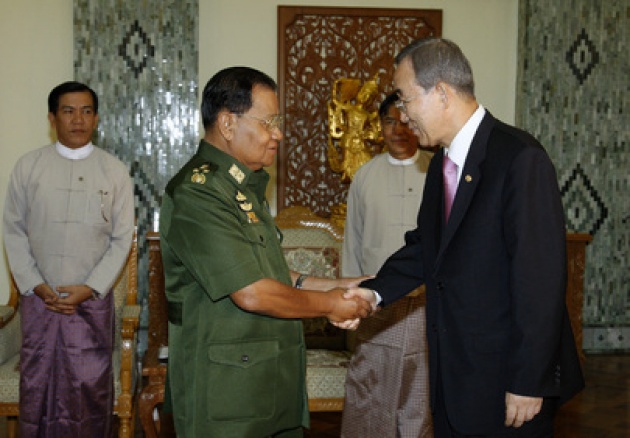 However, Myanmar's independent "Weekly Eleven" newspaper has reported that the staffers are all believed to be from the local Muslim community and had been charged with various crimes, including promoting hatred between Buddhists and Muslims and participation in arson attacks. The paper cited anonymous court sources in its report, and said the sentences ranged from 2-6 years. A third person affiliated with another NGO (we believe Doctors Without Borders from other sources) was also apparently convicted.
This lack of transparency and open proceedings where even apparently the UN and international NGO's could not access the proceedings/trials weighs heavily on any presumption that the Myanmar junta has changed its secretive and authoritarian ways. Instead of getting a thorough and transparent investigation into the "ethnic/religious" violence as has been called for by the UN Secretary General (Above UN Photo with Myanmar junta head in 2009 "Senior General Than Shwe, chairman of the State of Peace and Development Council ") and other UN officials – See Report "Rohingya Myanmar Investigation", what has been delivered is at best secret justice and at worst retribution to only further the junta's appeal to ethnic/religious chauvinism. See our Blog for Film "Regime Divides Opposition & Minorities?"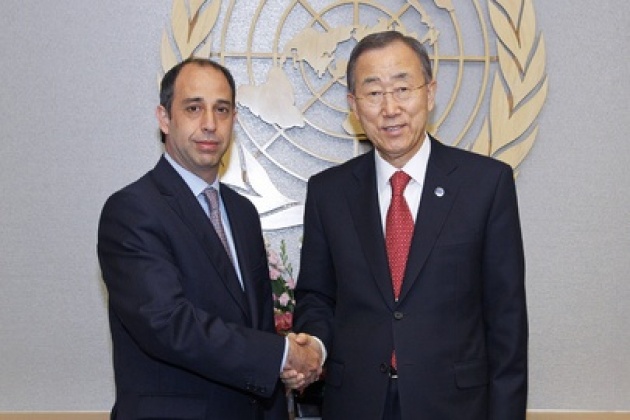 Independent UN human rights experts (Tomas Ojea Quintana-UN Photo Immediately Above with UNSG) have already warned of their concerns that the Myanmar junta is not only failing in the rule of law, (See "Serious Human Rights Concerns in Myanmar"), but perhaps its security forces have been involved in the violence (Read our last Blog for Film from July 28, 2012: "Myanmar: Security Forces Instigation of Involvement in Clashes"). We again reiterate that perhaps in a rush to see change in the policies/actions of the still fully in charge Burma military junta, the UN and major capitals from Beijing to London to Washington, are turning a blind-eye to ongoing oppression, ethnic cleansing and state sponsored ethnic/religious violence. As was the case in the former Yugoslavia two decades earlier, ethnic/religious identity may be being employed to rationalize and perpetuate the junta's authoritarianism, with a thin veneer of perceived political liberalization. The evidence of continuing oppression of other minorities, including the mostly Christian Karen, and the yet to be freed political prisoners/opposition still held in Myanmar's brutal jails are further evidence that the core of the junta regime remains largely unmoved in commitment to perpetuate the regime.
Ambassador Muhamed Sacirbey - FOLLOW mo @MuhamedSacirbey


Facebook-Become a Fan at "Diplomatically Incorrect"








Twitter – Follow us @DiplomaticallyX







See more at our Popular Video Blogs & Current News Event Articles at http://diplomaticallyincorrect.org/c/war-crimes-justice