Through Twitter, I learned that bitLanders is offering another double reward on Sports and Social Good on blogs. I got interested with it because of the fact that this is a double reward and it talks about sports. I am a sport fan although I am more into volleyball but don't get me wrong, I am only a viewer and I personally prefer it that way because I don't really play the said sport. Just a viewer from the back of the television monitor or the computer monitor most of the time.
So I was thinking of what would my first blog on this double reward be? I thought I should write about volleyball since my favorite player had just finished her UAAP season but then after thinking of it a couple of times, I made up my mind and decided to write about Basketball instead. There are two major reasons why this is my first blog topic.
First is that as a Filipino, the country had referred the sport Basketball as our national sport although it is not formally announced, it is already a given that majority would vote for Basketball if given a chance to speak out and select what would be the national sport.
Well if anyone had been to the Philippines, you'll understand why. Every street corner here has makeshift basketball rings and half courts just for the young boys and even the grown-ups to play and show their moves.
Almost all of the "barangays" have basketball court projects and every summer or annual celebration of a specific town, basketball leagues won't be out of the picture. It has long been considered as the favorite sport of the country.
Secondly, since NBA is now on its finals game for its 2016 Conference, I can easily relate to the topic plus the fact that there are lots of my friends who are also into the game and would update their Facebook account with all that's been happening within the NBA Conference.
I strongly believe that all these information that they are posting online would be helpful for me finish with the blog that I am currently working on.
Initiation:

bitLanders' Chat Survey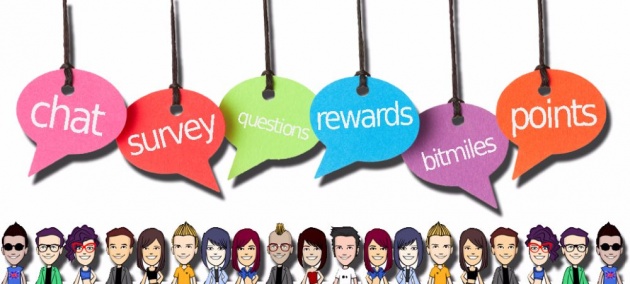 A month ago, the bitLanders chat survey had been introduced into the platform. It had been used as another way of earning because in every survey answer, bitLanders is providing a corresponding number of bitMiles points. Plus not to mention that blogs regarding the new bitLanders' feature will also gain double reward.
It became a big hit that everyone tried to write these blogs. I myself also did three blogs on this topic. I personally think that one month is a huge time to publish these blogs and there's a tendency of users writing their blogs in redundantly but I guess bitLanders isn't much concerned on that case. I hope it won't happen on this new double reward topic.
Video above shows me answering some chat surveys with Hillary.
Earlier today after logging into the site, the chat survey had popped out as it is now designed that way and Micky-the-Slanted-Salerno asked me some questions together with Hillary-Summers and bitLanders himself but out of the three, Micky's questions are more interesting although Hillary also had provided me some of those tricky questions.
So for this blog, I have applied what Micky had informed me regarding of course, Sports.

Interaction:

Answering Q and A

The usual Hello! Nice meeting you here message showed up my computer screen after I had logged into bitMiles and selected the task with the notion if I am a team player. I would be glad to answer something about sports of course so I clicked that.
After that greeting, the questions started popping out from nowhere. First interaction was what is my favorite sport from the three listed in there. That same image was displayed:
1. What is your favorite sport:
I can only think of Basketball since I am not familiar with the other two sports provided and they aren't really famous in the Philippines Sports.

2. How Often do you play basketball?
Of course I selected the option that I am only watching it because that's the truth. I am not playing it personally but I do admire those who are playing it specially that my husband had also been engaged on the said sport.
3. How long have you been watching basketball?

Well oh well I have been watching it for ever since I am aware of the earth. But seriously, since the Philippines is a basketball nation, each single street has a basketball court and it is just normal for me to watch a game between neighbors or leagues on each summer.
But aside from that, we also have our own town league where good and famous players are being invited to play for a specific talent fee. Which makes the whole town happy of course.
4. Who do you think was the best basketball player?
Out of the three options, I have to choose Michael Jordan of course. That's my opinion though and why? Well, let me share to you a short story about my brother who is an avid Michael Jordan fan.
He had collected all these videos showing the moves and the awesomeness of Jordan. This collection includes all his dunks and great plays and of which has also documented his life and what had happened to his Basketball career.
So basically, I choose him because he's the only one I can think of as the best basketball player among the three.
5. Have you ever played a smartphone basketball game?
Aha! I didn't see that coming. But yes there are lots of basketball games both on desktop as well as on the mobile devices. I had played some of them although I am not really good at them but I just did for the sake of curiosity.
And if you are wondering, yes the applications have been deleted now.
But bitLanders had referred a basketball application themselves. Click here to download the latest basketball games: NBA 2015-16 Application
6. Have you ever seen a Basketball game in person?
Of course yes. As I had mentioned in my answer on point number three. I have been watching these games since I was a kid. My brothers and my parents would bring me with them to watch the matches.
But if you are asking me if I had seen an NBA basketball game personally then that's a different story of course. I have never seen one but I would love to if given the opportunity.
7. How interesting do you find the NBA?
Now this question is a bit tricky as I wonder if I had selected Average or Poor. I am now left with wondering what could have been the follow up question but then I hit Interesting of course because it is indeed interesting. Anything about Sports is interesting, yeah right? Don't you dare disagree with me?
8. Have you ever heard of NBA Cares?
Here the topic became more interesting because I personally have not heard of that and I have always thought that Basketball is only into the matches and the earnings they get with every single game they do. But I am definitely wrong.
Now this is something that I had to look deeper into. I didn't know that NBA has a philanthropic side too!
I hit the No button, this is total honesty guys.

9. How can a sport star give back to his community?
This I had selected empowerment, I guess all of the options is correct as Sports can provide all of these stuffs but I personally think that when someone is into sports, it becomes a medium of showing that athlete that he or she is empowered to not just showcase what gift he or she has inside of him or her but it also enables them to influence the community around them.
This empowers the athlete to either influence the fans and the enthusiasts to make it or break it in the industry that they are into so that is the main reason as to why I had selected the option.

10. Do you know about NBA Cares programs for youths?
I said "no" earlier on point eight and since I am not familiar with the mentioned program but I am very much interested on what this specific program has to offer for your youths. This led me to the research on this specific venture.
Introduction to NBA Cares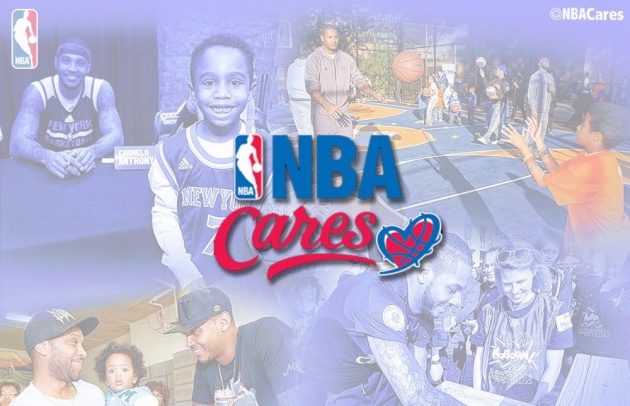 Image from cares.nba.com
With bitLanders' chat, I got a short view on what NBA Cares is all about. Here's a summary:
NBA Cares is the league's global social responsibility program that builds on the NBA's mission of addressing important social issues in the United States and around the world.
Upon visiting their site at NBA Cares Website, I had learned that this program has the mission of addressing important social issues in the United States and around the world. It is quite a great thing to know that this sport oriented program had included the rest of the world in their endeavors.
This program has been running for a decade now and in fact they are currently celebrating its 10th anniversary wherein they are renewing the commitment to the community. Some of the things that they do:
I. Inspire millions of youth to play
II. Teach basketball values
III. Providing hours of service to others
IV. Supports education for youth and family development
V. Charity Fund Raising to communities for a safe place to live, learn and play
To communicate to the entire world, NBA Cares had reached out to other causes which is working hand in hand as well for a better future both for us and for our children for the next generation. The other specific programs which had been partnered are Special Olympics, YMCA of the USA, Boys and Girls Clubs of America, UNICEF, the Make-A-Wish Foundation, Share Our Strength and GLSEN.
Disclaimer: These information above are coming from the NBA Cares site.
What NBA Cares Currently Does?
At this point, there are different programs which NBA Cares has been performing. As per their site, these are the few ones which are currently being done for this season:
NBA Cares works with internationally-recognized youth-serving programs that support education, youth and family development, and health-related causes, including: Special Olympics, YMCA of the USA, Boys and Girls Clubs of America, UNICEF, the Make-A-Wish Foundation, Share Our Strength and GLSEN.
Hoops for Troops
Obviously, it is an activity where NBA stars and players would do a collaboration activity with the US' Department of Defense to honor active and retired service men and women as well as their families.
My Brother's Keeper
This part here is something which reaches out to the young ones. It is a multi-sector effort to help the young build their success through mentorship. In fact, the site showcased some NBA stars explaining and providing their views on how it is right for young boys and girls to have a mentor. The impact of having one would significantly help shape the child's future.
Image from cares.nba.com
NBA Fit
This is where the site showcases how the athletes of the NBA had been doing and eating to stay fit throughout the season. There are short videos and clips as well as photos provided to show their workouts and also their eating habits.
NBA Green
It was a surprise knowing that they had also this partnership with Green Sports Alliance to generate awareness and funds to protecting our environment. It is nice to know that these players are not just only into playing the basketball sport but also giving back by influencing the generation to protect our environment.
Image from cares.nba.com
Season of Giving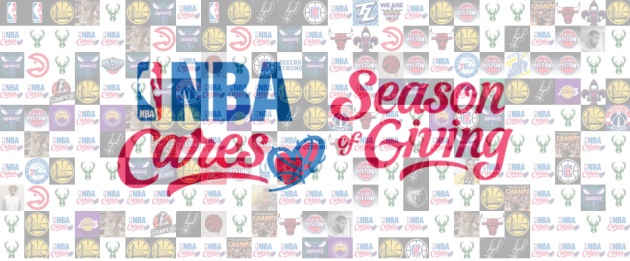 Image from cares.nba.com
This program provides a medium for the viewers and audiences to also be useful and help make all these visions and plans of the NBA Cares come to a reality. With the monetary help, the plans will definitely get into realization. The program enables the viewers to give. Share how they were able to give and inspire others to give as well.
As a conclusion, I want to end this post by saying that to every person who is a basketball fan, bear in mind that these players are not only into the sports thing but behind their big bulky bodies and fierce expressions on court, they also do have soft spots within.
And with that, I am giving this survey a three point just like the biggest point given to a basketball game.
Thank you all for taking time and reading my blog post.
Till next time!