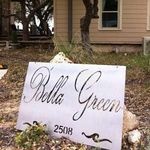 Call to get more details about our Bella Green 1, 2, 3 or 4 person retreats. Retreats are based upon the needs and preferences of those involved.
Typically they include:
On-site massage** (30 min/day or 60 min/every 2 days is included in the price)
Daily "green drinks" or specialty detox and energy juice options
Retreat meal plans (partial or full)
Sunset "gratitude" time or happy hour
Personal life coaching or wellness coaching with daily check-in's
Nap time (as desired) / indoors or out!
Tasty meals – 2 per day plus juicing and snack
Meditation, journaling &/or creative expression
Exercise (hill walking, yoga stretching, vibrational "shake", bring your bicycle)
Infra-red sauna detox with aromatic salt scrubs &/or dry brushing
Hot tub soak at night under the stars
Reading from our Wellness Library (or whatever books you choose to bring)
FREE TIME (as much as you'd like to add in) to explore the fabulous hill country** for shopping, horseback riding, wineries, cave exploration, etc.
Retreats give the quiet space needed to be reflective and/or creative in a very private and self-directed way. They days are yours to do what you will, and you are welcome to use the resources as you like.
Please know that we try not to mix retreat guests with regular B&B guest to allow for a full mind, body, spirit introspective experience and we know everyone has a different reason for coming.
For some, it is about a well deserved/much needed getaway in a safe and warm environment that caters to singles as well as couples ~ and includes a bit of adventure and on your own exploring in the quaint towns around us.
For others, it is about staying "tucked", never leaving the grounds, laying low and getting in touch with feelings in a safe and healing environment. This quieter "tucked" and very reflective type of retreat may be designated as partially or fully silent.
Meals may be taken alone or with your hosts.