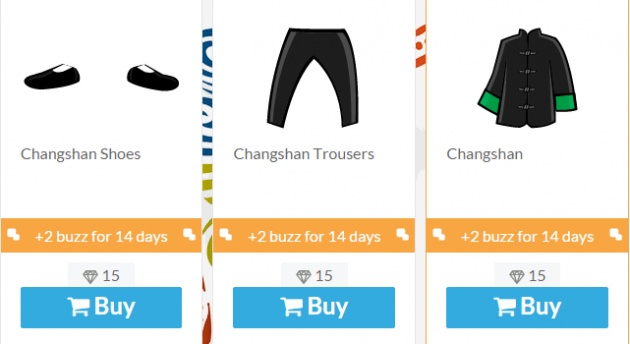 As most or some of you may have noticed, there is this new costume in the shop. Changshan Set or maybe in Women's Shop it is seen as Cheongsam Set. Changsan means "long shirt" and Cheongsam means "long shirt/dress" in English.
I think that these costumes has something to do with the Chinese New Year that was held last February 19, 2015.Though its a bit late, they still made costumes about that. Maybe that's why all the quests were given late and obviously some of us had experience a drop of buzz score and revenues because of that but I'm really excited on what bitLanders would give us in this event aside from these outfits.
Actually I was amazed at first because of the new set but it made me think that it will give you more buzz bonus if you'll buy 3 sets of cricket set rather buying those. So obviously, I didn't buy those Chinese Sets but I'm hoping that the price will go down like what they did with the Cricket Outfits.