1. Shahid Afridi.
Sahibzada Mohammad Shahid Khan Afridi (born 1 March 1980 in Khyber Agency), popularly known as Shahid Afridi, is a Pakistani cricketer currently playing for the Pakistani national team in the international circuit. He made his ODI debut on 2 October 1996 against Kenya in Nairobi[1] and his Test debut on 22 October 1998 against Australia at Karachi.[2] He is known for his aggressive batting style, and currently holds the highest career strike rate in the history of international cricket. In a recent survey, Afridi was named as the most popular cricketer in Pakistan.[3] He also holds the record for the fastest one day century which he made in his debut innings, as well as scoring 32 runs in a single over, the second highest scoring over ever in an ODI.
His general style of batting is very aggressive and attack oriented and has earned him the nickname "Boom Boom Afridi" for his fastest One Day International century just in 37 balls. As of 22 May 2007, he has an ODI strike rate of 109.38 runs per 100 balls, the highest in the game's history. This attitude has been transferred to Test cricket as well, with Afridi scoring at a relatively high strike rate of 86.13 in Tests. He has an approach to batting that can change the tempo of a game and inspire the mood of an audience, as shown when a mass exodus of spectators occurred in Pakistan in late 2005 following his dismissal from the crease. He hits many sixes long and high, favoring straight down the ground or over midwicket. A trademark shot is a crossbatted flick to the leg-side to a ball outside off stump.[8]. This explosive style has led to some memorable shots, most notably the first ever 12 in power cricket in 2002, where Afridi successfully hit the roof. [9] However, his aggressive style increases his risk of getting out and he is one of the most inconsistent batsmen in cricket. This is reflected by the fact that he is the only player to score more than 5000 ODI runs at an average under 25.
Bowling-wise, his stock ball is the leg break, but his armory also includes the conventional off break and a 'quicker one' which he can deliver at nearly 80 mph in the style of a medium-pacer. He bowls at a high speed for a spinner, resulting in lesser turn, and relying more on variations in speed. He occasionally sends down a bouncer to a batsmen, which is very rare for a spin bowler.
International career
In October 1996 at the age of sixteen he was brought into the ODI team as a legspinner as a replacement for the injured Mushtaq Ahmed. He then gained notability as a pinch-hitter and began opening with Saeed Anwar. He holds the record for scoring the fastest century in one-day internationals (off 37 balls)[12], scored in only his second match and his first ODI innings. He also shares with Brian Lara the record for the third-fastest century in ODIs (off 45 balls). One of Pakistan's most useful all-rounders, he has an extremely aggressive batting style, which has garnered him over 5,000 ODI runs (including an erstwhile world-record 400 sixes, recently broken by Sanath Jayasuriya), as well as taking over 295 wickets at ODI and 47 at Test level.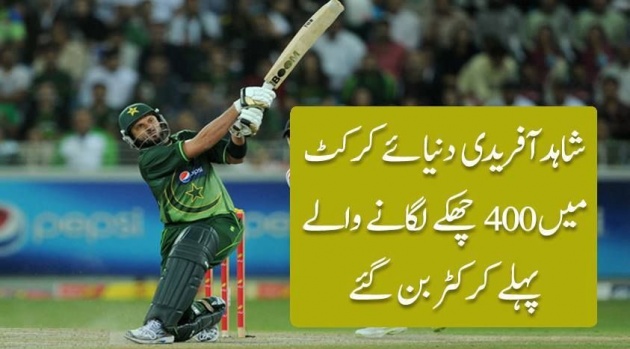 Shahid Afridi hit 400 sixes...
........................................................................................................................................
Shahid Afridi vs S.A
Afridi make 88 runs only 48balls 5 four and 7 sixes SR 183.33.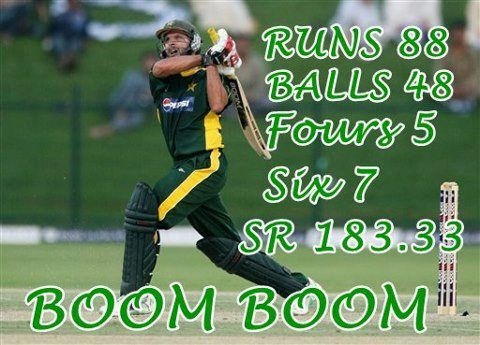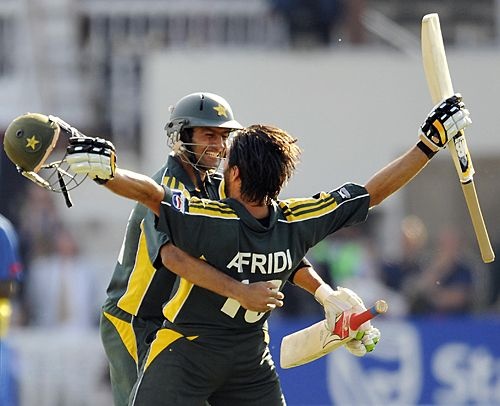 Afridi Vs England 2000
27 oct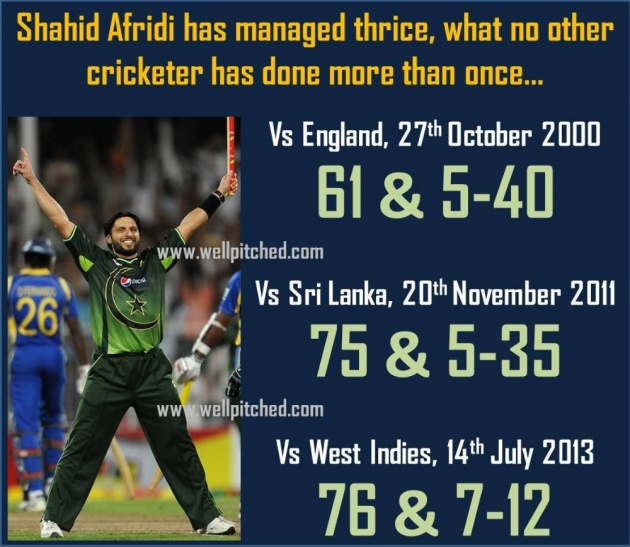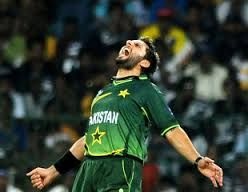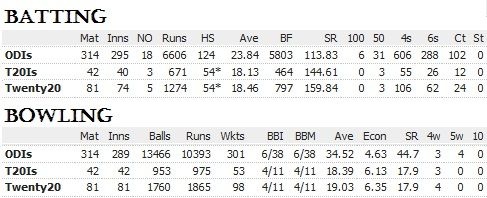 Shahid Afridi
Pakistan allrounder Shahid Afridi took his final bow in ODI cricket in the quarter-final against Australia
His last ODI innings was typical Afridi, biffing his way to 23 from 15 balls before holing out in the deep.
I did not watch Shahid Afridi's last one-day international innings. At the time, I was scaling Wellington's Mt Victoria during an 11-kilometre run. I followed the scores intermittently on the phone, but I knew I would not miss anything. I also knew that he would not get another chance to play an ODI, with Australia too strong for Pakistan in the quarter-finals of the World Cup. Afridi had long passed his prime, and it was evident he was only lugging his creaking body through the tournament in hopes that Pakistan could challenge the rest. It didn't happen, and truth to tell I didn't expect much from the man I once loved to watch.
Kanpur 2005. I could only followed the match online, but once I got a DVD I was set. 102 off 46 balls. Arguably Afridi's most brutal century since the one on debut. That this came against India and helped Pakistan win would have made it far more memorable for the man himself. Chasing 250 in game five of a six-match series, with the scored tied at 2-2, Pakistan won with five wickets and 47 deliveries remaining thanks almost single-handedly to Afridi. He thrashed the Indian bowlers all around the Green Park Stadium, hitting ten fours and nine sixes to make it a no-contest. In reaching three figures in 45 balls, Afridi became the owner of the second-fastest ODI century as well. "It wasn't easy. Making the runs was necessary. I made it with the grace of God," said a rather humble Afridi after the win. Well it sure looked easy, Lala.
Years later, in college in the American midwest, I procured a VHS copy of Afridi's record-setting 102 off 40 balls in Nairobi. The mother of all debut ODI innings. Afridi, who in a 2013 interview admitted that he'd arrived in Kenya for this quadrangular series in a daze after jet-setting through four countries, was promoted to No. 3 as a pinch-hitter in his first innings at the international level and smashed the record books. He blasted a century in 37 balls, 11 fewer than the ODI record set by Sanath Jayasuriya six months earlier, at a reported 16 years 217 days, though he looked older. Afridi's 11 sixes equaled Jayasuriya's record for most in an ODI innings, and took 41 off 11 balls faced from the left-armer. It was a small ground, yes, but Afridi's sixes would have been sixes on most international grounds. After his blitz, Pakistan had 371 on the board, then the second-highest ODI total ever.
I know you aren't done yet. You will captain Pakistan in Twenty20, so there's more of you to watch. But I've always associated you with ODI cricket, and I suppose no vision of you is complete unless it's Sharjah. Thanks for the memories, champ, and for leaving an impression on a teenager all those years ago. Forever 16. Shahid Afridi.
Shahid Afridi 67 off 29 Balls vs. New Zealand (1st ODI - Wellington 2015)
shahid afridi on bangladesh Asia cup 2014 second fastest fifty 59 from 25 balls
Shahid Afridi made it rain sixes in Dhaka, Lol quite in the crowd. Bengali girls crying when Afridi got dropped, it looked like there mothers had died, how lame. Bangladeshi's got to witness the cricketing legend in action fucking Bengali crowed make some noise what a game for Pakistan reali destroyed Bangladesh in the match
2. Misbah ul Haq.
Misbah ul haq is a very great player in the world.
Misbah is a very intellagent players.
Current age 41 years 50 days. Misbah ul haq is a very fit player.
Misbah ul haq avg
Misbah ul haq batting and Fielding avg.

he is a very Good player in the Pakistan and The World.
Misbah ul haq avg
misbah ul haq bowling Avg
Misbah ul haq not a bowling.
he is only batsman.

Text Fastest 100.