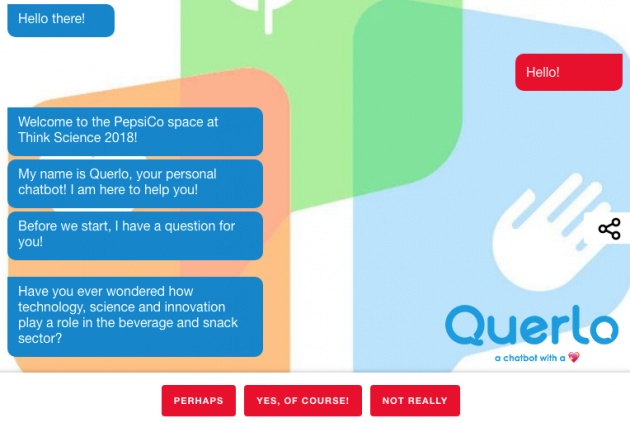 Pepsi & Querlo's partnership
The 'Think Science Fair' is held at the World Trade Centre in Dubai this year 2018. It is a very important event globally also because this year's Think Science is led by the global food and beverage company PepsiCo. Moreover, Querlo has partnered with PepsiCo by providing its service and technology - A PepsiCo Chatbot, which has been created specifically for the Think Science event, educating visitors about all the awesome things PepsiCo are up to at Think Science. Read more in this article.
PepsiCo is a global food and beverage leader with a product portfolio including 22 brands that generate more than $1 billion each in annual retail sales. Their main businesses – Quaker, Tropicana, Gatorade, Frito-Lay and Pepsi-Cola – make hundreds of enjoyable foods and beverages that are loved throughout the world.
Please proceed to www.pepsicots2018.com/ if you wish to participate.
-Micky