This week on 60 minutes they have been talking about Osama Bin Laden's killing.
He was killed by US troops in 2011. by the terror thoughts he had, he killed more than 300 thousand innocent American in 2001 by the attacks he organized.
If Osama bin laden had been alive, he was changing the world into a hell.
As the marine troops of the United States of America killed Osama Bin Laden in Pakistan in 2011, the people of the world got happy and they appreciated it.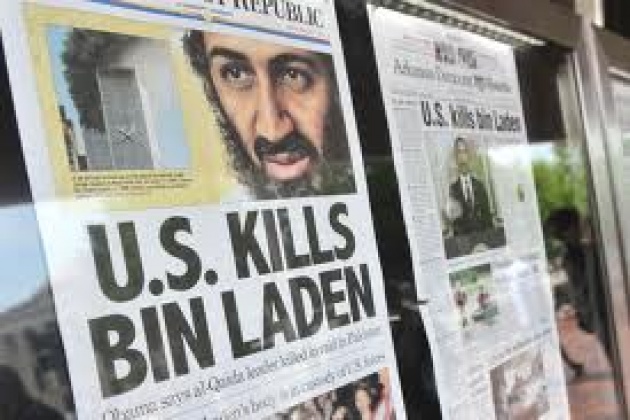 When Osama Bin Laden organized the 11th September of 2011 in the United States of America, he came to Afghanistan and Taliban government give him sanctuary.
When the international troops came to fight with terrorism in Afghanistan, he escaped to Pakistan.
At last, Osama Bin Laden was killed by an especial mission of the US troops in Pakistan in 2011.
اسامه بن لادن که در سال 2011توسط نیروهای امریکایی در پاکستان به قتل رسید، یکی از بزرگترین تروریستان جهانی بود. او با اندیشه های غیر انسانی که داشت توانست هزارها نفر را حملات مختلف تروریستی از بین ببرد.
زنده بودن اسامه بن لادن در جهان یک تهدید بسیار بزرگ به شمار می رفت. او اگر کشته نمی شد، احتمال آن می رفت که جهان را به یک جهنم تبدیل سازد.
با کشته شدن اسامه در سال 2011مردم جهان بسیار خوش حال شدند و از نیروهای امنیتی آمریکا بخاطر از بین بردن او قدردانی کردند.
اسامه پس از طرح ریزی حملات یازده سپتامبر که هزارها انسان در آن کشته شدند، به افغانستان فرار کرد و درآن زمان حکومت طالبان از اسامه پشتیبانی کرد و به او اجازه زندگی کردن به افغانستان داد.
اما زمانی که نیروهای جامعه جهانی و برای ازبین بردن تروریسم به افغانستان آمدن، او دیگر به افغانستان نتوانست زندگی کند و به پاکستان فرار کرد.
سرانجام اسامه بن لادن در یکی از شهرهای پاکستان که گفته می شود با اطلاع حکومت پاکستان در آنجا زندگی می کرد، به فرمان بارک اوباما رییس جمهور آمریکا به قتل رسید.