Last night before I had log out to sleep, I went on and redeemed again and it is not just one redemption but I had made two!

One was of the 0.50mBTC amount as well as 0.25mBTC and since I had been redeeming a few times lately, I remember I had not sent any donations yet for the past week. So I went on and check my previous donation, I donated to Women's Annex Foundation and the VH1 Save the Music Foundation too. And today, I am sending my donations to another foundation called Soles4Souls.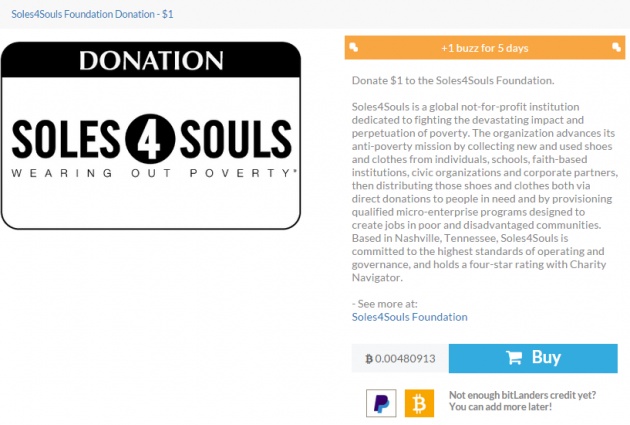 Let's check the information of this foundation:

"Soles4Souls is a global not-for-profit institution dedicated to fighting the devastating impact and perpetuation of poverty. The organization advances its anti-poverty mission by collecting new and used shoes and clothes from individuals, schools, faith-based institutions, civic organizations and corporate partners, then distributing those shoes and clothes both via direct donations to people in need and by provisioning qualified micro-enterprise programs designed to create jobs in poor and disadvantaged communities. Based in Nashville, Tennessee, Soles4Souls is committed to the highest standards of operating and governance, and holds a four-star rating with Charity Navigator. "

- See more at:
Soles4Souls Foundation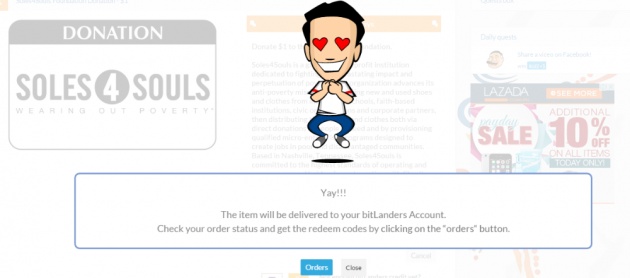 At this point of time, I am only donating a dollar but I am looking forward to sharing bigger amount if the bonuses here goes up to! It makes me definitely happy to share what I am also getting from this site. Giving is a joy indeed and it is a blessing that through bitLanders, we are also becoming a source of blessing to others. I hope that this small amount can do big things to the people in soles4souls.