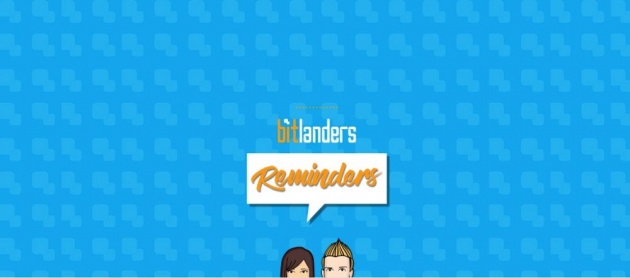 Photo screenshot and edited via bitLanders.com
Using bitLanders for the first time would be overwhelming and there's a great tendency that the first few days of using it will make or break you in terms of embracing this social media platform. At the start upon signing up, you'll see animations and character displays of personalities who are famous here in the bitLanders community such as Michael The Slanted Salerno, there's Miss Hillary Summers as well and a lot more. But this blog is not a guide on how to start using bitLanders but actually a reminder to those new ones who want to stay with bitLanders and would embrace this site like how I did and the others who are still in this site for more than a year or more.
Take note that when you start using the site, you'll be guided accordingly on how to create your own content such as microblog, blog posts, galleries and even films. I had created a blog solely on how to start using the site and how to earn as well. Check the blogs below:
Here's a video tutorial as well posted on YouTube by Md kamrul hasan milon
And since I had posted quite a lot of blogs before on how to earn in bitLanders and how to climb into the top of the leaderboard plus how I did that and how I am still managing to continuously earn from here, I don't want to talk about those things anymore, instead, today's blog is more about reminders for newbies and the things that you should remember, perhaps post it in your mind and heart so you can make the most out of bitLanders. This will also serve as a quick tutorial on the main things that matter on bitLanders.
I have posted here a few reminders, bookmark this blog and you can reread it if you like in the future. Hopefully, this will help you get used to the things inside the bitLanders community.
- Every start of the month, earnings are evaluated -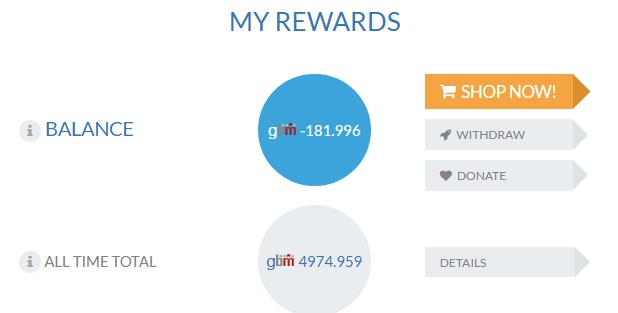 Here's a screenshot of my earning today. Photo from bitLanders.com
I got the idea of writing up for this topic when I realized it was already the end of May. Time runs really fast that I didn't think it was already end of the month.
But what's better to realize is that every month, specifically start of the month, bitLanders evaluate the earnings of each user. If you have read the FAQ before, then you are aware of it and you must know why they do so.
As per the FAQ section:
Our system is calculating the monthly Rewards for all the users. It may take a few days for the result to get updated, please be patient.

During these time, the earnings usually lowers down to the extent of getting negative earning values. That has happened to me always and one thing to note, the amount will be returned but then it might be lesser than the original or bigger, depends on the algorithm that bitLanders uses.
Now don't ask me on what algorithm because I know nothing about it. Only the admins do.
- Don't just buzz, create quality contents also! -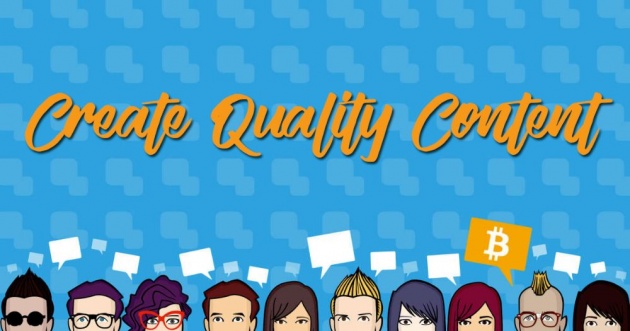 Photo screenshot and edit via bitLanders.com
"Content Review" is a feature which allows users to submit their contents to our editorial team. Once reviewed, submitted contents may receive additional Buzz bonuses depending on their quality. Higher quality contents will receive higher scores and higher bonuses.
With that, it is important to note that merely buzzing other posts and asking others to buzz your posts is not the main way of increasing you buzz score, well that helps with your influence which is also a factor but then the best way to increase the buzz score is to submit your content for review.
Video credits: forextrader006 via YouTube.com
Not just create contents but also create quality ones. How do we know it is a quality content?
For Blog posts:

- Write original content (Submitted posts must be exclusive and can not be present anywhere else on the web)
- Write in proper, well formed and well formatted English
- Make your posts visually appealing by adding related images and embedding related videos
- Do not plagiarize content from the web or other bitLanders users
- Make sure you use accurate and related tags

For movies:

- Upload meaningful content
- Upload high quality movies(picture and sound)
- Present your movie well by writing an exhaustive synopsis and choosing a related image as a poster
- Do not plagiarize content from the web or other bitLanders users
- Make sure you use accurate and related tags

For galleries:

- Make sure your images are related and suitable for the theme of the gallery
- Upload high quality images
- Each gallery must contain more than 5 images
- Make sure you use accurate and related tags
- Gems are precious, do spend them wisely -
If there's one thing aside from earnings that you don't want to spend carelessly, that's your gems. They are the sparkly red diamond-like items you earn during sign up. On your bitLanders page, you can find that on the top right-hand side but it won't be colored red anymore, something like a skeleton diamond.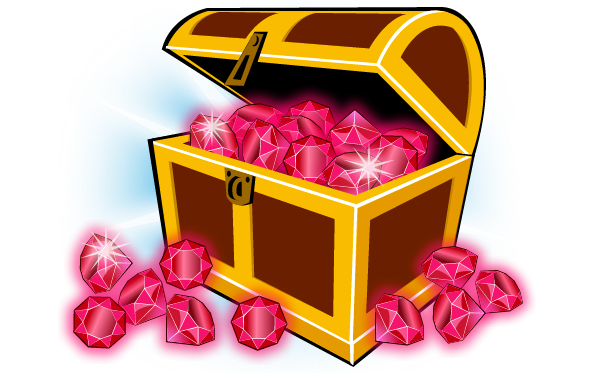 Photo credit: bitLanders.com
So, what are these gems for?
bitLanders have this thing called Content review as mentioned earlier.
Now gems come into picture. Your content can be sent for review in exchange for a specific number of gems. Without the gems, you won't be able to send your contents for review and without getting your content reviewed, there's a little possibility of increasing the buzz score.
- Gems are returned to you once reviewed -
Gems are not for free as we all know, you'll have to buy them to acquire them. From the bitLanders shop, the options go from a small pack of ten gems which is usually the least number of gems required per content submission, then it increases up to 1500 huge coffer of gems which costs a huge amount too, $107.988 (this is its pricing as of June 2017).
But don't worry as you are not really robbed out when buying the gems because you'll get additional buzzes too together with the gems bought.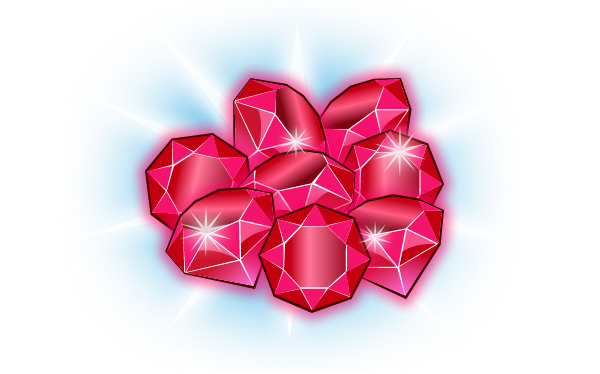 Photo credit: bitLanders.com
One more good thing about these gems is that you'll get them back afterwards. Once the content has been reviewed, bitLanders will return the number of gems according to the number of stars on your content.
Here's the table:
1 star: rewards 1 gem
2 stars : rewards 2 gems
3 stars : rewards 3 gems
4 stars : rewards 4 gems
5 stars : rewards 10 gems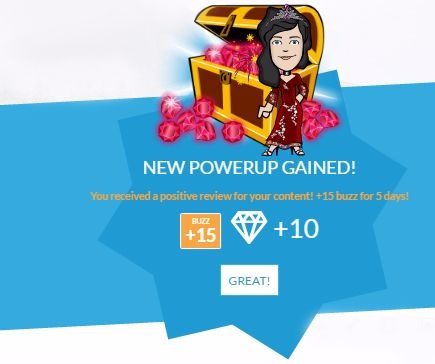 Photo screencaptured via bitLanders.com
See? So quality content wins, you get to earn additional buzzes, you also get the gems back for another quality content.
- Submitted contents are almost impossible to edit -
Since we are already talking about content review, let me also remind you that when you create a blog entry, save them as draft before publishing them if you are not yet done with it. Currently, only Blog Posts, movies and galleries may be submitted for review.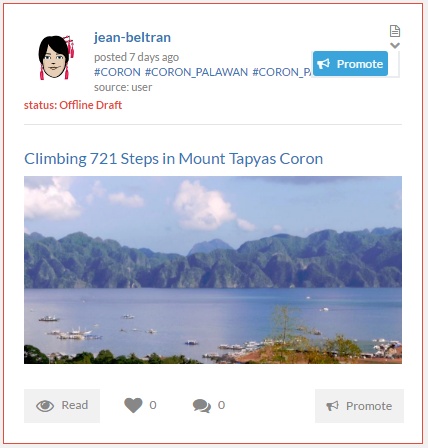 One of my latest blog, no more option for edit. Photo screenshot from bitLanders.
When I say not yet done, that means you have not added the necessary things to make your blog more appealing and interesting. You have to add photos, images and videos too! Lately, Querlo chat can be added too so you should add that as well. Then the hyperlinks and keyword highlighting should be added at the same time. The formatting, headers and alignment also matters.
Once everything is set, you can then submit the entry. Note very well that if you have submitted it but realized you still have to add another item in the blog, it is almost impossible to edit them.
Wait, why did I say almost impossible? Well because first, the edit button is not anymore available. The submission has been done and the entry was already sent to the bitLanders team to review your content. This was actually enabled before but it also was creating a way for the users to submit their content before finishing them which was a bit of a deal breaker. So they had changed it to make sure that all the users are playing fair.
Now, second, almost impossible means you still have a way out. Let's say, you have submitted your blog but then you forgot to add a Querlo chat on it. Adding a querlo chat has additional buzz points on top of your ratings so it would be a good idea to add them in. Since you forgot it and you can't anymore edit, you just have to contact the CS@bitLanders.com team to ask if you can get the gems back and edit the blog.
Depending on the team's prerogative, they'll return the gems and set your blog back to draft mode. I have tried this and I believe they would allow this as long as you contact them, they are after all the best support!
- Improving the buzz score is a hit and miss -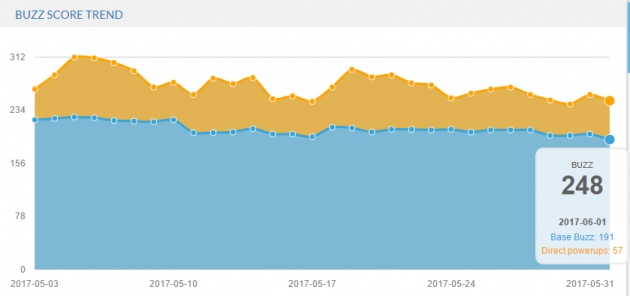 Photo screenshot from bitLanders.com
Ever since I had joined bitLanders, increasing the buzz score has been a challenge. Before, around two years ago or more, it was only interacting and sharing that we are able to improve our scores. When the content review was introduced, a huge change had happened with our buzz score. I was the first user in bitLanders to submit a blog for review and I received five stars immediately after that which made a huge difference with my buzz score. It increased significantly by each review I receive.
Then other users started submitting reviews. After few months, it was still given that the buzz score would increase once a content has been reviewed but then the influence and activity has to also coincide, that was one of the factors to grow the buzz score. Then there were spamming here and there, asking for buzz and subscribers so bitLanders became very strict and changed the algorithm again. Only rated contents matter now in terms of buzzing but again, it is a hit and miss. There's a point where I may get a huge increase on my base buzz but the earnings would not increase.
As per bitLanders FAQ:
The BuzzScore algorithm changes often as we tweak to make it more fair to all of our users. Rewards also change every day: sometimes more, sometimes less. Since the BuzzScore is competitive, while one user's score goes up, other users' might go up even more, so your daily Rewards might not always go up as expected along with your BuzzScore.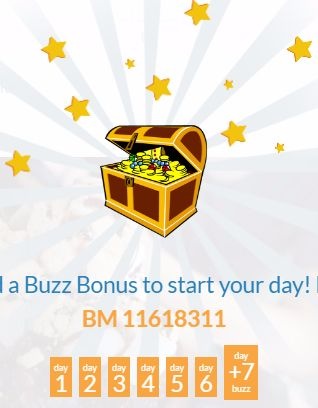 My previous earning screen captured via bitLanders.com
So it is a matter of changing your approach in using bitLanders but it also requires consistency.
Now that's it. I can't think of other reminders but if I can remember any, I will definitely create a new blog post about it. By the way, it is amazing that today's earnings has not decreased. Anyways, hope you have a great day ahead! Please do participate in this Querlo Chat below:
Querlo created by Lapiz-Lazuli

Best regards,
Jean Beltran-Figues