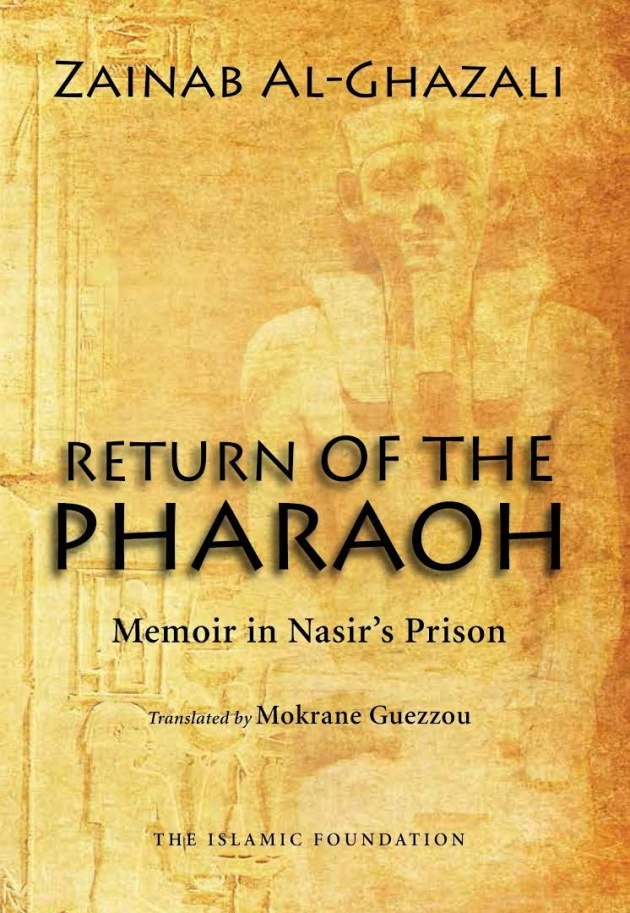 About the author of the Book:
Zainab al-Ghazali, the author of the book, was born on 2 January, 1917 in Egypt. She was Egyptian activist. Her father was a religious teacher and cotton merchant. He encouraged his daughter to become an Islamic leader to call the people to the true path of life that is Islam. For a short time during teens, she joined the Egyptian Feminist Union which motivated her to establish Jama'at al-Sayyidat al-Muslimat (Muslim Women's Association) in 1936. This association rendered valuable services to the poors, orphans and destitute. Zainab al Ghazali believed that women's liberation, economic rights, political rights, etc. could be achieved through a more intimate understanding of Islam. But by the time, the association was dissolved by government order in 1964. She was sentenced to twenty five year of hard labor but was released under Anwar Sadat's presidency in 1971. She had worked a lot in spreading the Islam in the region and she faced a lot difficulties and was harshly treated while she was in prison. Zainab al-Ghazali died in 2005.
Review (Part 1):
In the start of the story, Zainab Al Ghazali, the author of the book, says that she had been in an accident in February 1964. She was in unconscious state when she became somewhat in her senses, she thanked God that she was safe. Once she did begin to recover, she heard that all of this was planned by Abd al Nasir, who wanted to kill her. Her organization's ladies usually visited her and one day when a secretary came to see her she was holding papers of the decree of closing down the General Headquarters of the Muslim Ladies Group. The secretary told her that Nasir is adamant about dissolving the group and he hates you very much, for this he set up an accident for you to kill. The secretary was holding a piece of paper, Zainab said to her to hold that piece of paper to her and when Zainab saw, it was a membership card for the Socialist Union (President's Party). Nasir wanted that Zainab should join the Socialist Union but she disagreed and said that "I will never sign on this membership card, it is more honorable for us to let the Muslim Ladies Group be dissolved."
When she was in hospital for her treatment, she surprisingly got a delivery with enclosed card and a receipt, the receipt reads that her membership fee for 1964 has been paid. After that day, she used to receive invitations from the Socialist Union to attend their meetings and seminars but she ignored all of them until one day when a call rang when she was in her General Office. The call was from the Socialist Union and they requested Zainab to go to airport to receive the President but she didn't went to the airport. After few days, she got a call again from a lady to ask why she was not present at the airport. On this, Zainab said that "we, the members at Muslim Ladies' administrative committee, all observe Islamic behavior, therefore, we cannot be present in such crowded welcomes". This shows that how much Zainab and all other members respected Islam and they couldn't even think of going against the teachings of Islam.
Once again, there was a Ministerial Decree to ban the Muslim Ladies Group. This time the case was referred to the court. They recruited a lawyer named Dr. Abdullah Rashwan. They all recorded letters and messages to different government offices in which they `promote the teachings of Islam. It was mentioned in the letters that they reject the ban decree on their Ladies Group, for the president, who is openly calling for the secularization of the state, has no right of allegiance from us. They said that they can seize our money and belongings, but it cannot confiscate our faith. Nasir sent the military and their agents to their Headquarters to empty all the place. However, there was not even a single lady in the council who handed the keys for the Headquarters, it was secured from the administrative secretary, but then as an employee, that person had no choice.
After this incidents, many Muslim ladies came to Zainab to ask her what they should do next. They had no idea what they should do, the tyranny of Nasir was at peak and even many newspapers and reporters sided with Nasir and the news was given in the favor of Nasir. Even Al-Azhar magazine, which was once dear to our hearts, opened its pages to hypocritical writers who competed to please falsehood and its folk. At a time when the Muslim Ladies were being tortured for losing their jobs and destroying their career, they raised the banner of truthfulness and they didn't set back in fear. The meetings were being held in secrets and they continued their plans but sadly these meetings couldn't last longer as the enemy had eye on all of them. Nasir's agents threatened the Ladies of the Group. In this way the state obtained an undertaking, from all the ladies involved, that they would not hold such gatherings again. Nasir gave many offers to Zainab such as for being an Editor-in-Chief in Muslim Ladies' magazine with a salary of £300 per month. Nasir also offered to cancel the ban order on their Group, in return they had to form a Socialist Union Institution. But Zainab refused to all these offers saying they will rise again InShaAllah. One day, she had uninvited guests at her home. They were three men in the living room. They said they were Syrians and they have come from Saudi Arabia. They also said that they have met some of the members of Ikhwan named Sa'id Ramadan, Shaikh Mustafa al-'Alim, Kamil al-Sharif, Muhammad al-'Ashmawi and Fathi al-Khuli. Zainab took them as secret agents sent from Nasir. They talked about Ikhwan and Nasir and how the latter persisted in persecuting the former. They said that they are here to kill Nasir with the opinion of some members of Ikhwan and take revenge what he had done with Egypt. But Zainab rejected their talking and cautioned them to go back from where they had come.
In 1937, for the first time after 6 months of establishing Muslim Ladies Group, I met with Imam Shahid Hasan al-Banna. He was very interested in making the Women's wing for Ikhwan. Hasan asked Zainab to merge her Group with the Ikhwan, she said that I will not promise of this merging, but I will talk about this matter our general assembly. But the general assembly rejected. However she assured Hasan al Banna to be in close cooperation with Ikhwan. Soon in 1948, a decree was issued to dissolve the Ikhwan group and closes all of its branches. Thousands of members were in jail but the Ladies branch of Ikhwan had been performing activities for their establishment. One of the ladies who was Zainab's brother's wife and her cousin, Mrs. Tahiah al-Jubaili, informed her all about Hasan al-Banna and implications of merging both the Groups. That was the time when Zainab realized that she should have accepted the offer of al-Banna. She was literally crying in her office where the last meeting of her and Hasan al-Banna took place. She realized that he was the real Imam. So she arranged a meeting with al-Banna. They met at Muslim Youth Headquarters and Zainab pledged her allegiance to him and told him that Muslim Ladies Group to be merged with Ikhwan. After the agreement, both left each other and decided to stay in contact anonymously.
____________________________________________________________________________________
Written by : AzzKP