Myanmar does not allow itself to be taken at face value - a government that lacks transparency and a junta that maintains a grip on power behind thin veneer of political pluralism, as we have written on more than one occasion, we're also suspicious that ethnic/religious chauvinism has become the new methodology to perpetuate the absolute hold upon power of the regime. Just last week, Myanmar gave hope when Turkey's Foreign Minister
Ahmet Davitoglu
and the wife of Prime Minister
Recep Erdogan
visited Rakhine Province on humanitarian/goodwill mission to deliver assistance to the Rohingya Muslim and Buddhist communities. It was also an effort endorsed/shared by the (Organization of Islamic Cooperation).
New Wave of Assaults?
However, again this week we received detailed reports from activists of a new wave of assaults upon the Rohingya backed/led by the Myanmar security services. According to such reports, at least half a dozen people were either directly killed or expired from exposure after being forced to flee over difficult terrain/weather.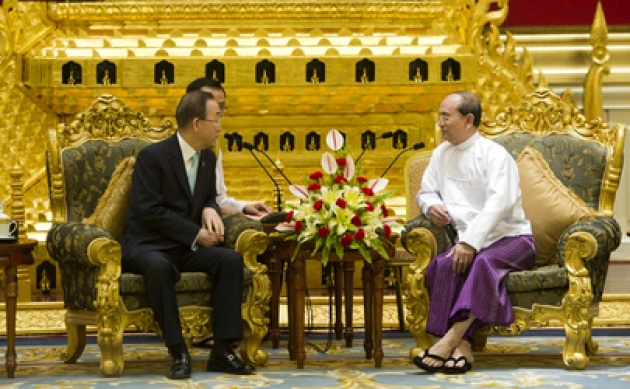 Investigation?
According to
UNSG Ban Ki-moon
, President
Thein Sein
(Photo Above) of Myanmar has established a 27-member Commission to investigate the recent violence in the country's state of Rakhine. "This Commission is comprised of a representative cross-section of national figures in the country. It could make important contributions to restoring peace and harmony in the state and in creating a conducive environment for a more inclusive way forward to tackle the underlying causes of the violence, including the condition of the Muslim communities in Rakhine," In his
statement on behalf of the UNSG
Mr. Ban's spokesperson added that the Commission will "be integral to any reconciliation process" and the United Nations is ready to provide assistance in a "constructive spirit to Myanmar's reform and reconciliation efforts, and to help that country overcome its imminent challenges." Read our
Blog for Film
:
"Serious Human Rights Concerns in Myanmar".
Disenfranchized:
We await concrete results. However, the most critical step in the process is recognizing that the Rohingya are an integral part of the Myanmar community. Both vile racist propaganda Read –
"The Most Endangered Minority Group – 'Ugly as Ogres'"
, and purported historical fact regarding the source of the Rohingya are frequently advanced as rationale as to why they neither belong to nor should receive the benefits of Myanmar citizenship. The most critical step that the Burma Regime can undertake and evidence its goodfaith is to fully enfranchise the
Rohingya
as citizens.
Ambassador Muhamed Sacirbey - FOLLOW mo @MuhamedSacirbey


Facebook-Become a Fan at "Diplomatically Incorrect"








Twitter – Follow us @DiplomaticallyX







See more at our Popular Video Blogs & Current News Event Articles at http://diplomaticallyincorrect.org/c/war-crimes-justice