Competition News
Results of the 2016 Olympic Games
Kayla Harrison – Gold
Travis Stevens – Silver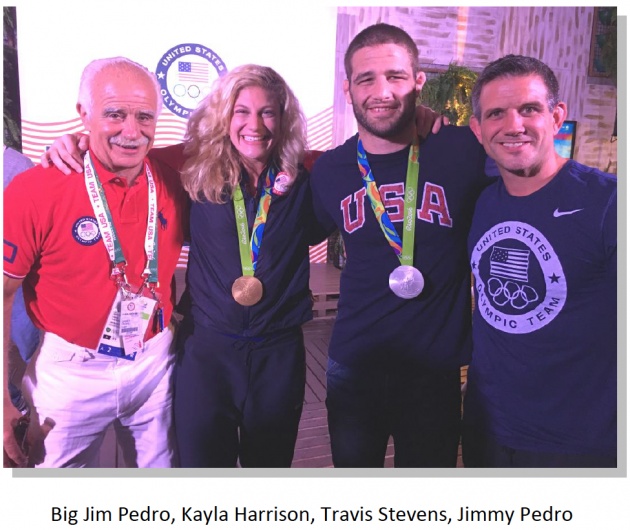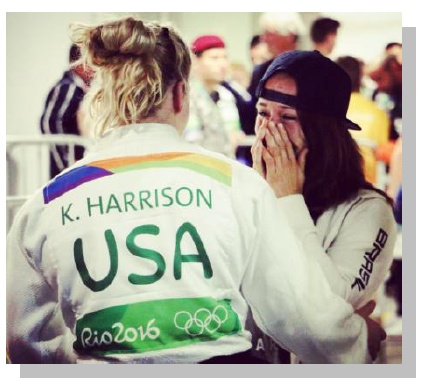 Marti Malloy, 2012 Olympic Bronze Medalist
That moment when your best friend and 1st USA Judo Olympic champion defends her title in beast fashion and you finally get to see her! Kayla Harrison - Olympic & World Champion there are no words to express your impeccable
judo prowess, but girl, you earned it and are now the 1st and only Team USA judoka to not only GOLD but do it twice in a row! Love you Kay Dog.
My 2nd Olympic debut did not go as I dreamed it would. In the days following my loss I struggled to grapple with the unexpected feelings of defeat and struggled to find my smile....but my friends, family, teammates and complete strangers bombarded me with words of love, encouragement, and the kindest words of support. I think we often mistakenly think that only WINNING warrants praise. But I realized that I have been winning my whole life by earning the respect of others through the process of trying, striving, and persevering. Things don't always go your way, that's life.
And I'm reminded of my own personal mantra that the most important thing is the journey, the way you carry yourself and the way you treat others, no matter the outcome.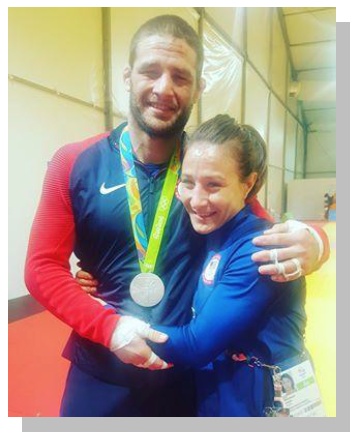 Despite my sad disposition these last 3 days, I couldn't help but smile and cry watching my @usajudo teammate Travis Stevens, U.S. Judo Athlete achieve his life-long dream, see my SJSU Judo San Jose State University teammate Colton Brown, U.S. Judo Athlete make his honorable Olympic debut, and watch Angelica Delgado: Road to Rio 2016 do the same with vigor!
I'll be sad for awhile but I will be proud because I did everything I could. But MY FIRE will not go out because I know I can be better! I'm humbled and grateful to all the people from Team USA and all over the world who have shown me so much love in these last few days of turmoil. There are so many people to thank for getting me to this place in my life, but I'll be giving those thanks in person and with a big hug! I'm gonna keep an indomitable soul and keep on smiling! – from Marti Malloy"s Face Book page (Used with permission).
Delgado Fights Strong in Olympic Debut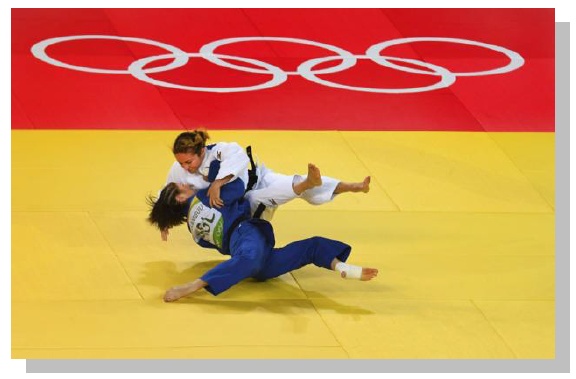 Despite dominating most of the match, Team USA's Angelica Delgado came up short in her Olympic debut Sunday, losing to Mongolia"s Tsolmon Adiyasambuu at 52kg in the elimination round of 32.
Delgado scored quickly, countering an expected initial attack to get a yuko 18 seconds into the match. "We had a good strategy for Angie, we knew what was coming," U.S. National Team Coach Jimmy Pedro said. "In the first exchange she countered the girl's attack, which was what we anticipated, the girl doing a kataguruma or a "dump" technique, so we"re up by yuko."
Unfortunately, Delgado was surprised by Adiyasambuu at 52 seconds with a tani-otoshi for the wasari.
"From the beginning I was controlling the match. I got a score off the first exchange. So I was in control and I felt really good," Delgado said. "She"s a righty and she switched on me once to do a lefty technique and I fell for it. So a lapse of judgment, one second is all it takes, unfortunately, in this sport."
Added Pedro: "Angie got a great grip, came in a half attack and got countered for wasari. Just one lapse in the match was the difference."
Delgado tried to rally, scoring two more yukos at 2:09 and 2:31 before the fight was over. Pedro was impressed with Delgado"s comeback attempt.
"She was all over the girl. She literally controlled four minutes, 50 seconds of the fight," he said. "But a 10-second lapse cost her the match. She threw the girl three times to one, and the girl had two stalling penalties.
"In any other sport, Angie wins. But it"s judo - best score wins. So it"s disappointing."
"Today just wasn"t my day," Delgado said. "I threw her three times and none of the scores were big enough to surpass her score."
Delgado, like many of the nation's top judo players, has traveled the world chasing her Olympic dream. A two-time Pan Am Games bronze medalist, she qualified for the Rio Olympics by being Top 14 in the world. It's been a grueling process, she said, fighting at numerous Grand Prixs, Grand Slams and World Cups, but one she"s ready to face again.
"My mom, the first thing she said (when she went up in the stands) was, "We"ve got to start saving up for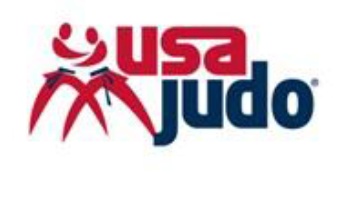 Tokyo,"" Delgado said. "It"s hard that it takes another four years to get here, but I know that I"m not a one-and- done player. I know I"m better than this."
Colton Brown enjoys his Olympic debut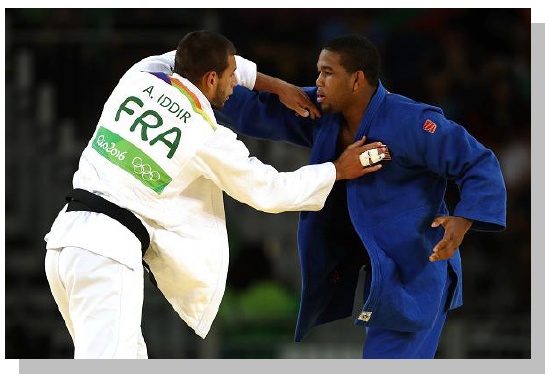 Colton Brown may have fallen short of reaching the 90 kg Olympic quarterfinals Wednesday, but he said he wouldn"t take anything back – and he"s ready for more.
"The Olympics is amazing. It"s an unforgettable experience," he said after losing to France"s Alexandre Iddir in the elimination round of 16. "I left it all on the mat – it"s what I came here to do. I can"t wait for Tokyo 2020."
Brown, ranked 27th and making his Olympic debut, started his competition in dominating fashion, defeating Iszlam Monier Suliman of Sudan by ippon (uchi-mata) just 21 seconds into their match in the elimination round of 32.
"It was faster than I anticipated," he said. "I wanted to get out there and get a rhythm going, but I saw my shot and took it and it worked out in my favor."
Brown then faced No. 8 Iddir, who he hadn"t fought since the 2010 Junior World Championships. Down a penalty received at 1:56, Brown tried an attack that quickly went against him.
"I was coming after him because I was down by a penalty, and he used my momentum and came in and took me over," he said of Iddir"s wazari at 2:30. "And I just couldn"t get it back after that. He went into defensive mode, and he"s very good at that. But I"ve got to work on getting more attacks off against guys who fight like that.
"I didn"t feel he was stronger than me or better than me, I just got caught."
A smiling Brown told the press of his inspirations for these Games, including his family; his San Jose State coach, the legendary Yosh Uchida; and Travis Stevens" silver medal-winning performance the day before.
"That was an incredible performance," he said of Stevens, his roommate of the past five years. "That was really inspiring, a really inspirational performance by him. When you see someone that close to you, who works that hard – there"s no one more deserving of that medal than him. I can"t say it enough how happy I am for him."
He was also looking forward to seeing Uchida, who made the long trip to Rio to see his students Marti Malloy and Brown compete.
"I"m sure he"ll chew me out a little bit and tell me I need to do a bunch of other things, but I love it," Brown said. "He"s a great coach, and traveling here at 96 years old, that shows how much he cares about Marti and me. I"m happy I was able to get a win out of that."
Stepping onto the Olympic stage for the first time, competing before the largest crowd he"s seen in judo competition, Brown said he heard a familiar voice from the crowd.
"I heard my mom, actually," he said. "When I came out for my first match I heard her scream something and I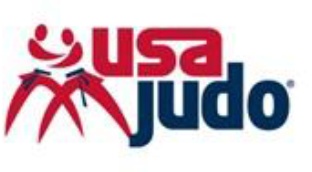 was like, "That"s awesome – she"s here!" I didn"t know if they had made it in.
"That"s why I wanted to leave it all out there. They traveled a long way. If I had walked out in the first round and lost they still would"ve been happy. I felt them. I was inspired by that."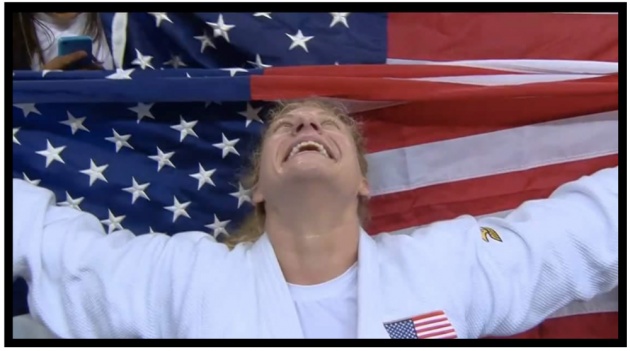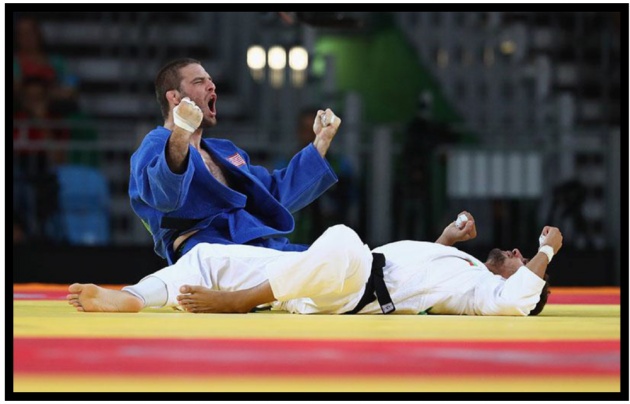 Upcoming Tournaments and Special Events
2016 YONEZUKA CUP MEMORIAL SHIAI
Date: Sunday, October 1, 2016
Tournament Director: Cory Cuomo
Location: HCST Athletic Center, 2100 85th Street, North Bergen, NJ 07047
Contact Cory Cuomo at 732-406-3646 or mailto:corycuomo@comcast.net .
Judo Grand Prix, Tashkent 2016
Start date 6th October 2016.
End date 8th October 2016.
Place Tashkent Uzbekistan (UZB)

15h ANNUAL MORRIS CUP
Date: October 9, 2016
Location: Burnt Hills-Ballston Lake High School
88 Lake Hill Rd., Burnt Hills, NY 12027
Tournament Directors: Jason Morris and Teri Takemori
judoteri@gmail.com or jasonmorris210@yahoo.com
(518)399-3936 Cell (518)330-7270
Judo Grand Slam, Abu Dhabi 2016
Start date 28th October 2016.
End date 30th October 2016.
United Arab Emirates (UAE)
Judo Grand Prix, Quingdao 2016
Start date 18th November 2016.
End date 20th November 2016.
Place Quingdao China (CHN)
World Veterans Judo Championships
Start date 18th November 2016.
End date 21st November 2016.
Place Fort Lauderdale Beach, Florida
Judo Grand Prix, Jeju 2016
Start date 24th November 2016.
End date 26th November 2016.
Place Jeju Korea (KOR)
Judo Grand Slam, Tokyo 2016
Start date 2nd December 2016.
End date 4th December 2016.
Place Tokyo Japan (JPN)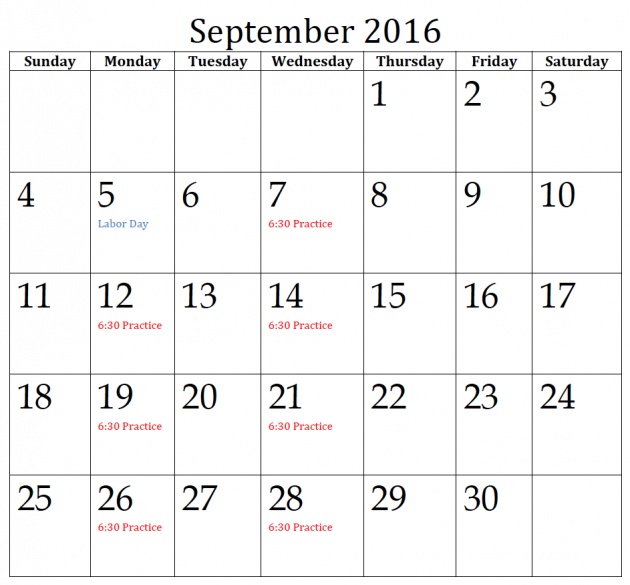 Lynn Goldberg, Editor.