We have some questions for you...
and we'll reward you 10 bitMiles points for each answer!
You all know the Chat where you can talk live with other bitLanders users. Today, we are launching the bitLanders Survey Chat where you will be able to answer questions about a variety of topics and earn 10 bitMiles Loyalty Points for each answer you give us.
Simply launch the chat from the bottom right of any page while on bitlanders.com and Hillary Summers will start talking to you and asking for your opinion!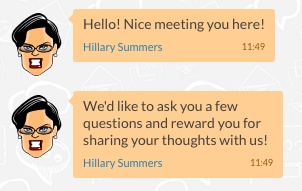 Your bitMiles points will be added within a few minutes, or at the next Buzz calculation (within 24 hours). You'll be able to see them in the 'Details section' of your Rewards page as "bitMiles applications and games."
Even if you answer all the questions we have for the day, come back tomorrow to answer more!
If you have suggestions of questions and answers you would like to see in the Survey Chat, email them to us at info@bitlanders.com (questions are limited to 150 characters and answers to 15 characters). Thanks!