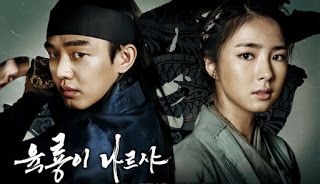 I'm experiencing a serious case of drama withdrawals this weekend. After marathoning 8 episodes of SIx Flying Dragons and adding it to my list of historical Korean dramas, I still can't shake off the urge to write some more.
Given that I am a bit of an old soul, I have always had a soft spot for period dramas but throw dragons into the mix and I'm hooked, line and sinker. I lied, they're not literally dragons but a mere representation of the six individuals instrumental to the rise of a nation.
My initial thoughts when I heard about this k-drama was that it had tremendous potential. It was being produced by the same people behind the success of the Tree With Deep Roots and the team did not disappoint.
Every so often when watching k-dramas, I find myself impatiently waiting for the younger version of the characters to grow up in order to quickly get on with the show but what I really liked about Six Flying Dragons is that it spared no time dragging the story along.
The progression of each character's back story was fast-paced as they learn to thrive in the worst situations at a time when tragedy has become commonplace. It was interesting to see how the events played out and the protagonists' reactions though morally questionable at times allow us to catch a glimpse of how they will become in the future.